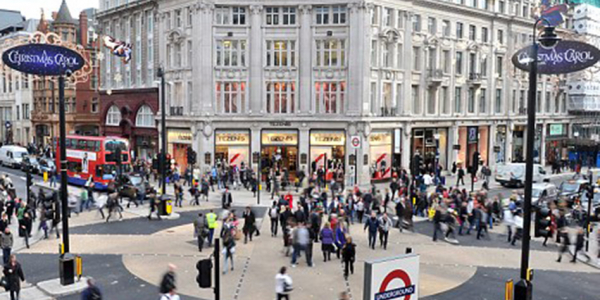 NB! Valides registreerimisvormis kaks kursust: Luxury Brand Management ja Luxury and Fashion Study Trip to London, on hinnasoodustus 25% (kokku 450 eurot).

Osaledes kolmel moekursusel: Moe- ja trendide prognoosid, Luxury Brand Management ja Luxury and Fashion Study Trip to London on hinnasoodustus 30% (kokku 525 eurot).
When participating in both courses of Miguel Martins you will get a price discount of 25%.
NB! Transpordi, ööbimise, toidu ja muuseumipiletid maksab ja organiseerib osaleja. Transportation, accommodation, museum tickets etc are paid by the participant.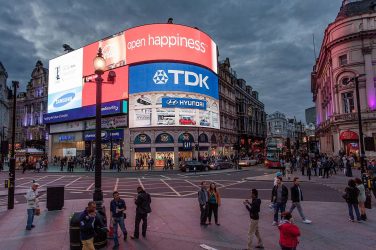 London is officially the world's top destination for luxury retail! With 20 million international overnight visitors and 5000 high net worth individuals London is the No 1 Global Luxury Retail City according to Savills'. More luxury retailers opened stores in London (41) than any other city in 2016. Luxury German brand Philipp Plein opened its first UK flagship on New Bond Street, which is also home to Moncler's new three-storey premises.
London's West End retail district, which is composed around Bond Street, Oxford Street and Regent Street is one of the most successful in the world, with an annual turnover of over £8.8bn. This is expected to grow by about 27 percent to around £11.3bn by 2020. Worldwide, the global retail sales of luxury goods is expected to hit $433.9bn worldwide.
Insider Trends' top 50 world's most luxurious retail spaces for best-in-class examples of premium store design, and exemplary customer service lists 16 London addresses, including Louis Vuitton, Alfred Dunhill's Bourdon House, Hermes, Space NK, Burberry, and Hedonism Wines.
London boroughs are famous all over the world. Who does not want to visit Mayfair, Belgravia, Knightsbridge, Chelsea, Kensington, Marylebone, Soho, St James or Fitzrovia?
The study trip will include visits to some of the following (to be discussed with participants before the trip while Miguel Martins is in Estonia)
Planned schedule for the Study Trip (could be changed after meeting with Miguel Martins in Tallinn)
28.05.18
10.00 – 12.00 Victoria & Albert Museum, the world's leading museum of art and design plus possibility to visit the exhibition "Fashioned from Nature", the first UK exhibition to explore the complex relationship between fashion and nature from 1600 to the present day. Ticket £12.00
https://www.vam.ac.uk/exhibitions/fashioned-from-nature
12.00 – 14.00 Visit to Kensington Gardens + lunch break
14.00 – 16.00 Harrods Department Store https://www.harrods.com/en-gb/designers/harrods-of-london + Harvey Nichols https://www.harveynichols.com/
16.00 – 17.00 Sloane Street boutiques
17.00 – 18.00 Saatchi Gallery http://www.saatchigallery.com/
18.00 – 19.00 Iconic Peter Jones Department Store and King's Road – associated with 1960s style, and fashion figures such as Mary Quant and Vivienne Westwood
19:00 Drinks at the Bluebird Chelsea https://www.bluebird-restaurant.co.uk/at/
or
16.00 – 18.00 The Design Museum, the exhibition "Azzedine Alaia: the Couturier" (ticket £16.00), celebrates the timeless beauty of the female form with thirty-five years of haute couture from Azzedine Alaïa, and discover the mastery of cut, tailoring, fit, innovative form and materials behind the designer's unique creations.
https://designmuseum.org/exhibitions
18.00 – 19.00 visit to Holland Park and it's beautiful Japanese garden
19:00 Dinner at Whole Foods Market – Eco-minded chain with natural & organic grocery items, High Street Kensington
29.05.18
10.00 – 12.00 National Gallery, the exhibition "Monet & Architecture" https:// www.nationalgallery.org.uk/whats-on/exhibitions/the-credit-suisse-exhibition-monet-architecture
12.00 – 13.00 Dover Street Market www.doverstreetmarket.com (Department store created by Rei Kawakubo) https://en.wikipedia.org/wiki/Rei_Kawakubo
13.00 – 14.00 Leicester Square and visit to Lego Store https://www.lego.com/en-gb/stores/store-experience and M&Ms world https://www.mmsworld.com/
14.00 – 15.00 Lunch Break
15.00 – 19.00 Piccadilly Circus, Regent Street (visit to Hamleys the largest toy store in the world), Oxford Street (street of the department stores), the most famous is Selfridge www.selfridges.com/US/en/features/info/stores/london
30.05.18 
10.00 – 13.00 Tower of London, Tower Bridge, Fashion and Textile Museum (created by Sandra Rhodes), the exhibition "Orla Kiely: A life in Pattern" (ticket £9.90 ) http://www.ftmlondon.org/ftm-exhibitions/orla-kiely-life-in-pattern/
White Cube http://whitecube.com, Borough market, Shakespeare's Globe Theater
13.00 – 14.00 Lunch Break
14.00 – 15.00 Covent Garden,
15.00 – 19.00 Luxury streets (Bond Street, Mount Street, Burlington Arcade, Saville Road), Fortnum & Mason department store, Liberty Department Store, Carnaby Street
19:00 – Goodbye dinner at Kingly Court
Museums
The Design Museum (free, tickets can be bought for the temporary exhibitions). The mission of the Design Museum is to promote the importance of design in our daily lives. The collection shows the history of modern design and how the current designs and technologies influence the future. In May the museum will be showing:
Hope to Nope: Graphics and Politics 2008-2018. Discover how graphic design has played a pivotal role in dictating and reacting to the major political moments of our times. (£)
Azzedine Alaïa: The Couturier. Celebrate the timeless beauty of the female form with thirty-five years of haute couture from Azzedine Alaïa, and discover the mastery of cut, tailoring, fit, innovative form and materials behind the designer's unique creations. (£)
LOEWE Craft Prize 2018. In 2016, the LOEWE FOUNDATION launched the international annual LOEWE Craft Prize to showcase and celebrate newness, excellence and artistic merit in modern craftsmanship. (free)
Fashion and Textiles Museum(£9.90). Founded by Iconic British designer Zandra Rhodes is a cutting edge centre for fashion, textiles and jewellery. The Museum does not have a permanent display, and instead offers one focussed temporary exhibition every three months. Suggested visit time 45 minutes to an hour. The exhibition in May in on British designer Orla Kiely. Her stylized graphic patterns are innovative, influential and instantly recognisable. Featuring over 150 patterns and products, as well as collaborations with photographers, film directors and architects, Orla Kiely: A Life in Pattern emphasises the role of ornament and colour in our everyday lives. Highlights include the original paper sketches for the trademark 'Stem' graphic, created in the 1990s, which has evolved to feature on everything from mugs and dresses to notebooks and even cars, plus prototypes for her early signature bags and the evolution of the iconic 'Pear' and 'Flower' designs. With unique access to the company archives, the exhibition offers a privileged insight into the designer's world – how she works, what has inspired her, and why her facility with pattern has produced designs that have resonated around the world.
V&A Museum(free). The V&A Museum, named after Queen Victoria and Prince Albert, is the world's largest leading museum dedicated to decorative arts and design. The museum offers a permanent collection of over 2 million objects which date back thousands of years, illustrating the timeline of human creativity. The inspiring collections are spread across seven floors and are organised by five major themes: Asia, Europe, Materials & Techniques, Modern and finally, Exhibition.
Markets. Camdem, Old Spitafields, Covent Garden, The Royal Exchange, Dover Street Market, Carnaby Street
Arcades. Piccadily, Burlington, Royal, Royal Opera, Princes
Department Stores. Harrods, Liberty, Fortnum & Mason, Harvey Nichols, Selfridges, Fenwick
The Tailors. Saville Road, Jermyn Street
The Luxury Boutiques. Sloane Street, Mount Street, King's Road, Bond Street, Conduit Street, Red Church Street, Bruton Street, Duke Street
The mammoths. Regent Street – 1.3 km long, home to Hamleys (founded in 1760 and currently the largest toy store in the world) and more than 50 womenswear stores, including AllSaints, Anthropologie, Barbour, Burberry, Calvin Klein, Coach, Cos, Desigual, Gant, Gap, Guess, H&M, Hollister, Hugo Boss, J. Crew, Juicy Couture, Karen Millen, Karl Lagerfeld, Kate Spade, Lacoste, Levi's, Mango, Massimo Dutti, Michael Kors, Mulberry, Polo Ralph Lauren, Superdry, Ted Baker, Tommy Hilfiger, Tory Burch, Uniqlo, United Colours of Benetton, Zara, And Other Stories, 7 FOR ALL MANKIND
Oxford Street – 1.9 km long, 300 shops and 200 million visitors a year.
Evenings are free allowing you to enjoy one of London's 230 theatres, 170 museums, 100 cinemas, 350 live music venues or 7000 pubs.
Juhendaja/Lecturer: Miguel Martins, University for Creative Arts. Miguel Martins leads BA (Hons) Fashion Buying Retail Management course at UCA Rochester, where he teaches retailing, marketing and strategy. http://www.uca.ac.uk/staff-profiles/miguel-martins/
Date, time and place of the course: On 28, 29, 30 May 2018 in London
Volume of the course: three days (18 contact hours)
Price: 300 euros (The price includes the Study Trip to London).
The total price for "Luxury and Fashion Study Trip to London" and "Luxury Brand Management" is 450 euros.
"Luxury Brand Management" https://www.artun.ee/seminar-luksusbrandide-juhtimine-seminar-luxury-brand-management-14-18-may-2018/
Transportation, accommodotation, museum tickets etc… are paid by the participant.
Registration via form HERE
Info and registration: pirje.kovatomas@artun.ee / +372 626 7327