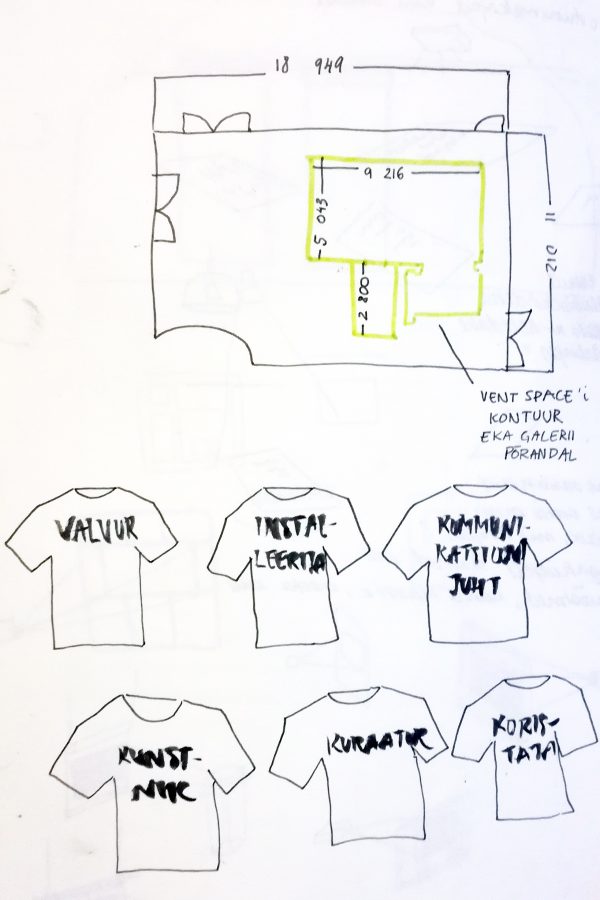 Katrin Enni, Aksel Haagensen, Kaisa Maasik, Kati Ots. Exhibition "Vent Space" sketch
28.08–30.09.2020 
Liina Siib and Maria Erikson. Grammar of Graphics
"Grammar of Graphics" is an international exhibition curated by Liina Siib and Maria Erikson. Participating artists are from Estonia, Latvia, Lithuania, and Finland.
liinasiib.com
06.10–05.11.2020
EKA Museum. Invisible Monumental Painting. Monumental Painting at EKA in 1960–1990
Participating artists: Tiit Pääsuke, Peeter Mudist, Jaan Sonn, Jüri Kask, Eva Jänes, Lemming Nagel, Robet Suvi, Heldur Lassi, Tiina Tammetalu, Heli Tuksam, Lilian Mosolainen, Kai Kaljo, Jaan Toomik, Kaido Ole and others. The exhibition is curated by Reeli Kõiv, the curator of EKA Museum.
10–28.11.2020
Elize Hiiop, Lauri Kilusk, Kaiko Kivi, Martin Melioranski and Urmas Puhkan. Ceramic Dimension
Juss Heinsalu. Al₂Si₂O₅(OH)₄
International workshop-exhibition "Ceramic Dimension" gives an overview of printing with clay at EKA. The project is organized by Lauri Kilusk and Urmas Puhkan from EKA Ceramics department and Kaiko Kivi and Martin Meriolanski from the Architecture department.
Juss Heinsalu's exhibition "Al₂Si₂O₅(OH)₄" is set up as an experimental laboratory which combines scientific explorations with speculation and poetics. The central focus of this installation relies on active observation and transcoding of clay. 
30.11–20.12.2020
Faculty of Fine Arts. Assessment Marathon
Exhibitions of term projects by students in the Faculty of Fine Arts. Every day there will be a fresh crop of university students' works on display in the gallery.