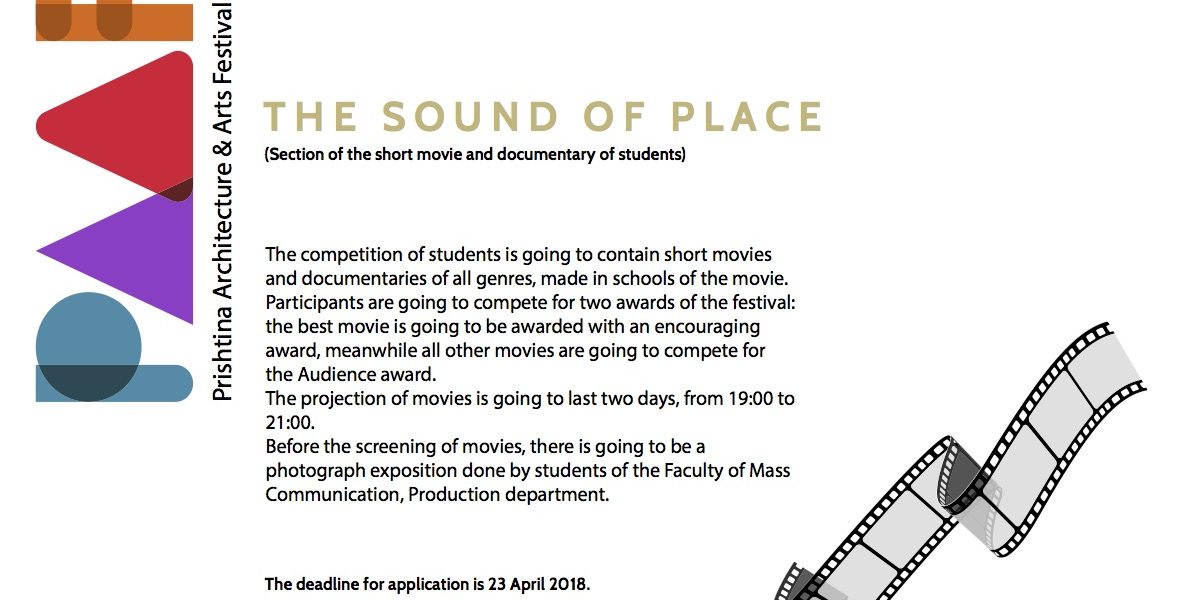 Location:
PRISHTINA, KOSOVO
Start Date:
03.05.2018
Start Time:
10:00
End Date:
05.04.2018
PRISHTINA Architecture & Art Festival (PAAF) with the slogan "The sound of place", is an event that seeks to link Architecture and other disciplines in the field of Art through Conferences, Exhibitions, Concerts, Exhibitions, Roundtables, Workshops, Films, Instalations, etc..
The cultural diversity of Southeast Europe, the multicultural complexity and interdisciplinary interweaving demonstrates an unprecedented extension of Architecture and Art to this region. Despite the successive conflicts in Europe, on these spaces is articulated a harmonious language both in architecture and art, craftsmanship and culture in general. Relationship between the forms of artistic expression and the cultural diversity linked with the location, will be in the focus of PAAF'18 and festivals that will be held in 2019 and other years in the future.
This year festival is scheduled to take place during 3-5 May 2018 in Prishtina-KOSOVA, besides the professors, experts and assistants, there will be considerable space for young scientists and artists and especially students.
Date: 3-5 May, 2018
Place: Prishtina, Republic of Kosovo, AAB COLLEGE
"The sound of Place"
(Multidisciplinary and Interdisciplinary approach in Architecture&Arts)
CONTENT:
Scientific Conference (Architecture&Art)
Exhibition (Paintings, Photography, etc.)
Competition:
– "The Best Diploma Project" PAAF'18 (Architecture&Interior Design)
–  "The best Branding design" for PAAF'18 (Visual Communication)
From design to implementation "Kosovar Euro coin"
"Authenticity and modernity in fashion design"
Concert: "Acousmatics-correlation of music and architecture"
CONFERENCE of PAAF'18:
In this edition on PAAF'18, is the 4th International Scientific Conference organized at UAAB. This year's conference is considered very specific because apart from architecture, it also brings together other visual arts (Graphic design, Fashion Design, Interior Design) but also musicology and documentary film. The two facets of PAAF'18 and especially the Conference are MULTI and INTER the discipline of topics from architecture and art but also the connection to a certain territory which is the territory of Southeast Europe. It is expected that the works will have a comprehensive approach by exploring the relationships between the various arts in the midst of their own, especially with architecture. They look like works related to autochthonous houses trying to overlook its typological background. The conference welcomes scientific papers – according to the Thesis Kosova criteria (attached to the end) which be published on Proceedings Book with ISBN, poster presentations and presentations (e.g. PowerPOINT) open for discussion.
Deadlines to be followed:
o Deadline for Submission of Abstracts, April 5, 2018
o Deadline for Submission of Draft Works and Presentations at PowerPOINT, 15 April 2018
o Deadline for submission of final work according to Thesis Kosovo criteria: 15 May 2018
SUBMIT for CONFERENCE: New Full Paper/Poster/Abstract Submissions: 5th March, 2018 2018 (Early Bird deadline)
The attendance on the event for researches should submit the abstract no later than 5th April 2018 at 11:00 o'clock by filling the application provided in the link
SUBMISSION using Email: paaf@universitetiaab.com  and Web page: https://aab-edu.net/en/ or https://paaf.aab-edu.net
One of the Best Papers will be will be awarded with Certificate for Best Paper of the conference.
Accepted papers of the conference will be published (free of charge) in the printed in Scientific Review "Thesis" (https://aab-edu.net/en/research/scientific-review-thesis/) proceedings with valid International ISBN number.
COMPETITIONS:
This edition organize three different competition:
o Best diploma project
o Best branding design
o Best Documentary film
In all categories of competition will be engaged international jury.
BEST DIPLOMA PROJECT:
The competition "The Best Diploma Project" PAAF'18 is dedicated for the students of Architecture & Interior Design. This competition has 3 categories: MASTER, BACHELOR and Diploma for Secondary School of Architecture and Interior.
Dead line for submission 23rd April, 2018
BEST BRANDING DESIGN:
Since "PAAF" is going to be a yearly festival, we encourage all the Graphic Designers that want to be part of "PAAF 2019" branding, to apply and start competing to win the next year branding contest. In order to apply, the designer should send an request email on: paaf@universitetiaab.com and during the next week we will send all the required info. The winner will be announced on the last day of this year festival.
DOCUMENTARY FILM:
Documentary film night offers a wide selection of diverse competition and non-competition films. Incorporated into the PAAF'18 festival with a series of sidebar events to promote authenticity and identity audience and professional appreciation for documentary films with priority on Southeast Europe.
Deadline for submission 23rd April, 2018
OTHER EVENTS of PAAF'18
STUDENT WORK PRESENTATION:
"Authenticity and Modernity in fashion design":
"The sound of place" is the title that will embody the fashion design student work presentation at the first edition of the Prishtina Architecture and Arts Festival Application on this topic of costumes with focus on Authenticity and reflection in today fashion design could be done with photos or drawings (Dead line for submission 23rd April, 2018). Final participation should be with model in open show. In this project can participate all students from Southeast countries. The show will be organized by Krenare Rugova (Head of Fashion Design Department) and Albulena Borovci (Project Creative Director).
FROM DESIGN TO IMPLEMENTATION: "Kosovar Euro coin"
PAAF'18 will present exhibition of student work on design of Euro coin which is ongoing project in internal competition of students of AABU. During PAAF'18 students will prepare model of winner in proportion 100:1 and present printed designs of all other participants. This intern competition is organized by professor Fitim Aliu.
CONCERT:
A concert of acousmatic music performed through the octophonic system of 8 loudspeakers. The programme explores sound materials and the "echoes" of the sounds in space. The auditor, eyes closed, will sense the space and allow the imagination to deploy its spatial sensations. The concert will feature the works of Kosovar composer/professor Donika Rudi in assistance od students of UAAB.
We invite also young composer and students to participate with similar projects in PAAF'18.
SITE SEEING of USA Embassy's in Prishtina (under construction)
In cooperation with Embassy of USA in Kosovo is organized site seeing of building which is under construction for group up to 10 participants. The interested participants should apply until 1st March 2018. This visit will be facilitated by Professor Adelina Tahiri (adelina.tahiri@universitetiaab.com).
Enquiries: paaf@universitetiaab.com
Web address: https://aab-edu.net/en/ & https://paaf-ks.com
Awards
The following "Awards" will be given to the participans which will be selected by the committee among the presented papers/posters/ presented in the Conference and commpetitions.
– Best Paper Award
– The Researcher of the Year Award
– The Young Researcher of the Year Award
– Best Diploma Project (Architecture&Interior Design)
– Best Branding Design of PAAF'19
– Best documentary Film
– Best Costume Design