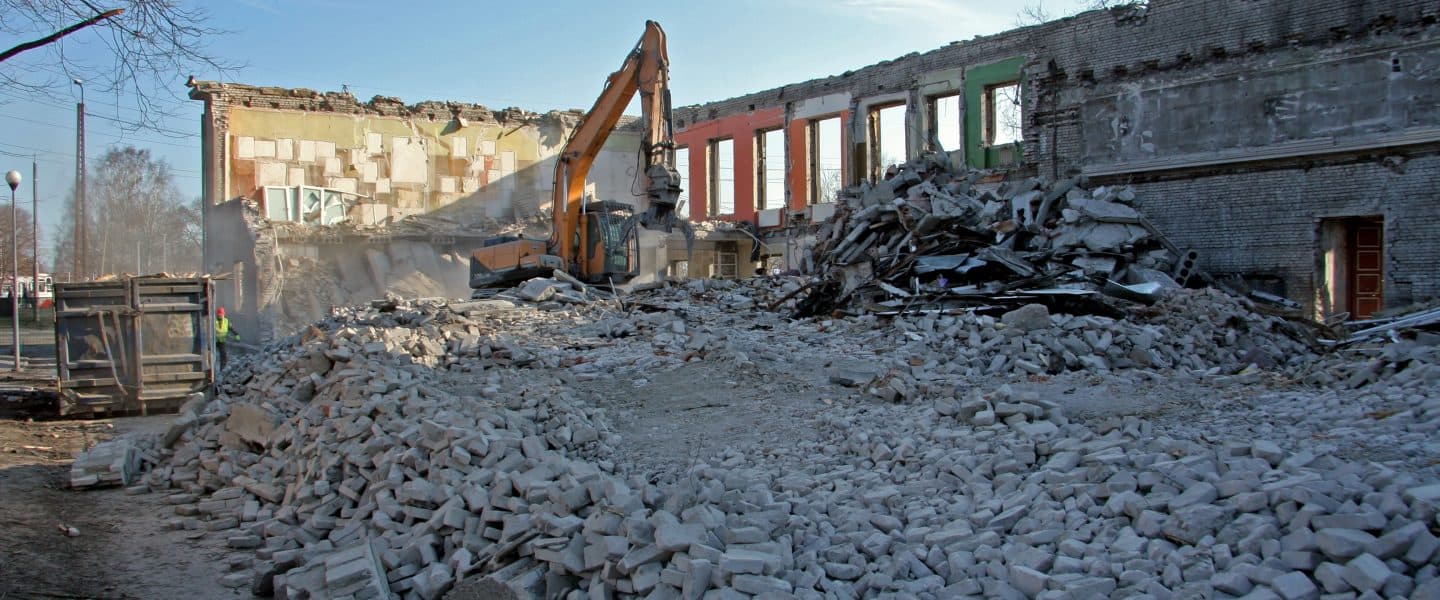 Remains of the fresco by Dolores Hoffmann on the wall of the demolished cinema 'Rahu'. Photo: Ainar Luik
Start Date:
06.08.2019
Start Time:
17:00
End Date:
07.09.2019
The rescue from destruction of Dolores Hoffmann's fresco 'Morning' at the Cinema 'Rahu' ('Peace') in Kopli, Tallinn.
The exhibition is open from August 6 at the Gallery of the Estonian Academy of Arts at Põhja pst 7. The theme of the exhibition is a 74 m² fresco by Dolores Hoffmann that she completed as her graduation project – no longer in one piece today.

In 1963 Dolores Hoffmann, a future renowned monumentalist, professor and famous stained glass artist, painted an enormous mural 'Hommik' ('Morning') at the newly opened cinema 'Rahu' ('Peace'). The earliest known Soviet era monumental fresco was painted on the basis of a draft graduation project from the ESSR State Art Institute. The artist used her friends and peers as models, the brothers Arrak, Jüri Palm, Evi Sepp and many others. She also included Ernest Hemingway, an idol writer for the youth of that era.
In 2019 the dilapidated cinema building was demolished to be replaced by a modern shopping centre. The 74 m² monumental work of art by Dolores Hoffmann would have been demolished in the process had the Department of Cultural Heritage and Conservation of the Estonian Academy of Arts not made it its mission to rescue at least parts of the fresco – about half of the painting was dismantled and preserved and pieces of it are kept in the Estonian Academy of Arts Museum.
This exhibition in the Estonian Academy of Arts Gallery on 6.8.–7.9.2019 tells the story of the rescue of the fresco 'Hommik'. The monumental mural will be shown as a projection with the rescued fragments 'planted' into it. The exposition gives another chance to look at the artwork as a conditional whole – something that no longer exists and to contemplate the preservation and appreciation of cultural heritage.
Exhibition team: Hilkka Hiiop, Reeli Kõiv, Frank Lukk, Andres Uueni, Taavi Tiidor, Maris Veeremäe
The exhibition is accompanied by a book under the same title, compiled by the Estonian Academy of Arts Cultural Heritage and Conservation Department and the Estonian Academy of Arts Museum.
The book gives a detailed and abundantly illustrated insight into the dismantling process of the giant fresco by Dolores Hoffmann in all its complexity. It also tells the story of this monumental painting including its historical context, the process of creation, an analysis of the painting, its critical reception, its afterlife etc, as well as the philosophy of conservation and the history of the dismantling of frescos. The book is supplemented by direct quotations from an interview with Dolores Hoffmann.
The texts were written by Hilkka Hiiop, Reeli Kõiv, Andrus Laansalu and Frank Lukk, and edited by Anneli Randla and Maris Veeremäe, designed by Villu Plink. Published in Estonian and in English by Tallinna Raamatutrükikoda, 64 pages.
For more information contact: Hilkka Hiiop – hilkka.hiiop@artun.ee, tel 56 577980