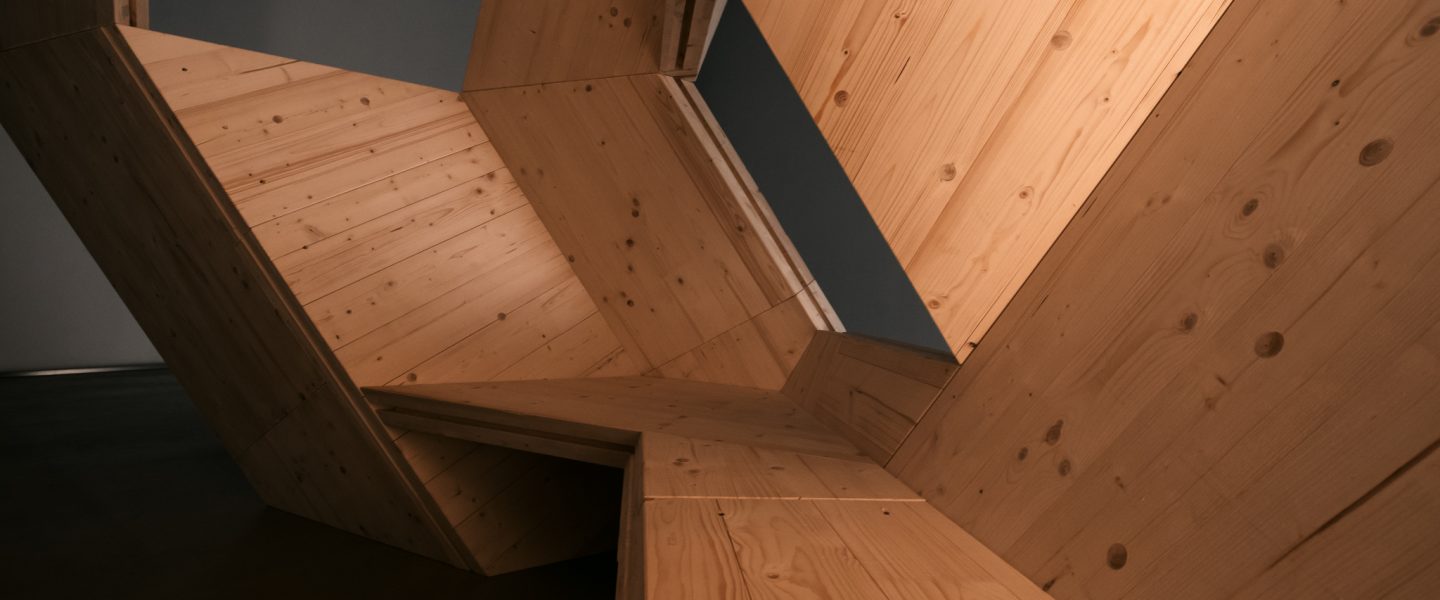 Location:
EKA Galerii
Start Date:
19.01.2021
Start Time:
12:00
End Date:
06.02.2021
ELEMENTerial — materialisation of the metagrid
EKA algorithmic timber architecture research group exhibition
Authors: dr Sille Pihlak, dr Siim Tuksam

The exhibition "ELEMENTerial" looks at the elements of architecture. What does a house consist of? In an increasingly digital world, a list of materials alone is not enough. In addition to materials and construction methods, the principles of building construction are increasingly influenced by digital tools and sustainability.
With the exhibition we draw parallels between physical and virtual modularity. The digital world is also built from puzzle pieces – algorithms. Algorithms are rule sets that control digital processes. There are also rules in construction, where, what,t and how something can be built – plans and standards. Different materials and technologies, in turn, set geometric constraints. Looking at all these components as algorithmic modules, creates parallels that are easier to understand.
The exhibition describes alternative creative solutions in factory-produced modular wooden architecture developed in collaboration with engineers and wooden house manufacturers over four years of research, and introduces the ideas and methods behind them.
Dr Sille Pihlak is practicing architect, researcher, tutor and co-founder of the algorithmic timber architecture research group in Estonian Academy of Arts, Faculty of Architecture. Sille has studied interior architecture in Estonian Academy of Arts, architecture in Southern California Institute of Architecture and completed her masters in the University of Applied Arts Vienna. After her studies she practiced as design architect in Morphosis Architects in Los Angeles and in Coophimmelb(l)au Vienna. In 2015, together with Siim Tuksam, they started their own office PART–Practice for Architecture, Research and Theory. PART constructed designs have been awarded for their innovative construction techniques, methods of designing and geometry studies, with latest recognition on high voltage electricity pylon Bog Fox. In past five years, Sille has been an active participant in forestry and timber architecture related discussions, as a believer of inevitable sustainability in construction, her work deals with combining algorithmic techniques with local timber industry.
Dr Siim Tuksam is a practicing architect, co-founder of PART – Practice for Architecture, Research and Theory, and a researcher at EKA faculty of architecture, co-founder of the algorithmic timber architecture research group. Siim completed his master studies at the University of Applied Arts Vienna in 2013 having spent a visiting semester at the Southern California Institute of Architecture. During his studies he gained experience at various architecture offices, most notably Gehry Technologies in Paris and Coop Himmelb(l)au in Vienna. Since graduation he has been developing his own practice through exhibitions, installations, writings, and architectural projects. Together with Johanna Jõekalda and Johan Tali, he was the curator of the Estonian pavilion Interspace at the Venice Architecture Biennale in 2014. In 2015, together with Sille Pihlak, he founded PART to curate the Tallinn Architecture Biennale 2015 main exhibition Body Building. As a researcher and partner at PART he's been devoted to developing algorithmic tools for the design and delivery of pre-fabricated architecture and the critical discourse of digital architecture.
Graphic design: Robi Jõeleht (Polaar)
Support by: Cultural Endowment of Estonia, Estonian Ministry of Culture, Estonian Academy of Arts Faculty of Architecture, Union of Estonian Architects, Arcwood, Rothoblaas.