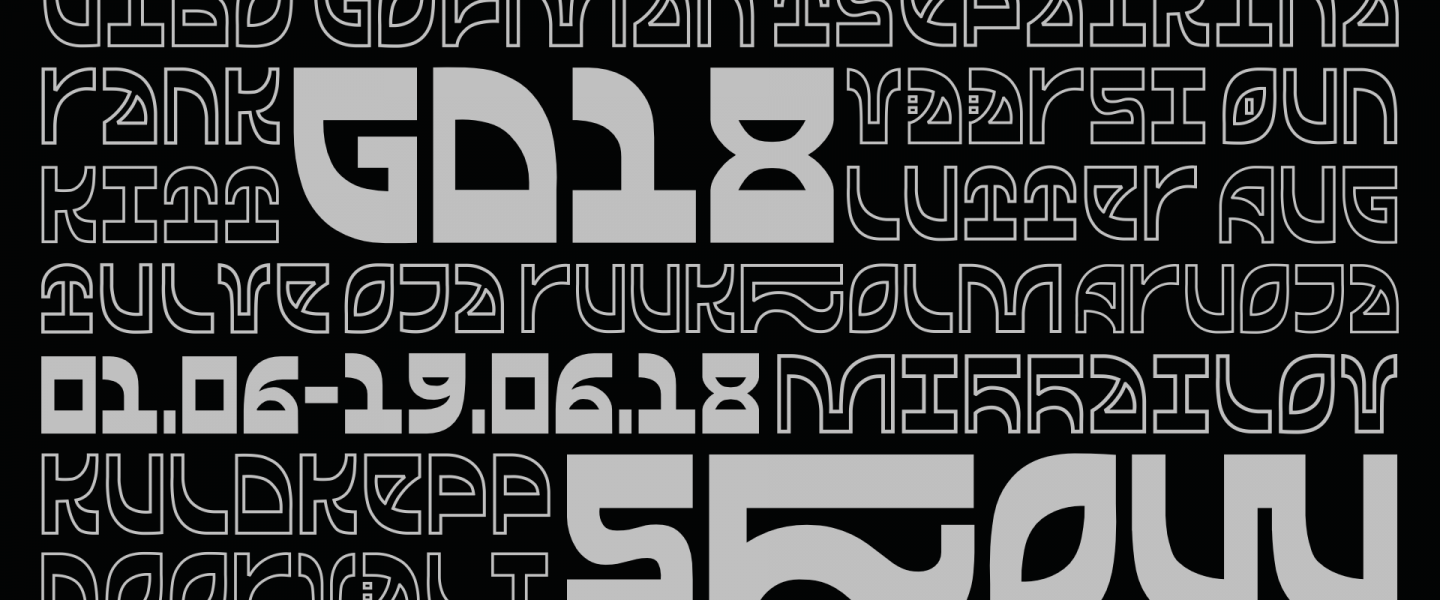 Sixteen young designers graduating with bachelor's degree in Graphic Design present their final works in "GD18 SHOW" at EKA Gallery. The exhibition opens with a reception at 5PM on May 31st. The exhibition will feature publications, fonts, video and board games, interactive stories, sound projects and works for the Estonian Academy of Arts.
The projects address and deal with topics, such as attention economy, culture jamming, stereotypes, character play and creation, uncanny valley and more.
The starting point for the "GD18 SHOW" is the meeting place stuudioruum at Estonia pst 7, where the students have been working, studying and socializing for the past three years. The exhibition also reuses and gives another chance for the self-built and borrowed furniture.
Prior to the exhibition the graduating class will present their thesis projects on May 30th from 10AM thorough 12.30PM at the gallery hall of Center of Architecture (Põhja pst 27a). Presentations will be in English.
Exhibiting designers: Kermo Aruoja, Allan Aug, Martina Gofman, Elis Kitt, Kaspar Kuldkepp, Vello Lutter, Oskar Mihhailov, Joosep Noorväli, Anselm Oja, Eva Rank, Johanna Ruukholm, Anastassia Tšepaikina, Nathan Tulve, Karl Uibo, Mathias Väärsi, and Väino Õun.
Supervisors: Ranno Ait, Jaan Evart, Mikk Heinsoo, Ott Kagovere, Daniel Kotsjuba, Moonika Maidre, Sandra Nuut, Norman Orro, Brit Pavelson, Indrek Sirkel, Kert Viiart, and Kerli Virk.
GD18 SHOW programme:
June 1, 6PM – Presentation of the book BRNO GUIDE
(Vello Lutter & Mathias Väärsi)
June 5, 6PM – Presentation of the board game ALU
(Kermo Aruoja & Oskar Mihhailov)
June 8, 6PM – Bedtime Express II
(Eva Rank)
June 12, 6PM – Presentation of the video game Exquisite Corps
(Anastassia Tšepaikina)
June 15, 6PM – Social experiments and rave
(Anselm Oja)
June 19, 6PM – Bedtime Express III
(Eva Rank)
GD18 SHOW at EKA GALLERY
Opening reception May 31, 5PM
Open June 1 through 19, 2018
Tue–Sat 12PM–6PM
Vabaduse väljak 6/8
More information:
Sandra Nuut
sandra.nuut@artun.ee