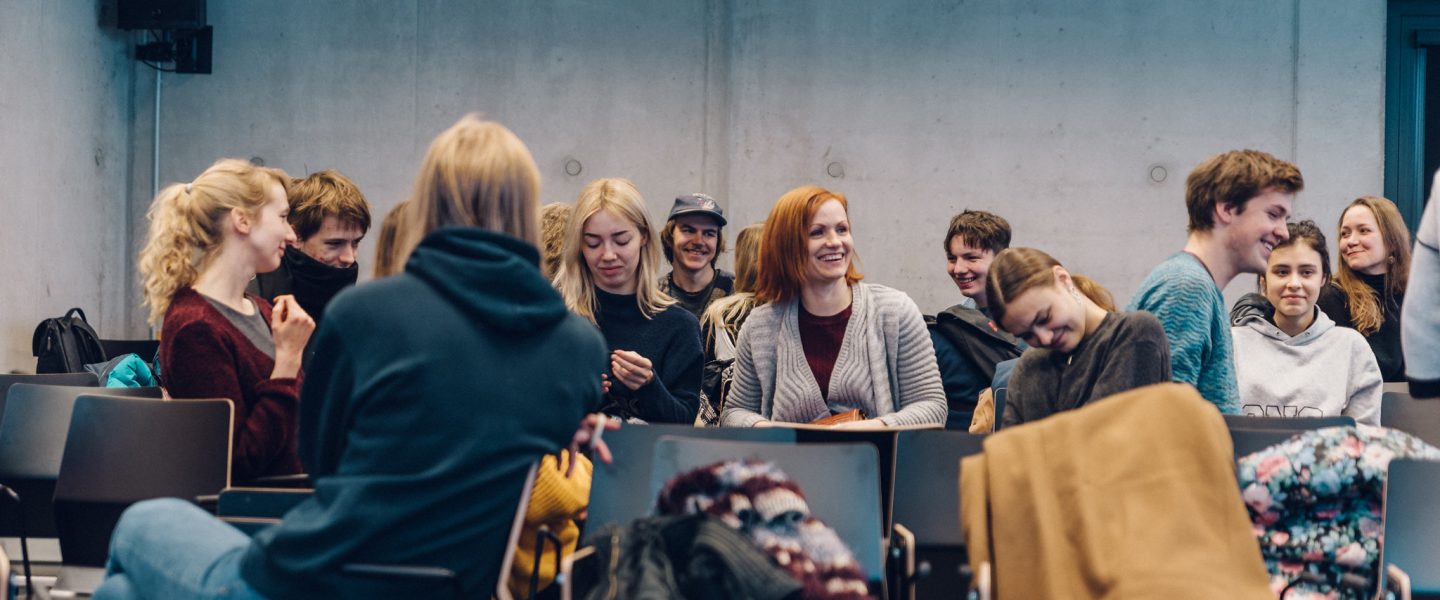 Dear freshman!
Welcome to the Estonian Academy of Arts!
The academic year 2020/2021 begins with an introductory week on August 25, the schedule can be found in the list below. If possible (if you don't have to be in self-isolation), please attend a meeting in your speciality, because you will get important information about studies (curriculum, lesson plan, etc.) and meet your professors and fellow students!
Regular studies start on August 31. You can see your curriculum and timetable in the study information system (ÕIS), which you can also view without logging in. As a student you can log in from August 25, then you will be matriculated as an academy student. You can log into the ÕIS with an ID card, mobile ID or smart ID if you have Estonian personal identification code, if not, then you will get username and password which can be obtained from the IT department it@artun.ee. Curriculum and group codes can be found in the list below.
All first-year students will receive an EKA e-mail address in the form of firstname.lastname@artun.ee, through which takes place communication with the university. The e-mail address will be provided to you by the IT department it@artun.ee.
Student status is proven by an ISIC card, which all students can apply for. To apply for a student idcard, please contact EKA administrator Svetlana Lesment, svetlana.lesment@artun.ee (or the information desk at EKA main building). The price of an ISIC card, for one academic year, is starting from € 7.50. It takes about 10 days to get the card. You will be notified by e-mail when the card is ready, and you can pick it up from the information desk by the main door. The ISIC card also acts as a door card in the EKA building.
Important! As due to the spread of COVID-19, the EKA house can only be accessed with an ISIC card, I recommend ordering the card immediately. If you lose the card, please notify the information desk about it and the access rights will be removed from the lost card.
If you need help or have questions, the primary contact is Academic Affairs Specialist of your curriculum, who provides study information to students (eg timetabels, credits etc.). You can find the contact information about your Academic Affairs Specialist from the list below.
Important! Due to the spread of COVID-19, the 50% occupancy requirement must be observed on the premises of EKA rooms and if the requirement cannot be met or the lecturer /master requires it, a protective mask must be worn. Please provide yourself with a protective mask(s) so that You can use it if necessary.
See you at the academy!
Introductory week
Introductory week school events
Wednesday, 26.08.2020
10.00-12.30 Professor Mart Kalm's lecture "How did the Art Academy become the Art Academy?" (in Estonian) + OPENING CEREMONY, room A101
Thursday, 27.08.2020
10.00-12.00 Presentation of studies for students of international curricula, room 501
FACULTY OF ARCHITECTURE
Urban Studies MA curriculum
Tuesday, 25.08.2020
10.00 Greetings from Prof. Andres Ojar, Dean of the Faculty, and meeting with professors, information session, room C401
FACULTY OF DESIGN
Design and Crafts MA, Graphic Design MA, Interaction Design MA curriculum
Tuesday, 25.08.2020
10.00-11.00 Greetings from Prof. Kristjan Mändmaa, Dean of the Faculty, room A101
Wednesday, 26.08.2020
14.00-16.00 meeting with Textile Design exchange students, room D505
14.30-16.00 meeting with Product Design exchange students, C301
Friday, 28.08.2020
9.00-16.00 Interaction Design MA students – Welcome to IxD.ma! Introductory Workshop in TBA
15.00 meeting with Graphic Design MA students, C304
DOCTORAL SCHOOL
Thursday, 27.08.2020
13.00-14.00 meeting with new doctoral students, room A303
FACULTY OF FINE ARTS
Animation MA, Contemporary Art MA curriculum
Wednesday, 26.08.2020
13:00 Contemporary Art freshmen meeting in the department, room B205
Thursday, 27.08.2020
14.30 Animation freshmen meeting in the department, room B312.1
Friday, 28.08.2020
18.00 Opening of the exhibition "Similarity through contact. Grammar of graphics" in EKA gallery
Curriculum and group codes, Academic Affairs Specialist contact