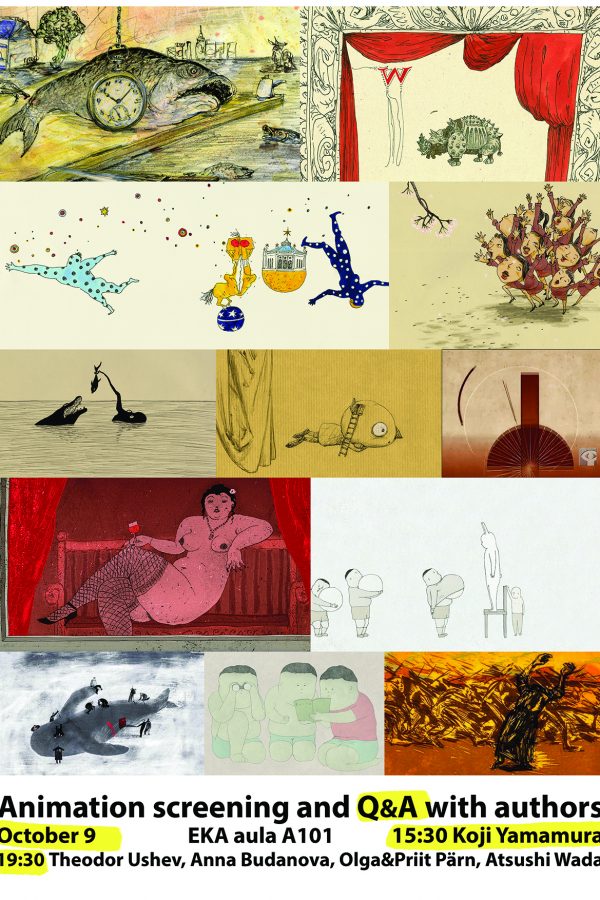 Start Date:
10.09.2018
Start Time:
19:30
End Date:
10.09.2018
The delegation from Geidai Art University (Japan) will visit Estonian Academy of Arts at the beginning of Octobre. There are altogether 9 people: teachers and students from two departments of Geidai. The Department of New Media will be presented by professor Takashi Kiriyama and four former students. The Department of Animation will be presented by professor Koji Yamamura, dean and professor Mitsuko Okamoto, assistant professor Ilan Nguyen and a former student Atsushi Wada, who is also an animation teacher at Kobe Design University.
The main reason for the visit of Geidai Art University delegation is the project Vivaldi Four Seasons. The idea and realization of this rare multimedia project belong to Geidai Art University. It is a concert with chamber orchestra, wherein live synchronization with music will be screened four animations by Anna Budanova (RU) for "Spring", Olga&Priit Pärn (EE) for "Summer", Atsushi Wada (JP) for "Autumn" and Theodor Ushev (CA) for "Winter". The Four Seasons refers to the four concerts composed by Antonio Vivaldi and performed in 1725 as part of "The Contest Between Harmony and Invention." Bearing the names "Spring", "Summer," "Autumn," and "Winter," the works call forth rich imagery in the mind of the listener. In this project, five leading animation directors give visual form to Vivaldi's musical world. It is very enjoyable and ideal combination of animation and music! The dream of genius composer Antonio Vivaldi finally come alive in animation three centuries later after the very first interpretation of  Four Seasons.
The Tallinn concert will be performed by legendary Covent Garden Soloists orchestra from London in Vene Teater 8th of October. Soloists are Sergey Levitin and Vladimir Pogoretsky.
Manipulation with the live stream during the performance will be done by Takashi Kiriyama and his 4 talented students: Noriko Koshida (Autumn), Ryoya Usuha (Spring), Teru Uehira (Summer), Kuwabara Toshiyuki(Winter). The artistic director of the project is Koji Yamamura. The exclusive producer is Mitsuko Okamoto. The idea of this live performance belongs to the President of Geidai Art University, Mr. Kazuki Sawa. Tallinn event is organized by Tallinn Portrait Gallery.
After the performance, there will be the opening of Priit Pärn's exhibition Vivaldi's Summer in Tallinn Portrait Gallery.
TIME SCHEDULE
October 9 at 15:30 -17:30
animations by Koji Yamamura and Q&A
auditorium A101
October 9 at 19:30-21:30
animations by directors who took part in the project Vivaldi Four Seasons – Anna Budanova, Olga&Priit Pärn, Atsushi Wada and Theodor Ushev and Q&A
auditorium A101
Read more:
See you,
EKA Department of Animation