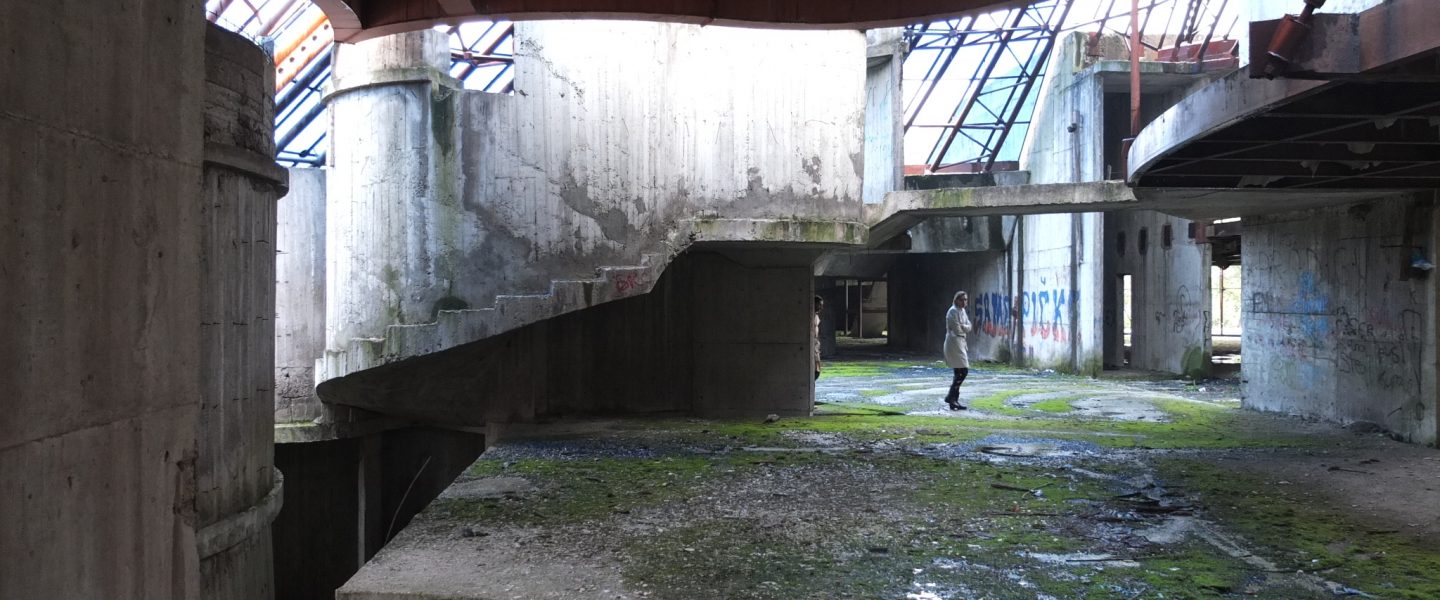 Revolutsiooni kodu. Montenegros 1980. aastatel seiskunud ehitusele otsitakse funktsiooni avaliku ruumina
Location:
Kanuti Gildi SAAL
Start Date:
22.03.2018
Start Time:
18:00
End Date:
28.03.2018
The next lecturer of the Open Lecture Series this spring semester is Boštjan Vuga, stepping on the stage of Kanuti Gildi SAAL (Pikk 20, Tallinn) on 22nd of March at 6 pm to talk about possible future of construction sites that have turned into urban ruins due to economic or political crises.

SADAR+VUGA's largest project – Sports Park Stožice in Ljubljana, a hybrid of sports, leisure and commercial programs – was only partially completed due to the recent economic crisis. SADAR+VUGA were involved in an international student workshop searching for possible futures of the large decaying construction site that would be more appropriate for the specific post-capitalist society.
Similarly, the massive structure of the Home of Revolution (architect Marko Mušič) was never finished. It has been sitting in the urban tissue of Nikšić, Montenegro for nearly three decades after the project was abandoned in the 1980s. After winning an international competition for its adaptation and renovation, SADAR+VUGA, HHF Architects and Dijana Vučinić initiated realization of the project's gradual transition from an urban ruin into a covered public space that generates cultural, social and economic changes in a postindustrial Montenegrin town.
Boštjan Vuga graduated at the Faculty of Architecture in Ljubljana in 1992 and completed the postgraduate masters course at the AA School of Architecture in London from 1993-1995. Together with Jurij Sadar, they founded the SADAR+VUGA (S+V) office in Ljubljana in 1996, which in two decades took place as one of the critical European architectural practices with production and communication based on an open, integral and innovative concept. Their most acclaimed works include Chamber of Commerce and Industry of Slovenia (1996), Central part of the National Gallery, Ljubljana (1996) Stadium and Multipurpose hall Stožice (2010) and Air Traffic Control Centre Ljubljana (2013). The office has received many national and global architectural awards (Bauwelt Prize, Iconic Award, Archmaraton Award, Piranesi award, Plečnik Prize) and eight Mies van der Rohe Award nominations. Additionally the teach and critic internationally acknowledged universities and Vuga was a co-curator at the Montenegro Pavilion, "Treasures in Disguise" at the14th Venice Biennale of Architecture "Fundamentals", Venice 2014.
The Open Lecture Series brings to Tallinn a number of exciting architects, urban planners, academics from across the world. All Open Lectures are free of charge, in English, take place every fortnight, and are open to everyone – for both students and professionals of the field, general audience and students considering architecture for their further studies.
The architecture and urban design department of the Estonian Academy of Arts has been curating the Open Lectures on Architecture series since 2012 – each year, a dozen architects, urbanists, both practicing as well as academics, introduce their work and field of research to the audience in Tallinn. All lectures are in English, free and open to all interested, drawing an audience of students as well as professionals and academics from the fields of architecture, design, engineering but also fine arts. The series is funded by the Estonian Cultural Endowment.
Curators: Sille Pihlak, Siim Tuksam
www.avatudloengud.ee
Event in Facebook
More info: Pille Epner / arhitektuur@artun.ee / +372 642 0071