Francisco Martínez
I work as a Visiting Professor at the Estonian Academy of Arts, being the head of the Social Design MA. I also convene the Collaboratory for Ethnographic Experimentation (EASA Network) and coordinate the Politics of Repair book series (Berghahn). Before, I had worked at the University of Helsinki, Aalto University and the University of Leicester, among other institutions. In 2018, I was awarded the Early Career Prize of the European Association of Social Anthropologists.
In my career, I have investigated the materialisation of social changes across a range of European locations, paying attention to how cultural and political discourses have material resonances.  For a decade, I have been studying different manifestation of socio-material instability, becoming aware of the fragility of the things we construct while developing a grounded and innovative methodological approach. Stemming from the international collaborations forged through my research, I have had the chance to regularly share my work in prestigious institutions throughout Europe, the UK, Russia and the Americas. I have published several books, including Ethnographic Experiments with Artists, Designers and Boundary Objects (UCL Press, 2021); Remains of the Soviet Past in Estonia (UCL Press, 2018); Politics of Recuperation in Post-Crisis Portugal(Bloomsbury, 2020); Repair, Brokenness, Breakthrough(Berghahn, 2019), and Peripheral Methodologies (Routledge, 2021).
I also led different art projects – including, 'Objects of Attention' (Estonian Museum of Applied Art & Design, 2019); 'Greetings from Another Time and Space' (Contemporary Art Museum of Estonia, 2019); 'Life in Decline' (Estonian Mining Museum, 2021); and 'Keeping Things in the Dark' (Riga Art Space, 2022). Likewise, I have a demonstrated ability to secure competitive research funding, such as ERC Mobilitas, Interreg, the European Cultural Foundation, Erasmus Mundus, Nordic Point, Jean Monnet Module, Estonian Ministry of Education, Estonian Cultural Endowment, Baltic-German Liaison Office, EKA Creative Research Grant and Finnish Cultural Institute. 
Contemporary problems are now investigated and theorised by a range of inter-disciplinary and often non-academic fields that fall outside the conventional boundaries of disciplines. Last but not least, social transformations are being affected by a greater range of materials, technologies, actors, temporalities, scales, and forms of value-allocation.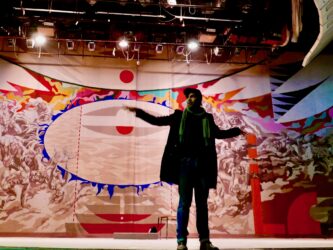 Visiting Professor