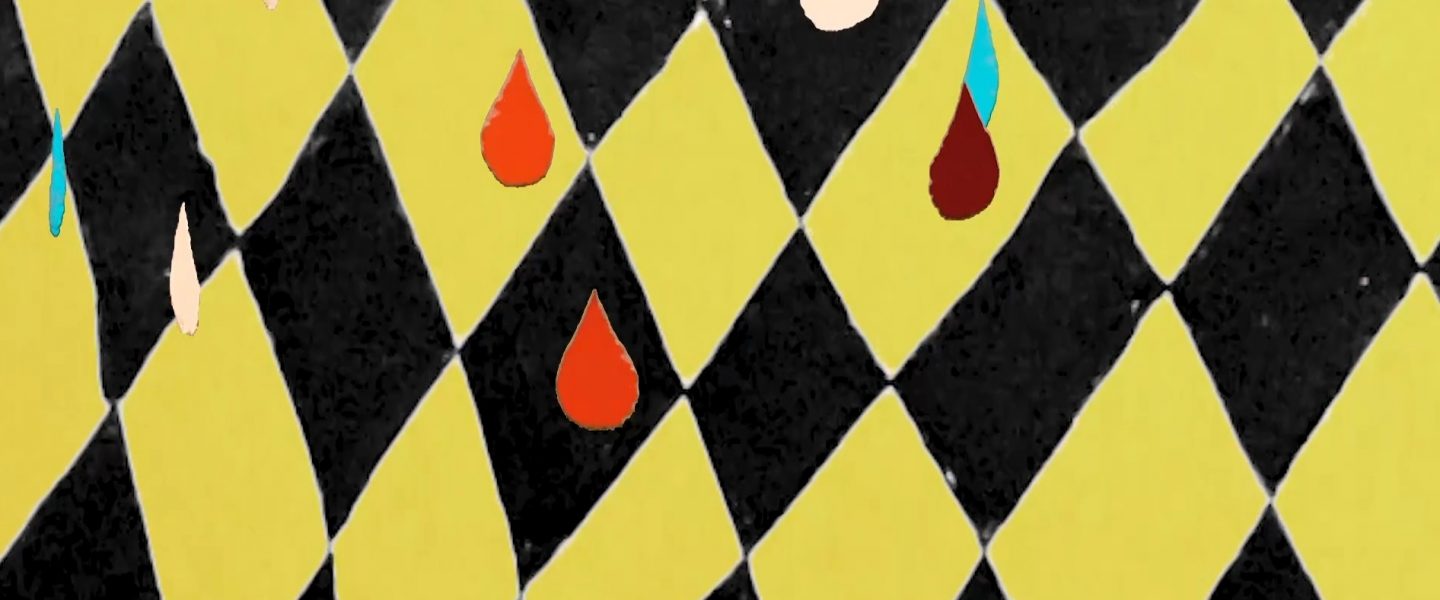 Sellel pildil on Frida Retz residentuuriprogrammi illustreeriv foto. Autor kunstnik ise.
Frida Retz (1997), on taani kunstnik, kes on hetkel oma vahetsusemestril Eesti Kunstiakadeemias. Retz uurib feminismi, seksuaalsust ja identiteeti läbi oma multidistsiplinaarse kunstnikutöö. Hetkel keskendub kunstnik soolisele ebavõrdsusele, eriti naise seksuaalsusele ja kehanormidele kasutades videoformaati, skulptuuri, maali, tekstiili kui ka graafikat. Oma viimases keraamikaprojektis "Plinths" ja videos "Switch" uurib ta võimumänge eksperimenteerides tekstuuridega.
Oma residentuuriprogrammis käsitles noor kunstnik futurisliku raamatukogu ideed, kasutades low-tech skulptuure ja eksperimenteerides rohelise ekraaniga.
Johanna Jolen Kuzmenko, kes osales koos Frida Retziga residentuuriprogrammis, on ajaloolane. Teda huvitab kaasaaegne kunst ning tema spetsialiseerumine on Eesti modernismis. Tema artikleid on avaldanud mitmed Eesti väljaanded. Lisaks sellele on ta töötanud ka Veneetsa Biennaalil Eesti paviljonis.
Kuzmenko intervjueerib Retz'i uurides tema residentuuriprogrammi kohta.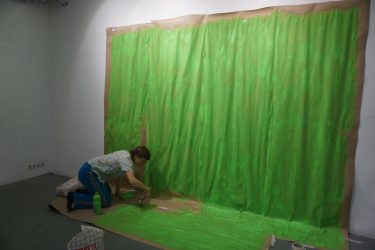 A tale of changing plans 
This is an overview of the residency week in Vent Space, where Danish Erasmus student Frida Retz created a video which she shot in the gallery room, but finished at home. Why at home? Self-isolation – enough said. And then just before the residency was supposed to end, all the galleries and museums closed due to the government measures to restrict COVID-19. So in the end we had one incredibly optimistic and fun evening in the beginning of the residency week in Vent Space, where we chatted and Frida Retz showed me what she had just begun. But in the grand scheme of things everything worked out, because we moved from physical space to virtual.  I took an early look at the video "Drops" and asked some questions from Frida. In many ways it was an assuring week, since it proved that with enough creativity and will to adapt, everything is possible.
February 27
Frida Retz Nielsen's project deals with topics such as (in)equality, gender norms and stereotypes and uncomfortable questions around them. Frida explores those themes through film. By using green screen, she created a slightly chaotic looking DIY laboratory in Vent Space gallery. In the beginning of the project the gallery looked a bit like a laboratory where a mad scientist was left to go wild and make the most of an empty blank space of a room. A room to vent, if you will. 
It started with a wall full of cardboard, tubes and bottles of green paint and different ideas about where the project actually could go. On the second day of the week-long residency Frida had seemingly more questions than answers, but there is a certain excitement in that. We both were sure that something thought-provoking is going to come out of it. Just what exactly, was unclear. Vision was there and the main driving force behind was gender stereotypes and how it affects many different aspects of everyday life and bigger cultural undercurrents not that easily detectable. 
One main topic about the film centers around bodily fluids. For example, why is menstruation such a taboo, when half of the population has it for the better part of their life? Is menstruation blood the most taboo of the all taboo topics or are social conditions changing? 
March 5
Oh, the February 27th me was optimistic and looking forward to seeing how Frida Retz's gallery space will change its shape as the week goes  by. But that one day that I got to visit her DIY laboratory was the only time I got to do that. I guess optimism and the 2021 coronavirus pandemic maybe shouldn't go hand in hand. Naive wishful thinking that residency will go as planned? Yes. Somehow in that one week the artist who had her artist-in-residency had to stay in self isolation because she was in contact with a corona positive person. And if that wasn't enough, the corona numbers got significantly worse than before and the government decided to close all the exhibition spaces for a month. Oh, the March realism hit hard. Bye, the February optimism. But still. Frida Retz did not give up and kept working on the video that she already began shooting and editing in the gallery. I don't know how the project could have turned out if Frida Retz would have been able to finish it in her own time in the space that she created in Vent Space, but at the end of the day these IF questions doesn't matter. What matters is the fact that Drops came together and we still had a productive time communicating together.
What did she manage to create with the cards that were now handed out for her? A green screen video accompanied by her self-reflexive thoughts on bodily fluids. Frida Retz's candid take on bodily fluids with the visual of falling multicolored drops makes the human body so simple. A primal take on it, if you will. Human body from an anatomical point of view is different from the cultural and sociological way of looking at a body. How does it look? How does it feel? How does it feel to inhabit one's self? She lists bodily fluids that she shows in abstract form – pee, blood, menstruation (blood), sperm, tears, sweat, discharge and spit. In the complex system that makes up a human body, those different fluids are constantly circulating. For me, this video raised questions about how Frida Retz sees the emotional relationship with her body when in the video she describes it from an almost clinical point of view. Everybody sweats. That's a given. No worries when somebody mentions it. How about crying? Is it something that shows weakness or is it something that's just considered a stress relief as it is in many cases? Or how about menstruation blood and shame around it which was our first main discussion topic when we met up at the beginning of her residency?
Here are my questions for Frida Retz to go a bit deeper into the topic of the video.
Johanna Jolen: First of all, how are you handling the mess that is this week that was supposed to be an exploration in the gallery space? I think that the fact that this interview here was not done live in the gallery whilst drinking a cup of coffee is a bit disappointing, but we'll still make it work. So that counts for something and maybe we'll look back at it and shake our heads laughing, because at least it all is quite memorable. 
Frida Retz: I wish we talked over coffee too! The whole thing is rather tragicomic in the sense that the part of an artist's life including applying for residencies, planning projects and preparing exhibitions can seem pointless in a world screaming for adaptability and sudden shutdowns or postponements. Yet, I still felt excited when Vent Space chose my residency project proposal. Maybe to keep in mind this excitement and see the circumstances as a challenge rather than a disappointment is the best to do right now. I was lucky to get three days at Vent. A new setting was what I needed and my ideas changed radically in that time. Hopefully, I can end the project satisfyingly while isolating – animating and editing what I managed to film.
JJ: What inspired you to explore topics of bodily fluids for your artist-in-residency project? 
FR: Sexuality and gender inequality are recurring themes in my artistic practice which has a current focus on hierarchies, power dynamics and structures. Reading Invisible Women by Caroline Criado-Perez inspired me to work with female (mis)representation and male-biased tendencies. With a usual personal approach I struggled to find my way around these issues. I started reflecting on how it affects my daily life and the people surrounding me. Growing up with menstruation as shameful and sperm associated with porn-movies and an expectancy of swallowing made me wonder if body fluids and their stigma can be seen as a picture of a bigger connection? Can the mutual relationship among body fluids portray society seen through male POV. With my video work Drops I want to question the perception of each body fluid and emphasize the naturality in all of them. Baseline is that we all excrete and no fluid should connote a feeling of wrongness.
JJ: Your video is both intimate and clinical exploration on bodily fluids. I get the sense that the topic of bodily fluids is not something taboo or shameful for you. I think that's the goal, right? Normalize the body as something natural in all the aspects of it. What are your thoughts on the stigma around bodies? FR: Yes, normalising the body and removing shame related to it is definitely my intention. Talking about discharge, nipple hair and sexual desire used to be shameful for me but now in my 20's I started accepting my body more as it is. This doesn't mean I am not insecure or feel dissatisfying but rather that when thoughts of doubt hit me it feels like something I am obliged to use. I wish to make my private thoughts and experiences transparent to dissolve the border between private and public. I believe we need to see more natural bodies and hear more genuine reflections in order to lose feelings of shame and abnormality! 
JJ: You are here as an Erasmus student, so you have the experience of living in different countries. How do you see the cultural understandings of their taboo topics in places you have lived? 
I grew up in Denmark, for then living a year in Berlin and studying for my bachelor in Bergen. New environments and encounters are important for me personally and artistically but I find it hard to say if taboos are different in these places. From what I have experienced, body hair, masturabation, certain body fluids, desire, fetishes and unconventional ways of having a relationship are sensitive topics but again depend on with whom you talk. Mostly I surround myself with people from the creative environment and I dare say the mentioned themes are easilier bespoken within that circle. For that reason I started a project when I moved here to research Estonians' perception of sex. I meet strangers via Tinder for interview about their sex life.  
March 8
Today is an International Women's Day. Poetically symbolic day to conclude this short interlude about shame and taboos around female bodies. That being said, these topics are relevant every day of the year. Frida Retz said earlier that "I believe we need to see more natural bodies and hear more genuine reflections in order to lose feelings of shame and abnormality!", which is a statement that I wholeheartedly agree with. Also, it points out the crux of the issue here – the shame around bodies causes silence. And silence then generates more stigma. An endless circle of issues. But I think that Frida Retz wouldn't want to finish this process of writing with a somber note. Why so? Her video work Drops showcases that fighting shame around taboo topics is not impossible and it's possible to get to a point where bodily fluids just become a natural part of a body existing in a world that consists of other bodies that function all very similarly. So no worries. Drops looks and feels a safe visual exploration. Different colored drops and liquid forms mixing with each other and changing its shape doesn't feel in your face.  Frida Retz's accompanying text gives context  that the video is not just about aesthetic harlequin print and colorful drops. Is the visual safe to allow the viewer to calmly think along and not get too taken aback by more direct visuals? I guess it depends on the viewer. When I think about safe visuals, the first thing that comes to my mind are the sanitary towels commercials that typically use the blue liquid in the place of, well, red liquid. Frida Retz doesn't create an illusion that blood doesn't exist, yet she manages to create a video where all the bodily fluids come together as a non-confrontal mass of drops where you can't tell the difference between the varying types of liquids. That is perhaps a nice way to end this short journey. A place where blood is red, but not at all scary.