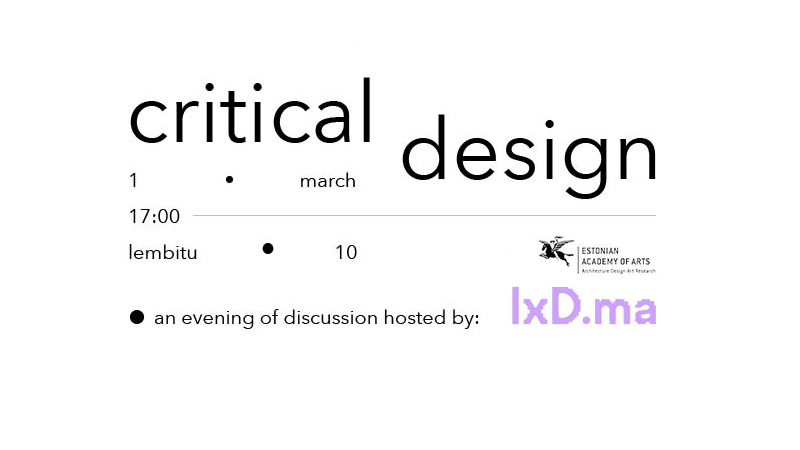 Asukoht:
Lembitu 10 / L-104
Algus k.p.:
01.03.2018
Algusaeg:
17:00
Lõpp k.p.:
01.03.2018
EKA Interaction Design presents: Michael A. Fowler on Critical Design
Please RSVP on EventBrite:
https://www.eventbrite.com/e/open-seminar-critical-design-tickets-43316677348
The seminar will explore the role of designers as cultural influencers and emphasise the necessity to engage in critical discourse. In a world that grows increasingly complex each day, the real challenge for designers may no longer be to create perfect solutions, but rather to create discussion and insightful questioning of what already lies before us.
Michael A. Fowler is an interaction designer and multimedia artist from Vancouver, Canada. Currently pursuing an IxD major at the Emily Carr University and on his exchange semester at IxD.ma, Michael is a connoisseur of wholistic community building, spatial intervention, respectful re-design, and botanical hacking. His background lies within in herbalism, illustration, zine-making, exploratory multi-media production, and an unending curiosity of virtual/digital mediums.
IxD.ma is a new international Interaction Design MA program at the Estonian Academy of Arts. Interaction design (IxD) is a theme that has emerged to address the ongoing advancements in technology and the way it relates to people. Designers are constantly facing challenges that can be answered by developing products, services and systems that have deeper connections and more dynamic relationships with humans. The behavioural qualities of products, services and environments have became more and more important in today's world and Interaction Design is playing a key role in addressing this shift. At IxD.ma we keep a broad view on Interaction Design and cover more areas than what is related to digital technology.
In addition to the main topic, IxD.ma faculty staff will be introducing and answering your questions about the curricula. Read more about the program on www.ixd.ma