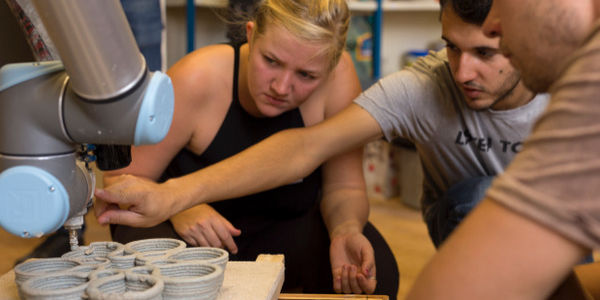 Asukoht:
Estonia, Tallinn, Põhja pst 7, room B602
Algus k.p.:
19.08.2019
Lõpp k.p.:
26.08.2019
The Department of Ceramics at the Estonian Academy of Arts invites you to participate in an international Clay 3D Printing workshop. Ceramics have properties that allow them to be used in the most disparate fields. We usually don't consider that ceramics are all around us, not just in kitchenware, but also in bathrooms, swimming pools and public interiors, and that stoves and fireplaces, and even houses, are made of fired clay. Top-quality ceramics can be found in medical equipment, audio technology and the air and space industry. Clay is a sensitive, flexible and versatile material with its own technological limits, which the participants will learn during the workshop.
3D printing in clay allows us to print three-dimensional objects or models at a lower cost and more easily. For ceramists, it represents a new technological possibility, while for others it gives a chance to convert digital sketches into real three-dimensional objects.
During this course, participants will learn the technical skills of 3D printing and printing in clay: creating G-code and STL files, plus preparation of the clay and printing.
The aim of the course is to use innovative thinking to discover new ways of printing, using clay and printed ceramics. The end of the workshop will feature a pop-up exhibition of the objects created.
More…