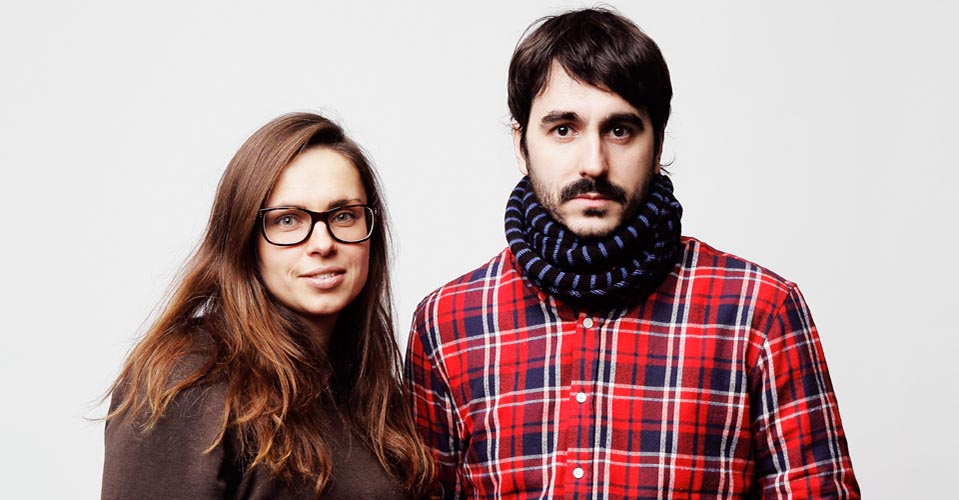 ​Varvara & Mar. Photo by Najhin.
Asukoht:
graafika osakond, Lembitu 10B, ruum 144
Algus k.p.:
19.02.2018
Algusaeg:
17:00
Lõpp k.p.:
19.02.2018
Varvara & Mar. Surveillance Capitalism
19. veebruar kell 17.00 graafika osakond, Lembitu 10B, ruum 144
On Monday, 19 February at 5 pm there will be an open lecture by Varvara & Mar. During the lecture Varvara & Mar will explore the influences of technological age on society and how it resonates in their artistic practice.
The notion of surveillance capitalism is borrowed from Shoshana Zuboff, who underlines ongoing and expanding monetisation of big data. In her word this is a new form of information capitalism aims to predict and modify human behaviour as a means to produce revenue and market control.

Varvara & Mar. The Big Other. 360-degree video, VR (virtual reality). 2017-2018.
Varvara & Mar is an artist duo formed by Varvara Guljajeva and Mar Canet in 2009. Often duo's work is inspired by the digital age. In their practice they confront social changes and impact of technological era. In addition to that, Varvara & Mar are fascinated by kinetics and participation, which are integral parts of their work.
Artist duo has exhibited their art pieces in a number of international shows and festivals. In 2014 duo has been commission by Google and Barbican for creating a new art piece for Digital Revolution exhibition. In 2015 their public art proposal for Green Square Library and Plaza in Sydney was nominated for the final stage. This year they have completed public art commission in Tallinn and have won 2nd and 3rd prizes for public art in Estonia. Varvara & Mar has exhibited at MAD in New York, FACT in Liverpool, Santa Monica in Barcelona, Barbican in London, Onassis Cultural Centre in Athens, Ars Electronica museum in Linz, Maribor City Gallery in Slovenia, etc.
Varvara (born in Tartu, Estonia), gained her bachelor's degree in IT from Estonian IT College, master's degree in digital media from ISNM in Germany and currently is a PhD candidate at the Estonian Academy of Arts in the department of Art and Design.
Mar (born in Barcelona) has two degrees: in art and design from ESDI in Barcelona and in computer game development from University Central Lancashire in UK. He also has gain a master's degree from Interface Cultures at the University of Art and Design Linz. In addition to that, Mar is a co-founder of Derivart and Lummo.
More info: http://var-mar.info
EKA vabade kunstide teaduskonna 2017/2018 kevadsemestri Seminari sari alapealkirjaga "SFÄÄRID" hõlmab kümmekond loengut ja kunstnikuvestlust erinevatest valdkondadest. Seminari sari on vabaaine, mis annab 3 ainepunkti. Registreerimine toimub kohapeal.
Seminar series SPHERES in the spring semester 2017/2018 consists of 11 lectures and talks from different fields. Seminar series is a free elective that gives 3 ECTS.
Olete oodatud!