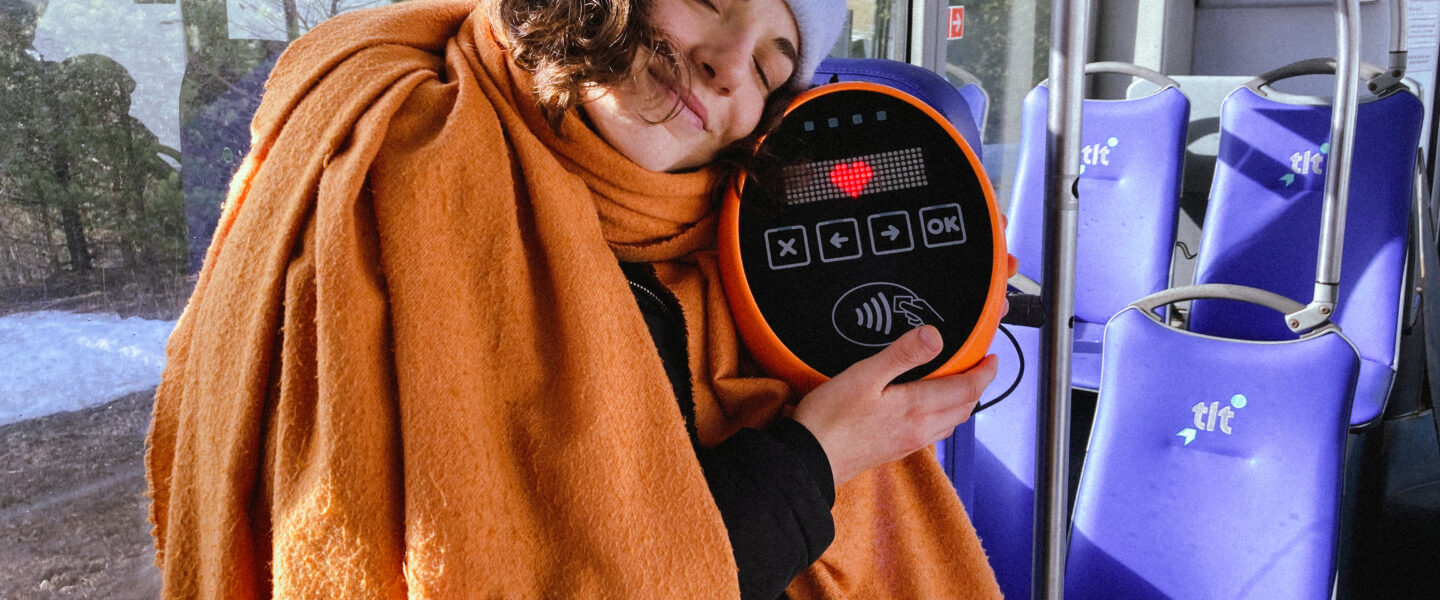 Evridiki showing her tamagotchi inspired card validator.
Weekend before last, MA students took a trip to MaaJaam in the south of Estonia for a workshop taught by Timo Toots. MaaJaam is a farm dedicated to art and technology, exploring the relationships between people, nature and tech. 
The students were split into groups, and were tasked to create interactive art with technology, in connection with a decommissioned trolley bus that Timo had on the farm. The students came up with many ideas.
One of the students, Aurelijus Čiupas, decided he wanted to make something incorporating sound with his group:

"My ideas eventually lead me and Ada (Napiorkowski) to play with contact microphones inside the trolleybus, picking up percussion and passing them through fun audio filters to play back through a speaker. Timo also set me up with a capacity sensor, similar to tech used in various touch sensors and touchscreens, so I managed to rig up one of the poles to be responsive to touch (the surface area touching a little hidden wire) and have that control something in the audio filters, such as pitch."

Another group decided they wanted to work on the card validators, where when placing a travel card onto the validator, different images and words would pop up onto the display:
"In validator projects, we could change the sounds, choose what happens in the display of the validator once we show the green card, we made several animations for the tiny 24×8 pixel screen, created and modified rtttl ringtones, and made up new ways the validator could work. There was a lot of coding, this was mostly done by our teacher Timo but we could still contribute to the structure and overall I can say I learned a lot, it was interesting." Says Liis Kokk.

Ultimately the students agreed that it was a informative and challenging experience, and they enjoyed the blend of art, concept, technology (and a bit of coding!), paired with the farm-like atmosphere (there was lots of petting and feeding animals, and home cooked meals with Timo and his wife.)

For more information about MaaJaam: https://www.maajaam.ee/