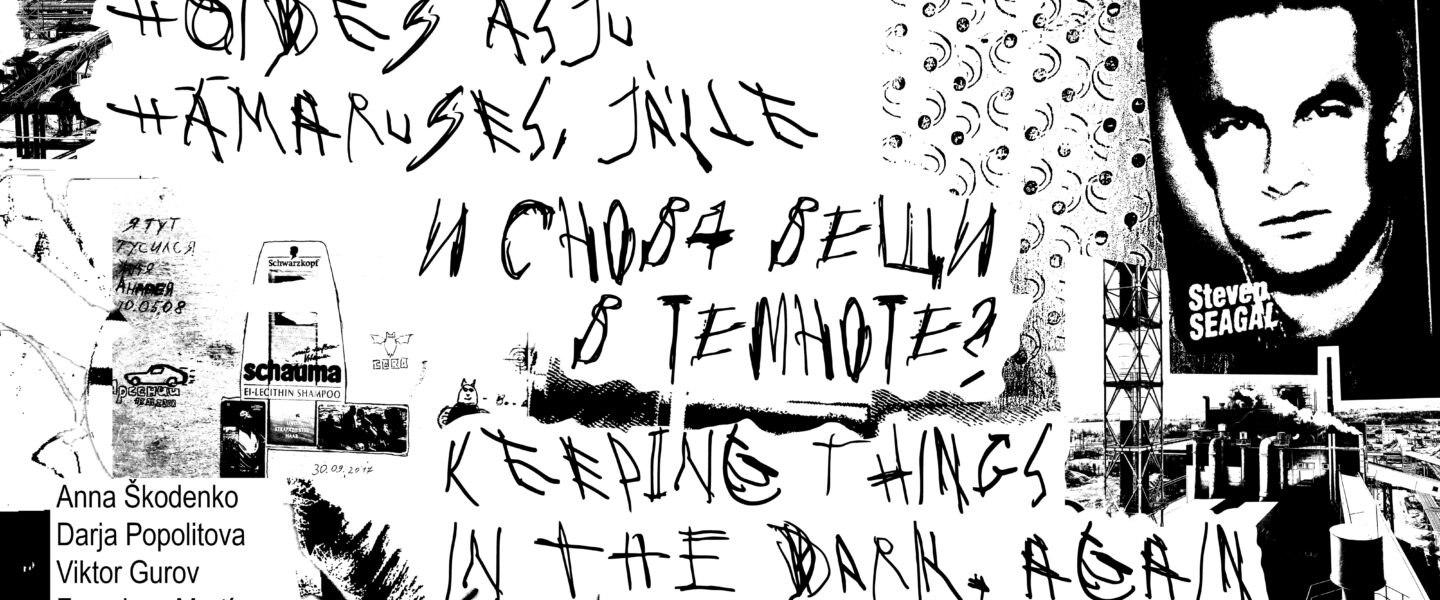 Start Date:
22.09.2023
Start Time:
17:00
End Date:
25.10.2023
(Russian below)
KEEPING THINGS IN THE DARK, AGAIN
Anna Škodenko, Darja Popolitova, Viktor Gurov and Francisco Martínez 
22.09—25.10.2023
Opening: 22.09 at 5 pm
Join us for the exhibition "Keeping things in the dark, again" opening on September 22, 5 pm at EKA Gallery!
"Keeping things in the dark again" is a collectively curated art project, based on ethnographic research. The exhibition at the EKA gallery is the final part of a trilogy, which reflects on the correlation between public secrets and shadow spaces in Ida-Virumaa. Over the past three years, we have visited 37 basements, exploring the underground material culture of this post-industrial, Russian-speaking, ecologically devastated region. A four-artist installation has been the first outcome of our collective work, which was exhibited in the Riga Art Space (2022) and at the Sillamäe Museum (2023). In the meantime, we have been developing our installation and continued with our research and the exchange of ideas. As a result, we have created 4 new, individual works:
THE PAST OF THE FUTURE—this installation stages a series of encounters with the time capsule buried into the 'Glory to Labour' monument in 1971 in Kohtla-Järve, which is supposed to be opened in 2046 but was accidentally unearthed in 1996.
KRATT© MADE IN IDA-VIRUMAA—a wall installation consisting of sculptured oil shale fragments exposed on 3D-printed shelves. Kratt is a workaholic mythological creature who destroys oneself when its creator entrusts it with impossible tasks.
CAVE GHOSTS—an installation that combines fumage aesthetics with spatial design. By covering the entrance to the gallery, it reproduces the experience of descending a staircase and stepping into a cellar. Or into a mining tunnel.
LIQUID SHADOWS AT THE BORDER—a series of Byzantine collages inspired by the bonding gestures of garage users in Kulgu (aka 'Narva Venice'). This is a male, amphibious territory for doing things other than in the city and being in time at ease.
What had been concealed and kept in the dark has a particular efficacy while resurfacing and being on display. This exhibition presents different instances of this, reflecting on material hoarding, messages for the future, existentialist aesthetics and shelters where to test different sides of the self. People need hideouts and places to store things in the dark. The main installation deals with this issue and is composed of 4 parts: the 'Cellar Door' video installation in which Jelena guides us around her cellar in Kohtla-Järve; the audio-visual sculpture titled 'Баю-бай' introduces a surreal video located in a sculpture in the form of a stroller; the visual representation 'Sartre downstairs' of various existential messages found in local basements; and 'Subterranean biographies', which displays a series of extracted objects alongside personal stories.
Anna Škodenko (b. 1986) is a multidisciplinary artist and guest lecturer at the Estonian Academy of Arts. Her work is characterized by a lyrical and analytical approach to the medium and the visual image.
Darja Popolitova (b. 1989) is a multidisciplinary artist, guest lecturer and doctoral student at the Estonian Academy of Arts. Darja creates jewellery and video installations on the topic of digital culture, mixing it with pseudo-magical aesthetics.
Viktor Gurov (b. 1989) is an artist and graphic designer interested in urban landscapes and decommissioned places. He works as creative director of the Estonian National Library.
Francisco Martínez (b. 1982) is an anthropologist of Tampere University dealing with contemporary issues of material culture through ethnographic experiments. In 2018, he was awarded with the Early Career Prize of the European Association of Social Anthropologists.
We express our gratitude to Pire Sova, Svetlana Ivanova, Ekaterina Grafova, Jelena Mutonen, Andrei Mitkovets, Nadežda Popolitova, Jakob Tulve, Andres Nõlvak, Allar Rebane, Madis Kaasik, Riina Varol, Mari Kivipõld, Taavi Teevet, Dmitri Fedotkin, Enas Amerkhanov, Dept. of Jewelry and Blacksmithing, WasteMatters ERC project, and, overall, to all who have contributed to the exhibition in different ways.
_______________
И СНОВА ВЕЩИ В ТЕМНОТЕ?
Анна Шкоденко, Дарья Пополитова, Виктор Гуров и Франсиско Мартинес
Галерея EKA, 22.09—25.10.2023
Открытие: 22.09 в 17.00

И СНОВА ВЕЩИ В ТЕМНОТЕ? – это коллективный художественный проект, основанный на этнографических исследованиях. Выставка в галерее EKA является заключительной частью трилогии, которая размышляет о том, как хранимые обществом тайны соотносятся со скрытыми пространствами в Восточной Эстонии. За последние три года мы посетили 37 подвалов, исследуя подземную материальную культуру этого постиндустриального, русскоязычного, экологически разоренного региона. Инсталляция, созданная четырьмя художниками стала первым результатом нашей коллективной работы, которая была выставлена в Рижском городском выставочном зале (2022) и в музее Силламяэ (2023). Тем временем мы дополняли нашу инсталляцию, продолжали наши исследования и обмен идеями. В результате мы создали 4 новые индивидуальные работы: 
ПРОШЛОЕ БУДУЩЕГО—эта инсталляция представляет собой серию встреч с капсулой времени, замурованной в 1971 году в монументе «Слава Труду», возведенном в Кохтла-Ярве. Капсулу предполагалось открыть в 2046 году, но ее случайно обнаружили в 1996.
ДОМОВИК© MADE IN IDA-VIRUMAA—настенная инсталляция, состоящая из скульптурных фрагментов горючего сланца, выставленных на полках, напечатанных на 3D-принтере. Kratt (домовик) – мифологическое существо-трудоголик, которое уничтожает себя, когда его создатель поручает ему невыполнимые задачи.
ПЕЩЕРНЫЕ ПРИЗРАКИ—инсталляция, сочетающая эстетику фьюмажа с пространственным дизайном. Закрывая вход в галерею, инсталляция воспроизводит ощущение спуска по лестнице в подвал. Или в шахтный туннель.
ЖИДКИЕ ТЕНИ НА КРАЮ—серия коллажей в византийском стиле, вдохновленная тем, как вяжут узлы пользователи лодочных причалов в районе Кулгу (также известном как «Нарвская Венеция»). Это, так сказать, земноводная, мужская территория, где можно отдохнуть от городской рутины и отлично провести время. 
То, что было скрыто и хранилось во тьме, приобретает особое очарование, когда извлекается на поверхность. И выставка позволяет нам в этом неоднократно убедиться, размышляя о накоплении материалов, посланиях в будущее, экзистенциалистской эстетике и убежищах, где можно узнать разные стороны собственного «я». Людям нужны укрытия и пространства, чтобы хранить вещи в темноте. Основная инсталляция посвящена этой теме и состоит из 4 частей: видеоинсталляция «Дверь в подвал», в которой Елена проводит нас по своему подвалу в Кохтла-Ярве; аудиовизуальная скульптура «Баю-бай» знакомит с сюрреалистичным видео, располагающимся в скульптуре в форме коляски; визуальное представление «Сартр внизу» из различных экзистенциальных посланий, найденных в местных подвалах; и «Подземные биографии», в которых рядом с личными историями представлен ряд извлеченных объектов.
Anna Škodenko (1986)—мультидисциплинарная художница и гостевая преподавательница в Эстонской академии художеств. Ее творчество характеризуется лиризмом и аналитическим подходом к медиуму и визуальному образу.
Darja Popolitova (1989)—мультидисциплинарная художница, гостевая преподавательница и докторант в Эстонской академии художеств. Дарья создает украшения, а таже видео-инсталляции на тему дигитальной культуры, смешивая это с псевдо-магической эстетикой.
Viktor Gurov (1989)—художник и графический дизайнер, которого интересуют темы оформления текстов, а также городских пейзажей и заброшенных, урбанистических мест. Виктор работает креативным директором Эстонской национальной библиотеки.
Francisco Martínez (1982)—антрополог Университета Тампере, занимающийся современными проблемами материальной культуры через этнографические эксперименты. В 2018 году он был награжден премией за раннюю карьеру Европейской ассоциации социальных антропологов.
Выражаем благодарность Пире Сова, Светлане Ивановой, Екатерине Графовой, Елене Мутонен, Андрею Митковцу, Надежде Пополитовой, Якобу Тульве, Андресу Нылваку, Аллар Ребане, Мадис Каасик, Рийна Варол, Мари Кивипылд, Таави Тивет, Энас Амерханов, Дмитрий Федоткин, Кафедра ювелирного и кузнечного дела, ERC проект WasteMatters, и всем, кто так или иначе внес свой вклад в инсталляцию.