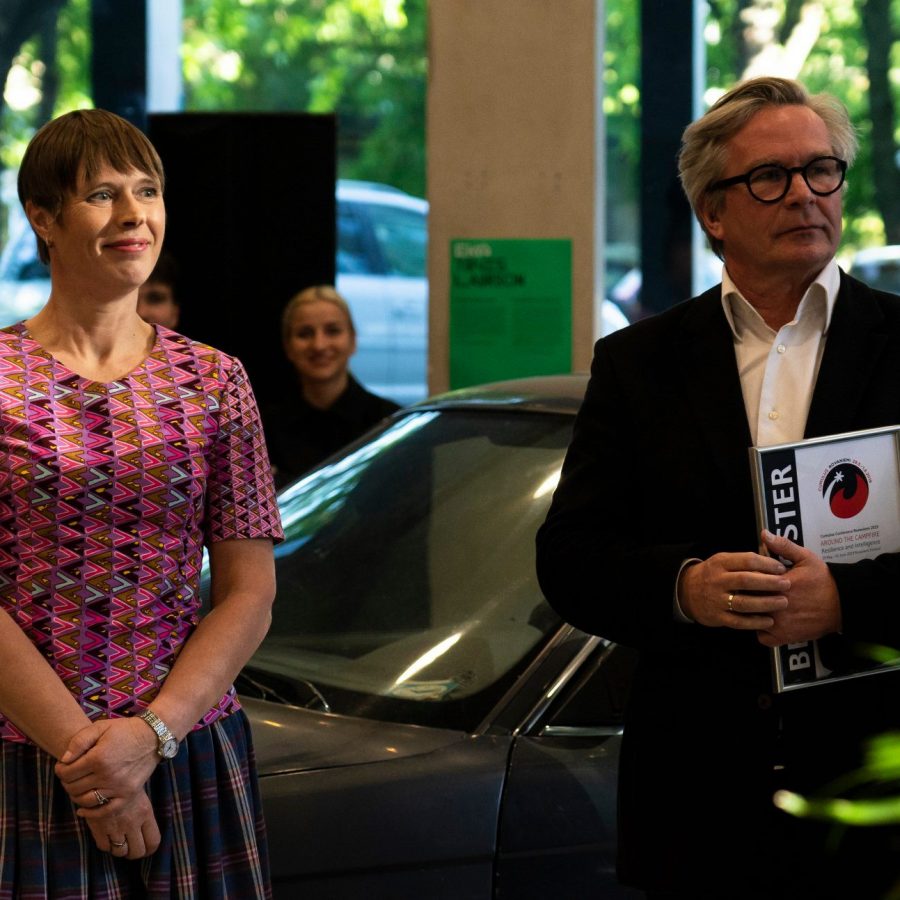 Estonian President Mrs Kersti Kaljulaid and Rector Prof Mart Kalm at the opening of TASE Graduation show in spring 2019.
Established in 1914, the Estonian Academy of Arts is the only public university in Estonia providing higher education in fine arts, design, architecture, media, visual studies, art history, and conservation.
Designer of our own living environment
EKA is striving to be among the leading international centres of innovation in the field of visual culture.  Currently there are more than 1 000 students enrolled in the Academy, with many participating in exchange programmes at international partner universities. In addition to active study and research activities, the Estonian Academy of Arts also offers lifelong learning opportunities through the Open Academy.
The Estonian Academy of Arts collaborates with more than a hundred top art, design, and architecture universities worldwide and belongs to several international higher education networks.
The lecturers and instructors are professionals in their field — internationally recognised artists, architects, designers, historians, and scientists. Visiting lecturers from universities in Estonia and abroad are regular guests.
The Estonian Academy of Arts has a rich academic library that is constantly expanding its collection, a newly renovated joint dormitory with the Estonian Music and Theatre Academy, and practicum facilities at Tamse in Muhumaa and Heimtal in Viljandimaa. Departments of the EAA regularly organise student, faculty, and departmental exhibitions and open lectures in various locations in Tallinn and elsewhere.
The EKA actively publishes different types of publications, including faculty members' books, textbooks, study materials, collections of articles, and advance reviewed works from the fields of art and research.
While offering a wide selection of specialities, the Academy also offers unique, individualised study and personal mentorship by members of the faculty. The departments are strong bodies of competence on their own, while at the same time facilitating synergy and interdisciplinary studies. Many faculties have been operating for close to a century. They have lengthy experience and historical continuity, and also pioneer change in their field.
The Academy welcomes motivated people who are visually and socially sensitive and want to develop their thinking abilities, opportunities, and potential as creative people. The goal of the Academy is for graduates to be able to function successfully in society and work as independent creators and thinkers. That is why the curricula are formed in such a way as to develop the analytical ability and critical thinking of students. Every programme includes philosophy, history of art, aesthetics, and foreign languages.
International Relations
The aim of the Academy is to be in the midst of life happening. That is why attention is paid to society and the professional world in broad terms.
EKA has close ties and cooperation agreements with more than 100 international universities and many international networks, through which student and faculty exchanges can be negotiated and internship opportunities can be expanded. From 2014 – 2023, EKA hosts the secretariat of the Nordic design education collaboration network CIRRUS. EKA is also an active member in CUMULUS, leading the Fashion and Design working group of the association, as well as ELIA, the EAAE (European Alliance of Academies), KUNO, and other international networks and associations in its fields. EKA's Rector Prof Mart Kalm is a member of the board in the ELIA association, Vice Rector Anne Pikkov is a board member in CUMULUS, Prof Kirke Kangro, the Dean of Faculty of Fine Arts, is the Chair of KUNO network, and Dean of Faculty of Design, Ruth-Helene Melioranski in CIRRUS network.
Since 1999, EKA has been a member of The European Commission's Lifelong Learning Programme for Higher Education, Erasmus, under which more than 100 bilateral exchange agreements have been signed. In addition to the Erasmus programme, the Estonian Academy of Arts has entered into student and faculty exchange and cooperation contracts with ten internationally recognised art universities outside of the European Union.
Regular and intense contacts are maintained with the world outside academia through exhibitions and publishing work, through organising many events, and in cooperation with businesses and public institutions.
International relations, faculty and student exchanges, advice on international internship opportunities, and grant information are coordinated by the International Relations Office.
Collaboration and Entrepreneurship
The EKA collaborates with universities, cultural institutions, artistic associations, local government bodies, and businesses in Estonia and abroad.
The Estonian Academy of Arts cooperates with many Estonian and
international businesses in the field of science and development. The partners vary depending on the area of specialisation, and the Academy is able to offer a range of services from research and analysis to creating prototypes.
The Department of Development is the link between education and business. The services and solutions supporting EKA's main activities are worked out, giving legal and entrepreneurial advice to staff and businesses for carrying out collaborative projects with the Academy's departments.  The Department of Research and Development interacts actively with businesses in Estonia and abroad and carries out joint projects. Many students complete design tasks for Estonian companies in the public and private sectors and take part in international and local competitions during their studies.
The Department of R&D organises training in the fields of entrepreneurship, intellectual property rights, career planning, internships, and project management. Students are advised in making business plans, and there are numerous resources available to EKA's spin-off businesses. The department coordinates interdepartmental development projects and carries out research and development projects. The Department of Research and Development manages EKA's local and international co-sponsored or joint projects.