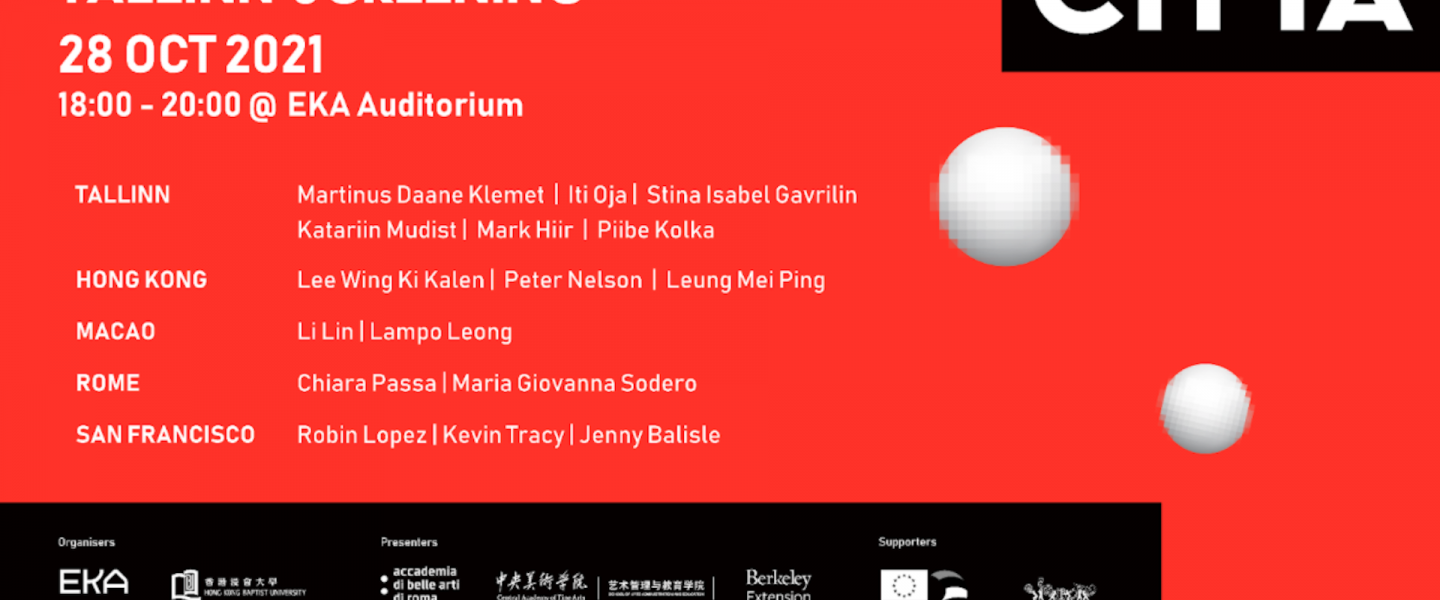 CITYA Tallinn Screening – City as a Medium
Location:
EKA peahoone, Põhja pst 7
Start Date:
28.10.2021
Start Time:
18:00
End Date:
28.10.2021
You are invited to join the CITYA Tallinn Screening "City as a Medium" on Wednesday, 28 October at 18.00–20.00 at EKA, Põhja pst. 7, in the main auditorium next to the lobby.
CITYA is an international urban art event that takes place every three years as a platform for city-to-city art sharing and as a new form of collaboration. The first CITYA edition is themed "City as a Medium". The event is organised in partnership with Hong Kong Baptist University (initiator), the Estonian Academy of Arts, the Beijing Academy of Fine Arts, the University of California Berkeley, the Belle Arti di Roma Academy and the University of Macao.
The CITYA Tallinn Screening brings together films — from Tallinn, Hong Kong, Macao, Rome and San Francisco — that have been created during the last year. The participating artists from the different cities are:
Tallinn
Martinus Daane Klemet – Face Recognition (6:45)
Iti Oja – Partial Victory (4:04)
Stina Isabel Gavrilin – My Body is a Cage (5:20)
Katariin Mudist – The Hesitator (4:32)
Mark Hiir – Fade out (6:50)
Piibe Kolka – Forte Fortissimo (1:35)

Hong Kong
Lee Wing Ki Kalen – A City, Two Worlds, Four Views (1:12)
Peter Nelson – A Book of Trees (1:00)
Leung Mei Ping – Out of Place (5:00)
Macao
Li Lin – Shape of Water (1:00)
Lampo Leong – Blossom (5:22)
San Francisco
Robin Lopez – #Richmondsspeak: Urban Murals of Richmond (0:50)
Kevin Tracy – Fever Dream (7:59)
Jenny Balisle – Air (3:38)
Rome
Chiara Passa – Null Void 0 (1:41)
Maria Giovanna Sodero – Accordatura (Tuning) (6:40)
Facebook event: https://www.facebook.com/events/756550422400612
More information about CITYA and the films: www.citya.space 
Contact information: Reds Cheung, king.cheung@artun.ee