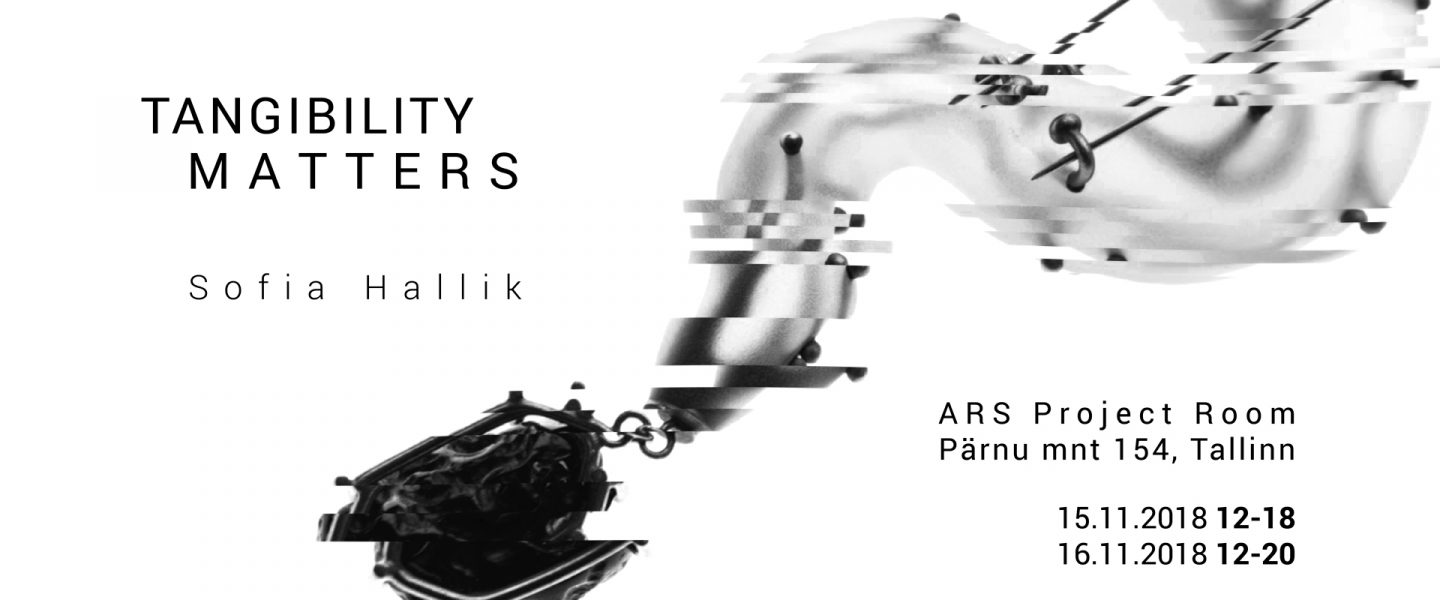 Location:
ARSi projektiruum (Pärnu mnt 154, Tallinn)
Start Date:
16.11.2018
Start Time:
14:00
End Date:
16.11.2018
Exhibition dates:
15.11.2018 12-18
16.11.2018 12-20
Sofia Hallik's "Tangibility Matters" exhibition finissage takes place on Friday, November 16th, in the ARS Project Room at 18.00.
Peer-review event takes place in Nov 16th, at 14.00 in ARS Project Room (Pärnu mnt 154, Tallinn)
Supervisors: prof Kadri Mälk and dr Jaak Tomberg
Peer – reviewers: dr Kärt Ojavee and dr Raivo Kelomees
Works on display are made as a part of a PhD thesis, and consist of wearable objects that are a hybrid of hand work and digital production. While working on a jewellery, the author is in need of touch and tactility, while an object that is made using 3D printing appears as an empty form, which demands substance. In the world of tech, because the process of work using CAD or 3D printing excludes tangibility, the author is lacking physical contact with a work of art. That is exactly why in these series of works the artist razes in a way the digital tarnish from the surface of the printed object by implementing hand work and traditional jewellery techniques. In this way a 3D printed object gains emotional expressiveness.
The works presented during the exhibition originate from two contradictory principles: digital production and hand work, and embody the mutual closeness of human and the machine. In other words, while people approach the digital world, technology becomes more and more humane.
Sofia Hallik (1991) is a jewellery artist, designer and PhD student at the Estonian Academy of Arts. In her doctoral thesis "Hand vs. Machine: Three Methods of Jewellery Making" (supervisors prof. Kadri Mälk and Dr. Jaak Tomberg) Sofia focuses on innovative materials and digital technologies. What interests her the most is the way digital technology influences jewellery.
Special thanks to: Kadri Mälk, Jaak Tomberg, Oskar Narusberk, EAA Jewellery and Blacksmithing department, 3D Koda OÜ.
The exhibition was made possible with the support of the Cultural Endowment of Estonia.