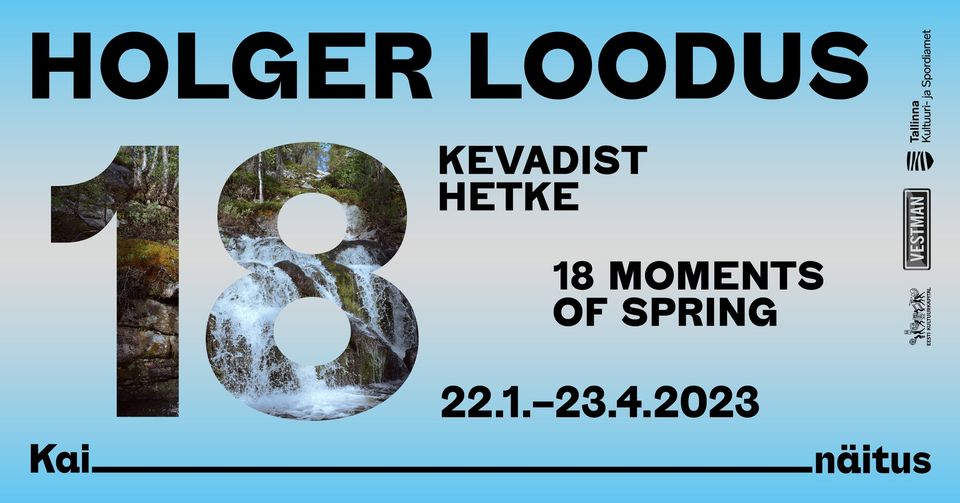 Holger Loodus in Kai Art Center
Location:
Kai kunstikeskus
Start Date:
22.01.2023
End Date:
23.04.2023
Holger Loodus' solo exhibition will be on view from January 22 to April 23, 2023. '18 Moments of Spring' is the first presentation of his new work in Kai. 
Loodus, working with painting and media art, is showing two video installations that provide a comprehensive spatial experience. In contrast to the constant haste and fragmentation of contemporary life, Loodus strives to slow down and while doing so, also shares his ideas and methods with the viewers.
The reference in the exhibition title to the Soviet-era television series Seventeen Moments of Spring (1973, directed by Tatyana Lioznova) is not accidental. The particular visual philosophy of the series is akin to the creative creed of the pioneers of 'slow cinema' like Andrey Tarkovsky or Ingmar Bergman. If not directly in this type of artistic legacy, the roots of Holger Loodus' work can be found in a related worldview – a conviction that visual art is an independent language that can be used to address even the most complex of topics and a desire to move toward a slowed down thinking process, where a whole world can be found in a single drop of water.
Holger Loodus is a musician, painter, multimedia and installation artist, as well as a lecturer at the Estonian Academy of Arts. His work is characterized by the construction of strange situations that at times strive toward fantastical realities or alternative histories. In order to do this, he uses analytical and poetic-philosophical visual means – from hyperrealist painting to mechanisms he has constructed himself and from video to staged installations. In 2018, Loodus participated in the exhibition of the Köler Prize nominees at the Contemporary Art Museum of Estonia and was awarded the People's Choice Award. Since 2010, he has exhibited in group and solo exhibitions in Estonia, Lithuania, Finland and Germany, his most recent solo exhibitions took place at Kogo Gallery in Tartu (2021), Turku Art Museum (2019) and the Tallinn Art Hall Gallery (2017).
The Exhibition is open Wed—Sun at 12—18
Tickets are 10€/6€
Exhibition team: Karin Laansoo, Kadri Laas-Lepasepp, Kadi-Ell Tähiste, Katrin Tomiste, Kärt Koppel, Maija-Britta Laast
Exhibition design: Holger Loodus, Tõnu Narro
Installation: Technical Director – Tõnu Narro, Mihkel Lember + Erik Liiv, Marten Esko
Text author: Elnara Taidre
Graphic Design: Henri Kutsar
Supporters: Cultural Endowment of Estonia, Tallinn Culture & Sports Department, Vestman Energia, Estonian Centre of Folk Culture, AkzoNobel
Special thanks: Katrin Enni, Kaie Loodus, Keiu Krikmann, Rein Loodus, Georg Kaasik, Aksel Haagensen, Hilde Methi, Martijn van Nieuwenhuyzen, Raili Keiv, Tanel Paliale, Andres Teiss, Valge Kuup, Põhjala pruulikoda