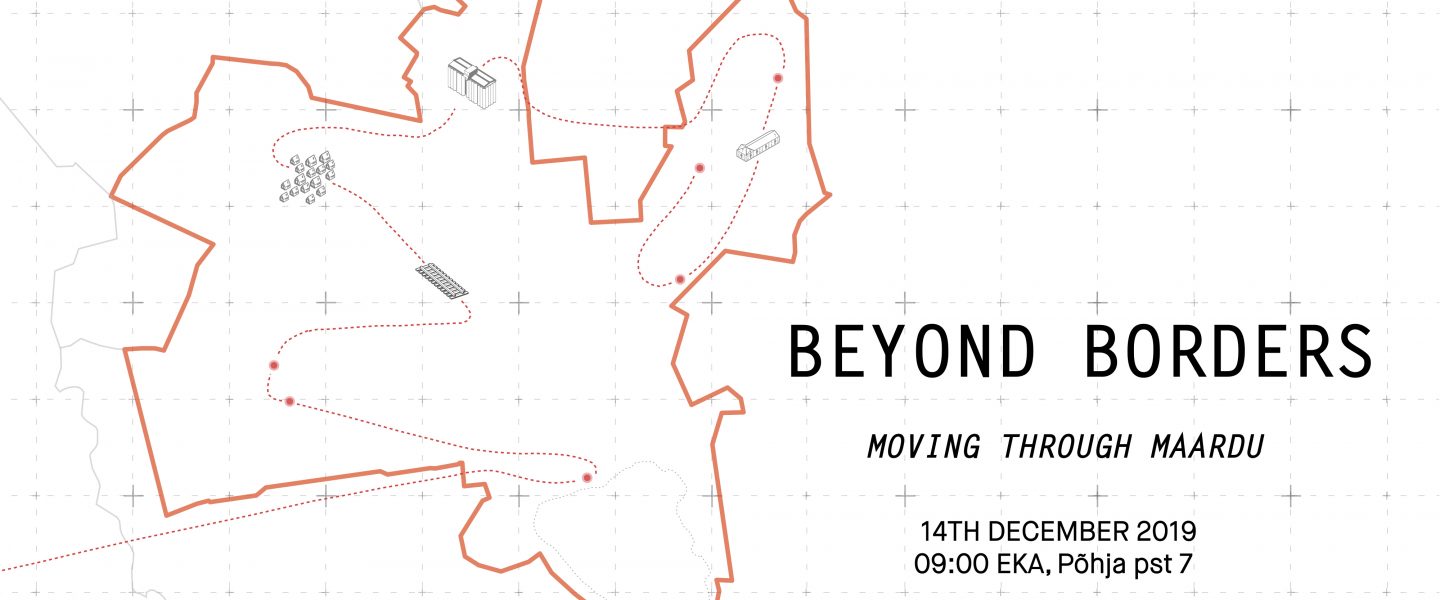 Location:
Maardu
Start Date:
14.12.2019
Start Time:
09:00
End Date:
14.12.2019
A lake and a port. Summer housing and mass housing. Metal, steel, automobiles, and the not-so distant memories of phosphorus mining. Beyond the towers of Vanalinn and the limestone of Lasnamäe exists this municipal assemblage that over 15,000 people call home.
Beyond Borders: Moving through Maardu is a public output & final grading of Estonian Academy of Arts Urban Studies Urbanisation studio "Tallinn–Maardu: expedition into the edge", tutored by Andra Aaloe & Keiti Kljavin.
Whether or not you are familiar with Maardu, this festival of a kind will urge you to experience the area through various site-specific interventions exploring its physical and conceptual boundaries, the global and local activities that shape it, and the area's relationship to neighbouring localities.
There will be a private bus service to transport guests to each event according to the programme below. To register for the tour bus that will travel to each exhibition of the festival, please email Lisa Rohrer at lisa.rohrer@artun.ee. You are also welcome to visit individual exhibits via your own transportation at the times displayed in the program schedule below. Please note that the private bus will not return to Tallinn, but public transportation runs between Maardu and Tallinn for our return trip.
Please dress warmly for outdoor weather and bring along snacks and refreshments! For more information check FB EVENT!
PROGRAMME SCHEDULE ON 14 DECEMBER 2019:
9:00–9:25 Urban artist in an urban field
(Last chance to use the loo) – Jesse Keddie
Photo Installation at Põhja pst 7 (Estonian Academy of Arts)
Stanely Kubrick said on the art of filmmaking "You may not have to know very much about anything else, but you must know about photography". So what do I know? I know about filmmaking and I know about photography. On display at EKA will be the forgotten fields of Rootsi-Kallavere that embody how I express the world at large – it's not what I'm doing in the space it's what the space is doing through me.
9:30 Private bus service leaves from EKA, Tallinn
10.00–10:25 Occupying the void – Marina Pushkar
Walk and installation, starting point at Fosforiidi and Kroodi intersection.
The pedestrian tunnel connecting the Kroodi industrial park and the lake of Maardu facilitates the transition from the industrial realm to the prefigurative urban wilderness. Through a guided walk and installation, this project unveils the layers of human dominance in the process of occupying the space.
10:30–10:55 Stories from the other side – Alice Ashton
Expedition and participatory exercise at Vana-Narva maantee – Nurgatagune Puhvet, Vana Narva maantee
Vana-Narva maantee is a highway and an important geographical and infrastructural location for Maardu. It is also home to many diverse local activities and phenomena. Taking speculative fiction, installation, participatory art and postmodern and post-urban theory as a basis, Stories from the other side invites participants to consider how  narratives, signs and momentalisation are didactic processes that shape urbanisation and the different lenses that Vana-Narva maantee can be seen through. 
11:00–11:25 The last outpost – Ahmad Tahir
Walk-exercise, starting point at Madikse tee
The process of urbanisation reshapes the concept of the 'hinterland' as a warehouse that serves the capital. This curated walk in the backyards of the Kärmu industrial zone explores the role of the post-industrial town of Maardu in regional development, and the municipality's future speculations in the neoliberal realm.
11:30–12:00 Walking along a life vein – Sarah Gerdiken 
Guided walk
Walking the solid but disused line of railroad, the landscape surrounding us is united by different scales of human use joining together the travelers of its past, present and expected scenarios of the future. Wear your gloves and proper shoes!
12:05–12:30 AED – Annika Ülejõe
Installation at Kitsekakra 17, Muuga aedlinn
AED looks at the process of suburbanisation changing the dynamics of the once solely summerhouse area on the basis of a family archive. By revealing layers of history, the on-site intervention highlights both physical alteration of the area and the change in its social fabric.  
12:35–13:00 Muuga muutub (Muuga Changes) – Deniz Taşkın 
Interactive platform, Muuga aedlinn
For last decades Muuga aedlinn has been experiencing a profound change in its urban fabric and daily practices. An interactive platform is created for locals and visitors alike to archive the change in process, inviting old and new locals to spot the alteration of Muuga in order to be able to cope with it.
13:10–13:35 Muuga harbour: The Once Only Unicorn – Egemen Mercanlioglu
Performance-lecture on the roundabout of Laasti tee and Veose street
On an ambiguous roundabout that overlooks the Muuga Harbour, a (non)speculative story of the likely future development of the biggest cargo harbour in Estonia will be put across. Zooming out to grasp the patterns of globalisation-driven urbanisation process of Muuga and Estonia, the narration covers topics from the Rail Baltic to the digitalization. Travelling from Muuga to China and back to Muuga again, this story will help visitors to track the traces of urbanisation.
13:40–14:05 A lonesome hill – Oleksandr Nenenko
Performance/exhibition at Ringi 54D, Maardu
Courtyards of mass housing areas as enclosed places for meeting and daily practices accompany the processes around urban, from severe housing crisis to land use value. This project looks at the visible and non-visible changes of one courtyard in Kallavere by trying to answer a seemingly simple question: "why is the hill so lonely?". 
14:10–14:35 Walk around the image – Zahaan Khan
Guided walk, starting point at Ringi 54D, Maardu 
In a heavily visual culture, images can act as representative symbols for a city. Through an investigative walk, this performance will look closer at the orthodox church of Archangel Michael in Maardu to understand how it became to be the centerpiece of the new image created for the city's socio-cultural life in the past decade.
14:45–15:10 In memory of the City – Lisa Rohrer
Ceremonial performance, at Keemikute street (near the Maardu kalmistu bus stop)
The Maardu Cemetery functions as a hybrid space – it is a site for life and for death, for grief and for celebration of a memory, for spirituality and for pragmatism, for expressing emotion and for economic exchange. In light of postmodern scholarship from the late 20th century, this exhibition will consider the death of "the city" and witness the emergence of "the urban" at its passing.
15:15–15:40 New archives as karaoke – Wimke Dekker
Screening at Fortuna bar, Stardi 2, Maardu
A spiderweb of scales and structures, houses and containers, roads and electricity networks. The frames are given, but the people who are living in Maardu are what creates a process, a movement, a development. Combining new archives from the internet with fragments that show details of daily life, this film, shown at a local bar Fortuna, creates a new archive of the present.