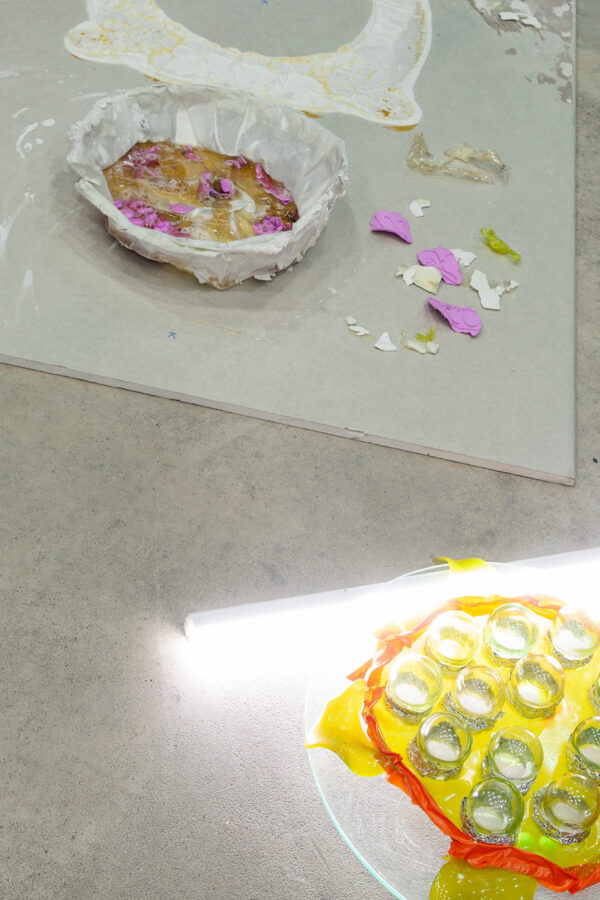 Fragment from Sandra Ernits' installation, December 2022. Photo by Erik Hõim
Location:
EKA gallery, open spaces on the 2nd & 5th floor
Start Date:
18.05.2023
Start Time:
15:00
End Date:
19.05.2023
On May 18 and 19, we invite you to visit the EKA gallery and the open spaces on the 2nd and 5th floors, where over the course of two days this semester's works by the first-year MA Contemporary Art students will be exhibited.
The exhibition is open on both days from 15:00–18:00 and is part of the Fine Arts Assessment Marathon, which offers an unique opportunity to get to know the current works of the young artists.
In addition to the EKA building, works by several students can be seen in other locations:
– Rose Magee's exhibition is open at Vent Space gallery until Wednesday, May 17, 16:00–19:00
– Lara Žagar's exhibition will open at Vent Space gallery on Friday, May 19, 19:00.
– Sarah Nõmm's work can be seen at the exhibition Naturally It Is Not at the Estonian Museum of Applied Art and Design until June 11, Wed & Fri–Sun 11:00–18:00, Thu 11:00–20:00.
– Eri Rääsk's work can be seen at Balta (between Vana-Kalamaja street 1 & 3) on Friday, May 19, 17:00–03:00.
Students participating in the exhibition: Rose Magee, Sarah Nõmm, Mia Felic, Mara Kirchberg, Mirjam Varik, Siim Preiman, Anna-Liisa Kree, Iryna Tanasiichuk, Sarah Noonan, Eri Rääsk, Leonor Talefe, Sandra Ernits, Mari Steinberg, Lara Žagar, Alisa Khellberg, Gerda Hansen and Syed Sachal Rizvi.
The students were supervised by Marge Monko, Kirke Kangro, Merike Estna, Taavi Talve, Anu Vahtra, John Grzinich, Paul Kuimet, Taavi Piibemann, Sirja-Liisa Eelma, Eve Kask, David K. Ross.