Kadri Mälk_Brooch_Soul. The Crackled Soul_2018
Location:
China Academy of Art, Hangzhou
Start Date:
07.11.2018
End Date:
17.12.2018
21 Grams, 2018 Hangzhou Contemporary International Jewelry and Metal Art Triennial
Under the title 21 grams Ruudt Peters has organized a jewelry exhibition where a large number of artists where asked to make a jewel with the weight and content of the soul 21 grams, to develop specifically for this exhibition. There will be an equal number of western and eastern artists invited to take part at the exhibition.The installation of the art works is an important part of the concept. The works of the 21 grams jewelry will be present on scales to verify whether an artist has succeeded to the weight of the soul 21 grams to meet.
Artist list
Paul Adie, Manami Aoki, Peter Bauhuis, David Bielander, Rudolf Bott, Helen Britton, Beatrice Brovia, Bifei Cao, Carla Castiajo, Guozhen Chen, Shuming Chen, Nicolas Cheng, Xiang Cheng, Florian Chumeng, Shachar Cohen, Erinn Cox, Aaron Patrick Decker, Peter Deckers, Patrícia Domingues, Yanli Duan, Iris Eichenberg, Nedda El Asmar, Benedikt Fischer, Shaoxiong Fu, Sara Gackowska, Jie Gao, Maya Gao, Shan Gao, Wei Gao, Yun Ge, Zhiwei Gong, Niki Grandics, Adam Grinovich, Xin Guo, Rupai Han, Sophie Hangarth, Ann-Kathrin Hartel, Jing He, Nils Hint, Simone Hompel ten, Meiing Hsu, Jun Hu, Shifa Hu, David Huycke, Meiri Ishida, Koen Jacobs, Xuezhi Ji, Chengyu Jiang, Xueling Jin, Junwon Jung, Lauren Kalman, Jiro Kamata, Yeonmi Kang, Heejoo Kim, Young-I Kim, Panjapol Kulpapangkorn, Seulgi Kwon, Heng Lee, Seulki Lee, Helena Lehtinen, Linlin Lei, Danqing Li, Shanshan Li, Tianqing Li, Yinliang Li, Yiping Li, Yunxuan Li, Zifeng Li, Xiao Liang, Enying Lin, Xiao Liu, Urmas Lüüs, Suska Mackert, Lilian Mattuschka, Jasmin Matzakow, Mei Meng, Carla Movia, Eija Mustonen, Kadri Mälk, Chequita Nahar, Xianou Ni, Evert Nijland, Zijun Ning, Ted Noten, Lumy Nouguez, Pavel Opocensky, Seth Papac, Liling Peng, Yiwen Peng, Ruudt Peters, Annika Pettersson, Karen Pontoppidan, Suzanne Pugh, Haiming Ren, Estela Saez, Nina Sajet, Juliane Schölß, Sondra Sherman, Jun Shi, Robert Smit, Nadja Soloviev, Deganit Stern Schocken, Zhongge Sui, Jie Sun, Jieyi Sun, Xiangxiang Sun, Yiping Sun, Tore Svensson, Anneleen Swillen, Fumiki Taguchi, Edu Tarin, Terhi Tolvanen, Vivi Touloumidi, Fabrizio Tridenti, Yiumsiri Vantanapindu, Frank Verkade, Kezhen Wang, Qi Wang, Qiong Wang, Taidi Wang, Xiaojia Wang, Xiaoxin Wang, Zhenghong Wang, Chumeng Weng, Mian Wu, Renjie Wu, Jun Xie, Binglei Xu, Chenqian Xu, Jiaying Xu, Jing Xu, Congcong Yan, Zhao Yang, Xiaoyou Ying, Tala Yuan, Shuang Yue, Christoph Zellweger, Xihan Zhai, Chenzhi Zhang, Fan Zhang, Kun Zhang, Yi Zhang, Yunting Zhang, Zaozao Zhang, Zhaodan Zhang, Zhi Zhang, Yanmin Zhao, Yi Zhao, Hanqi Zheng, Hengfeng Zhou, Mingming Zhou, Ruoxue Zhou, Zhuohan Zhou, Aiyu Zhu, Yijie Zhu, Weiyang Zhuo
This year's Hangzhou International Jewelry and Metal Art Triennial invited 155 exhibitors who are famous educators, artists and scholars from 25 countries and regions to participate in the One Belt, One Road guidelines and policy, focusing on the China Academy of Art. About 50 well-known institutions in Asia, Europe, and the Americas form a high-level jewelry and metalworking academic feast worldwide. This exhibition has attracted the enthusiastic participation of many domestic and foreign contemporary jewelry and metal artists. It also pays special attention to the incubation of young artists and has become a mature communication platform for the contemporary jewelry art circle. This exhibition also conducts academic discussions with experts from around the world to expand the academic, artistic, technical and aesthetic aspects to promote the development of jewelry and metal art.
Through the 21g exhibition, we will present the most avant-garde metal art creations at home and abroad from a professional perspective, and promote the development of the overall discipline of jewelry and metal art. Through exhibitions, to understand the different areas of jewelry and metal art in the international and domestic, to explore the development of jewelry and metal art in the era of new technology, to reflect on how artists should face and eliminate the boundaries between art and crafts. At the same time, through the academic research of international art creation, combined with art history, modern and post-modern art theory, sociology and anthropology, the interdisciplinary discussion on the rhythm of art jewelry and other related issues.
Exhibition Theme: "21 grams"
With the intention to prove the existence of the human soul scientifically MacDougall introduced in 1907 a medical experiment by six patients roads during their dying process. The beds were positioned on an industrial scale so that the weight of the patient before, during, and could be held in the holes after death. The patients lost directly or minutes to hours after death 21 grams weight. This minimal research shows that the soul has a substantial weight. The concept of 21 grams has a mysterious imagination that is attractive to artists. The weight of 21 grams is both imaginative and literally for jewellery makers a challenge.
This triennial is scheduled to travel to European countries in 2019.
– 2018.11.07-2018.12.10 (China)
– 2019.03.11-2019.04.20 (Germany)
– 2019.05-2019.06 (Poland)
– 2019.07-2019.08 (Belgium)
– 2019.10-2019.11 (Netherlands)
/https://klimt02.net/events/exhibitions/21-grams-china-academy-art/
More:
https://klimt02.net/forum/articles/why-do-you-wear-jewelry-triennial-ping-zou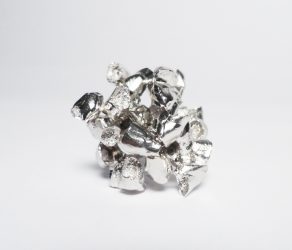 Erinn M. Cox_John Carl Cox 1919-1992_forty-one cast sterling silver baby teeth of artist`s late grandfather, sterling silver, rhodium plating, 21 grams_2018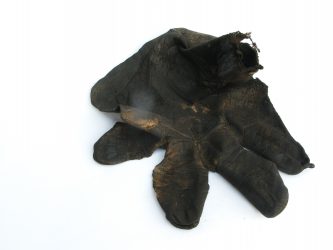 Nils Hint_brooch_Elephant_leather, blood, sweat, oil, dirt, stainless steel_2018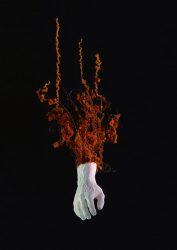 Urmas Lüüs_Filled Emptiness_bone, iron chloride, sodium silicate, water, video documentation_ 2018_Photo by Valdek Laur and Urmas Lüüs