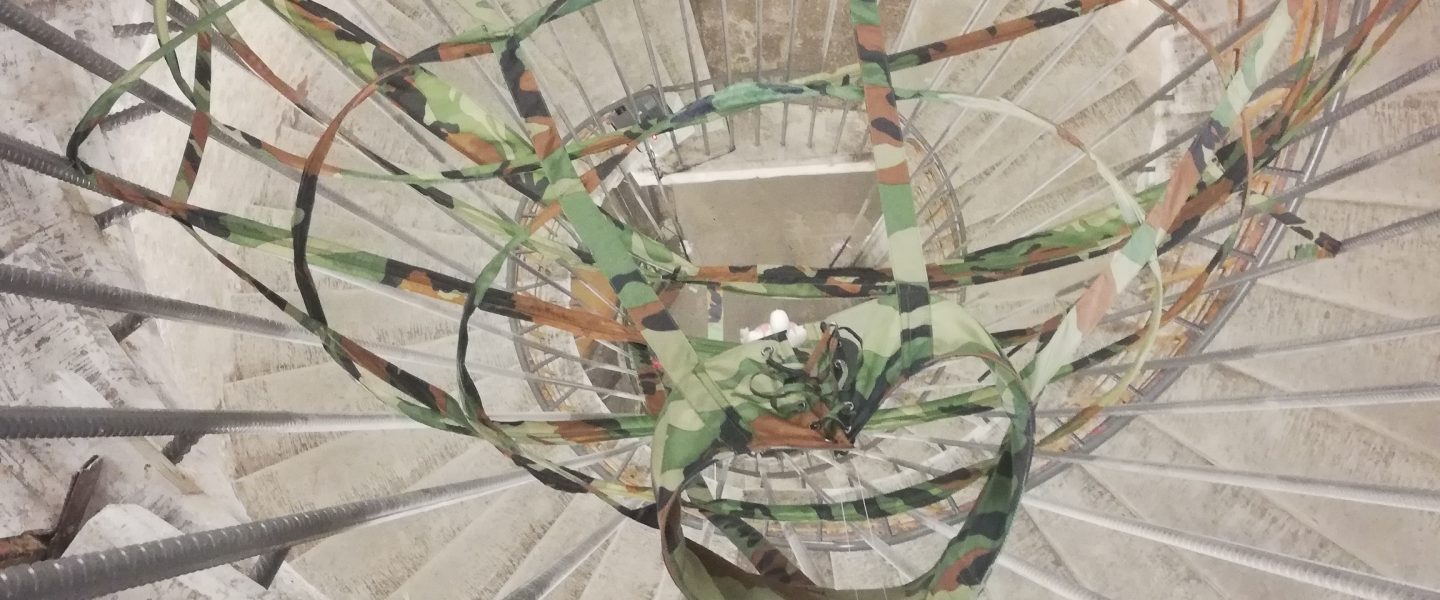 Foto: EKA Fashion Design
Location:
EKA staircase
Start Date:
26.04.2019
End Date:
05.05.2019
This exhibition is the result of the course Fashion and Gender; a course combining theoretical texts on gender, age and ethnicity with creative practice in fashion and textiles. Through theoretical discussions on gender norms and ways of undoing them, each student chose a theme that they processed through their own practice. As a result, the exhibition includes a diverse selection of garments, objects, photographs, a video and a zine that invite the viewer to participate in the discussion on sex and the different aspects through which it affects our everyday lives.
Works by:
Katrin Aasmaa, Kreeta Aidla, Anna Viik Archanjo, Kristiina Jeromans, Kristel Jänes, Liis Kalda, Annika Kiidron, Siim Oja, Cärol Ott, Pegah Raksha, Valérie Rust, Ameneh Salemi, Alessandra Sanna, Lisette Sivard, Triin Tint, Alejandra Vega Lopéz.
Dr. Annamari Vänskä is  Adjunct Professor of Fashion Research in Aalto University. She is a curator, columnist and Visiting Professor at SCF – Shanghai International College of Fashion and Innovation, Shanghai, China. Vänskä worked formerly as Collegium Researcher at the Turku Institute for Advanced Studies, as Associate Professor at the Centre for Fashion Studies at Stockholm University and as Researcher at the Department of Art History at the University of Helsinki. An integral part of her academic work is curating, and she has curated several exhibitions in Finland and internationally, most notably Boutique – Where Art and Fashion Meet (2012) which was first exhibited at the Amos Anderson Museum in Helsinki in the context of the Helsinki Design Capital 2012 project and became a stream of edited versions exhibited e.g. in New York (2013), Tokyo (2014) and Berlin (2016).
Annamari Vänskä has published and taught on art, fashion and visual culture at the intersection of gender and sexuality. Her recent publication include Muodikas lapsuus. Lapset muotikuvissa (2012, Gaudeamus), Fashionable childhood: children in fashion advertising (2017, Bloomsbury) and Fashion curating: critical practice in the museum and beyond (2018, Bloomsbury, co-edited with Professor Hazel Clark).
Research interests:
Fashion studies, fashion media, fashion advertising, fashion curating, visual culture studies, fashion, gender and sexuality, children and fashion, fashion and posthumanism, critical gender theory, performativity, queer theory, posthumanist theory.