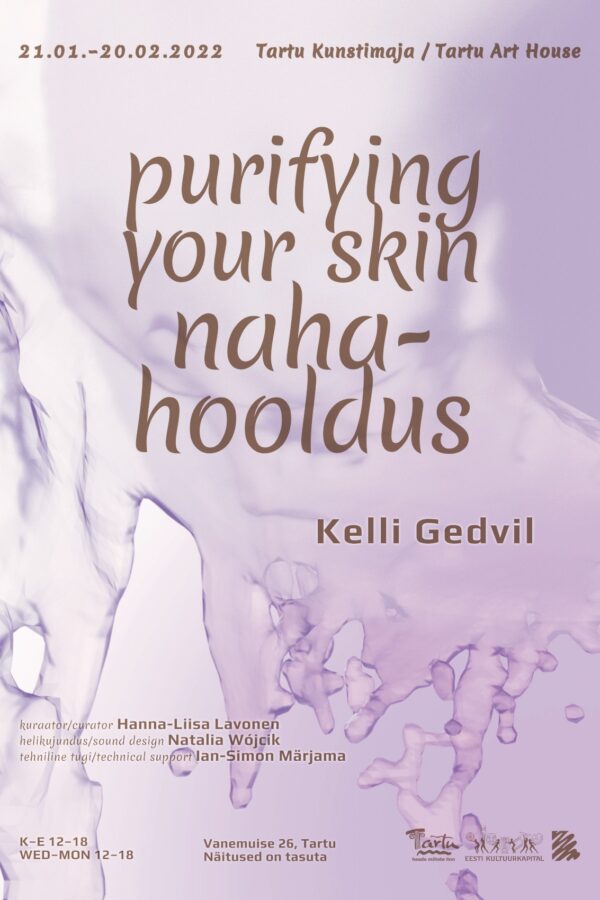 Kelli Gedvil at the Tartu Art House
Location:
Tartu Kunstimaja
Start Date:
22.01.2022
End Date:
20.02.2022
On Saturday, 22 January Kelli Gedvil's  solo exhibition "Purifying Your Skin" will open in the small gallery of the Tartu Art House. The exhibition is curated by Hanna-Liisa Lavonen.
The exhibition focuses on the methods by which virtual and physical tools change the look and texture of human skin as a material. The modified skin on advertisements looks soft, smooth and flawless. The dissonance between the real and the manipulated makes us crave for the artificial beauty standards and the advertised products seem like otherworldly magical potions. This, however, results in a frustrating cycle when one product, which was advertised as omnipotent, is followed by another, that is equally as ineffective.
By removing the physical and virtual manipulations from the skin, we notice its diverse and hidden ecosystem. This protective, elastic material reveals pores, pimples, wrinkles, sebum, and the creatures that help with its functioning. The present exhibition shows how our obsessive desire to improve our skin based on false visuals can make us forget about the real and natural dermal texture and its individual characteristics.
Kelli Gedvil (b 1994) has graduated from the Department of Painting (BA) and the Department of Contemporary Art (MA) at the Estonian Academy of Arts. She has also studied as an exchange student at the Hungarian University of Fine Arts and the Valand Academy in Sweden. Besides Estonia, she has participated in exhibitions in Sweden, Belgium, Germany, Canada, Hungary and Poland. Gedvil is the co-founder of the artist group Robin Ellis Meta and the gallerist and web developer at the online gallery post-gallery.online. This is her first solo exhibition in Tartu.
The exhibition is accompanied by a sound design by Natalia Anna Wójcik.
The technical support of the exhibition was provided by Ian-Simon Märjama.
Artist thanks: Egle Ehtjen, Kaupo Haukanõmm, Anti Kidron, Leegi Kiis, Madli Lippur, Kristen Rästas, Sten Saarits, Liina Siib.
The exhibition is supported by the Cultural Endowment of Estonia and open until 20 February.
Tartu Art House (Vanemuise 26, Tartu, Estonia) Wed–Mon 12–18. Exhibitions are free of charge.
The exhibitions of the Tartu Art House are supported by the Tartu Town Government and the Cultural Endowment of Estonia.