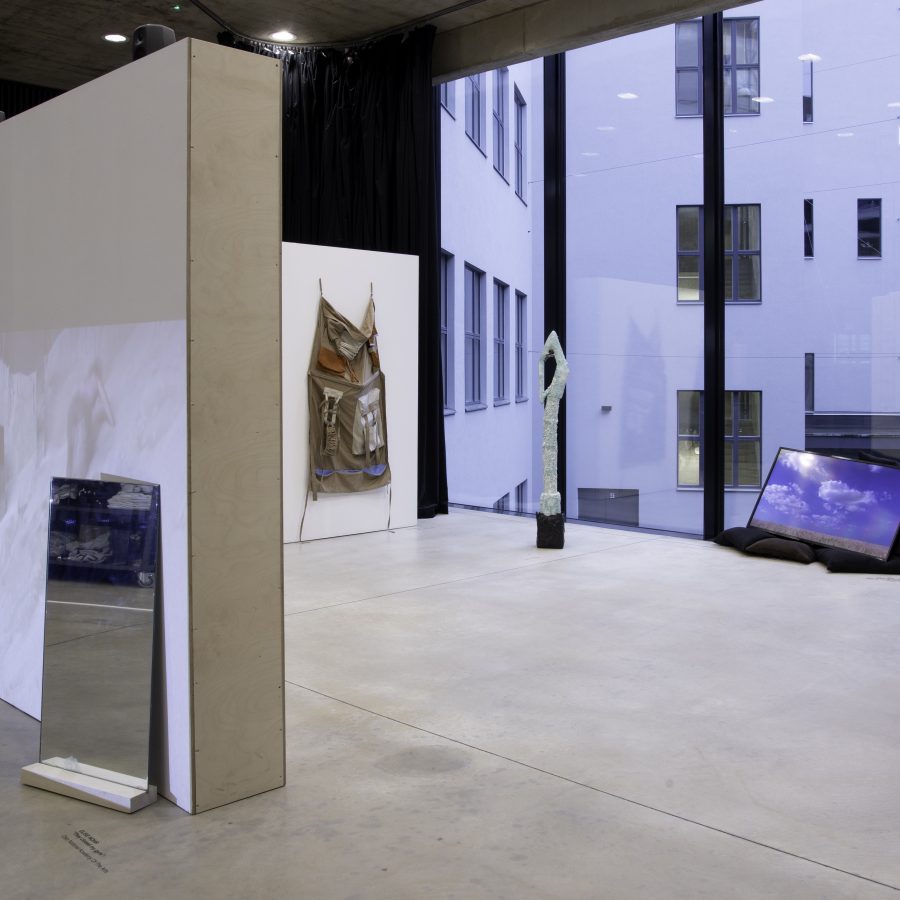 KUNO EXPO Exhibition "It Must Be My Dream" / foto: Andra Junalainen
Location:
EKA peahoone, Põhja pst 7
Start Date:
20.10.2021
Start Time:
17:00
End Date:
19.11.2021
Within the framework of the teachers' seminar of the KUNO network, a large-scale international student program will take place at EKA: art exhibition KUNO EXPO, It Must Be My Dream and brainstorming sessions "General Art Sharing: Good Biennial", accompanied by Norwegian artist Ane Hjort Guttu's film Manifesto.
KUNO EXPO (THIS MUST BE MY DREAM / brings together a selection of recent works by students of Nordic and Baltic art universities. The works were created for art education in a difficult period, when the use of academy studios was difficult and the cooperation between students and lecturers was difficult. Assessing the contribution of all parties, the network's faculty were challenged to recommend the students' work that affected them and seemed important in the past. The works, often created in chamber conditions, bring to the viewer a new kind of new reality, where global self-irony, loneliness and sadness are perceived – as well as clarity of thought and a poetic imagination independent of the future horizon.
Official opening of KUNO EXPO on October 20 at 5 pm in the lobby of EKA. The exhibition runs through the intermediate floors of the EKA building on the first, second, third and fifth floors. KUNO EXPO will be open until November 19.
Participating artists: Barbora Matonyte (VAA), Jesper Dolgov (TUA), Vilde Rudjord (KiT), Anna Malicka (LMA), Helena Bratt (HDK Valand), Ali Ardalan (HDK Valand), Jonathan Lystbæk (HDK Valand), Anna Mari Liivrand (EKA), Chun Au Yeung (EKA), Muhammad Sufyan Baig (EKA), Marie Saure (UiT), Elise Nohr Nystad (KHiO), Joakim Svendsgård-Mathisen (KHiO), Jere Vainio (KHiO), Jonas Erboe Rasmussen Bergen, FFA), Frej Volander (FAA), Signe Maria Friis (FAA), Simon Ganshorn (FAA), María Kristín H. Antonsdóttir (FAA), Pernille Pedersen (FAA), Jeppe Østergaard Munk (FAA), Emmarosa Liebgen (FAA) ), Ferdinand Evaldsson (Konstfack), Nada Ali (Kungl.The Academy of Fine Arts), Renate Feizaka (LHI)
A new KUNO biennial concept will be developed using the think-tank method as part of the KUNO express course "General Art Sharing: A Good (d)) Biennale" on October 18-21, which will then be launched under the leadership of students.
ANE HJORT GUTTU "Manifest / Manifesto" 18.10–23.10 Design and Architecture Gallery
During the week, there is a rare opportunity to see Ane Hjort Guttu's film "Manifest / Manifesto". The author's art film tells the story of the creation of a secret art academy operating autonomously within a prestigious university. The film also cunningly touches on the theme of the KUNO faculty seminar program, which is art education and its architecture.
fotod: Andra Junalainen