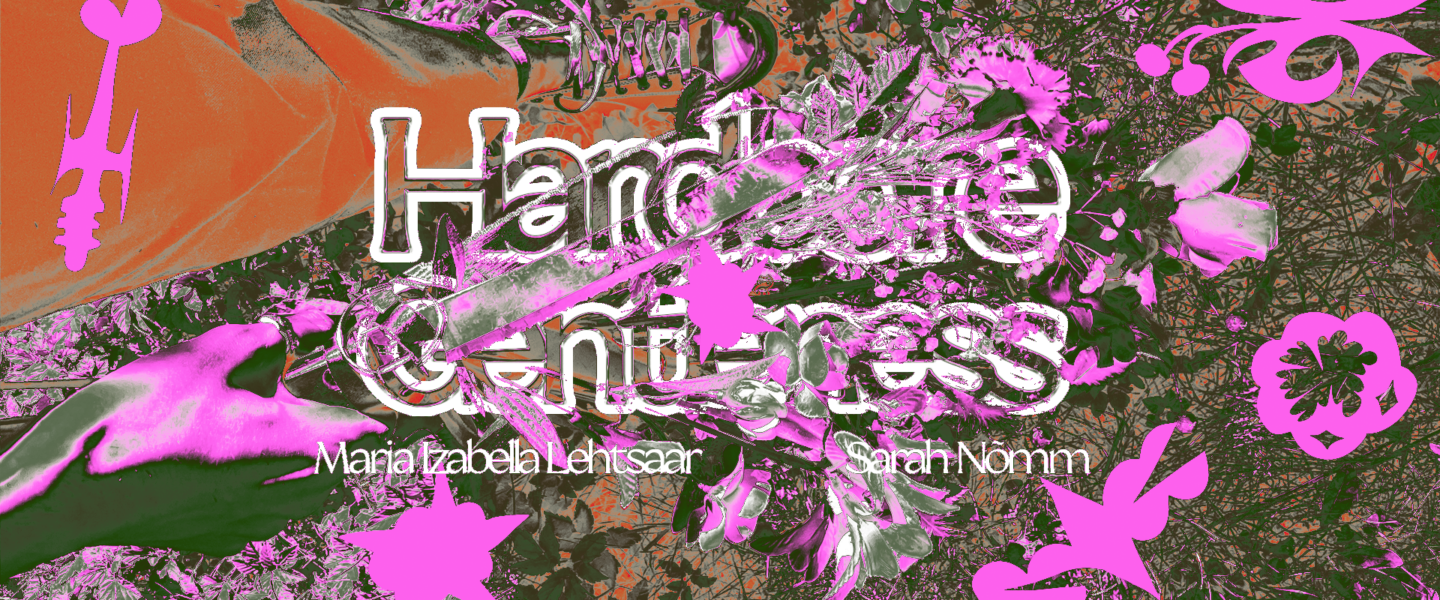 Maria Izabella Lehtsaar and Sarah Nõmm at Vent Space
Location:
Vent Space projektiruum, Vabaduse väljak 6/8
Start Date:
25.08.2022
Start Time:
18:00
End Date:
31.08.2022
The opening of the exhibition Hardcore Gentleness by Maria Izabella Lehtsaar and Sarah Nõmm will take place on 25 August at 18.00 at the Vent Space project room.
The first duo exhibition by Lehtsaar and Nõmm focuses on the intertwining of intimacy, mental health, sense of security, control and loss of control in a person's life through common elements of both artists' creative practice. In their artistic dialogue, Lehtsaar and Nõmm talk about the challenges of girlhood and coming of age. The artists explore the interdependent dynamics of security and intimacy in different relationships, everyday expressions of gender and sexuality, and the role of everyday rituals in coping with mental health issues.
The tension at the heart of the exhibition is the juxtaposition between categories – such as light and heavy, soft and harsh, safe and dangerous, and acceptable and unacceptable – which is characteristic of the work of Lehtsaar and Nõmm. The aim of the convened duo show is to manifest the role of sexual expression in art and life, emphasising the importance of a sense of personal security and belonging, shared joys and concerns, and the well-being of one's mind and body.
Curators: Anita Kodanik and Brigit Arop
Graphic design: Michael Fowler
Maria Izabella Lehtsaar (1998) is an artist based in Tallinn who combines textiles, graphics, drawing, installation and text in their work. Their works deal mainly with the themes of queer experience and mental health, often playing on the fragile border between reality and fantasy. Lehtsaar graduated from the Estonian Academy of Arts with a bachelor's degree in Graphic Art and is currently studying in the Contemporary Art MA programme. In 2021, they were awarded the Edmund Valtman scholarship.
Sarah Nõmm (1998) is an artist based in Tallinn who works primarily with sculpture, installation, video and performance. Her work deals with the female body and the spaces surrounding it. Nõmm's works are often based on personal experiences and look at themes of the body through popular beliefs, myths, taboos and everyday rituals. She has a bachelor's degree in Sculpture and Installation from the Estonian Academy of Arts. In 2021, she was awarded the Young Sculptor Prize.
The exhibition is open every day at 13.00–19.00 from 26 August to 31 August.
Supported by: Cultural Endowment of Estonia
Special thanks: Contemporary Art Museum of Estonia, EKA Gallery, Johannes Luik, Maksim Bondartsuk, Julika Roos
Additional info:
Brigit Arop, curator
Anita Kodanik, curator