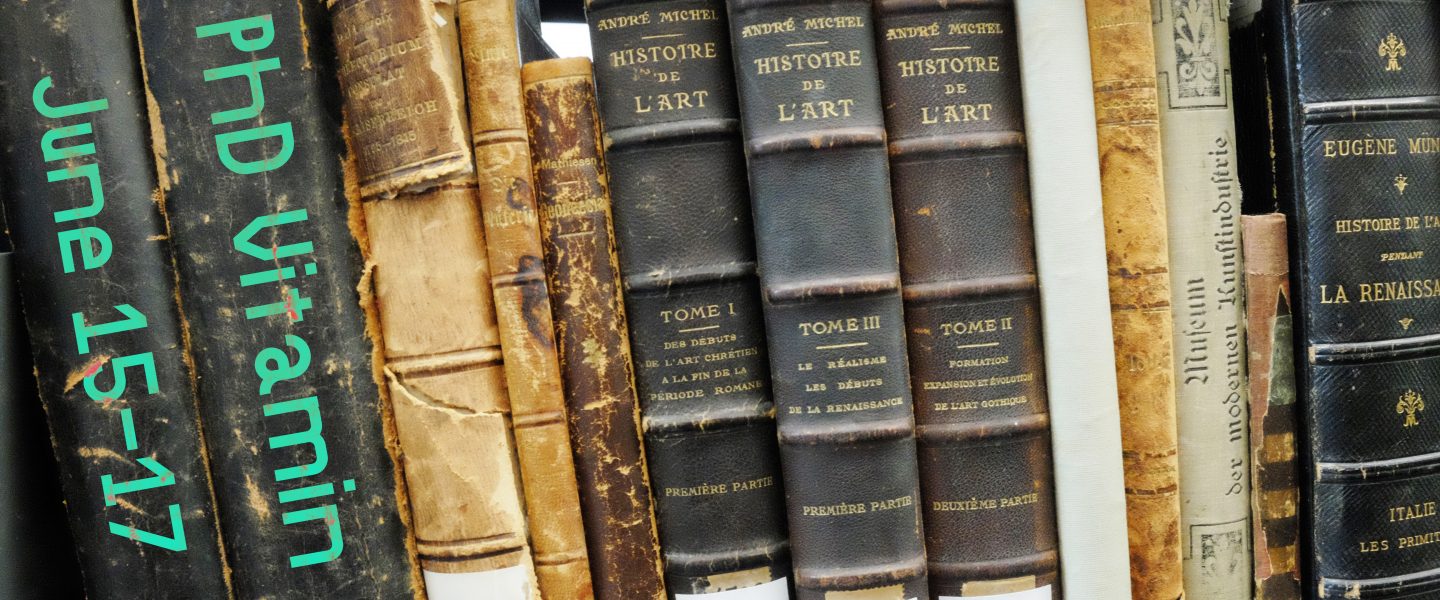 Photo: Annika Toots
Location:
Digital Event
Start Date:
15.06.2021
End Date:
17.06.2021
The registration to the PhD Vitamin consultations and workshop is open! (link below)
The second PhD Vitamin at the Estonian Academy of Arts will take place this year on June 15-17 via ZOOM. The event consists of public lectures, consultations and a workshop for drafting a doctoral thesis. The event will once again bring together experts in creative research with those interested in entering doctoral studies in art and design.
All interested parties are welcome to participate in public lectures by creative research experts June 15-16:
Tuesday, 15.06. 14:00-15:00 – Mick Wilson
Mick Wilson is an artist, educator, and researcher. He is currently Professor of Art and Director of Doctoral Studies at HDK-Valand Academy of Art & Design, University of Gothenburg. He has been actively involved in developing and promoting artistic research on the academic, institutional, and public levels. His current research deals with questions of art as public culture; political community with the dead; exhibition-making as inquiry; and the rhetorical dynamics of knowledge conflict and symbolic violence. His co-edited volumes include: How Institutions Think (2017) and The Curatorial Conundrum (2016), both MIT and with Paul O'Neill and Lucy Steeds, and SHARE Handbook for Artistic Research Education (2013), ELIA with Schelte van Ruiten. Wilson is currently involved in projects like PARSE On the Question of Exhibition (2020-2021), Open Up (2019-2023), and Public Art Research Report II (2020-2022).
In his lecture entitled "Meeting Friends and Parting Ways," Mick Wilson will give a personal exploration of the potentials and tensions of the artistic research field based on his collaborative experience as an artist, writer, researcher, and organizer.
Tuesday, 15.06. 17:00-18:00 – Britta Benno
Britta Benno is a Tallinn-based artist who specializes in drawing and printmaking. She is interested in various hybrid techniques and materials that open up new perspectives. In recent years Benno has been working on a series depicting posthuman urban landscapes. Her conceptual keywords include memory, power, and loss of meaning (ruins), imagination (worlding), printmaker's tools of thought (thinking in layers), and posthuman philosophy.
Since 2018 Benno is a doctoral student on the EKA art and design doctoral curriculum. Her practice-based research focuses on thinking in layers and imagining in layers inherent to her medium: posthuman landscapes in the field of extended drawing and printmaking. In her lecture, she will present her research, shed light on how it has evolved and changed during the studies, and how the academic and artistic practices work together.
Wednesday, 16.06. 16:00-17:30 – Thomas Markussen & Eva Knutz
Thomas Markussen is associate professor and co-founder of the Social Design Research Unit at the University of Southern Denmark. In his work, Markussen focuses on how design can be used as a political and critical aesthetic practice, notably in social design, design activism, and design fiction.
Eva Knutz is an artist and designer, an associate professor within practice-based design research, and co-founder of the Social Design Research Unit at the University of Southern Denmark. The group works on participatory design processes leading to social value for the individual and society at large, with particular attention to marginalized or vulnerable groups in society. Knutz has a developed number of prototypes (games) and research artifacts (probes, self-aid kits, tools) focusing on two large public sectors, healthcare, and criminal care.
Markussen' and Knutz' shared lecture is titled "Practice-based research in art and design – an introduction".
Consultations and Workshop: June 16-17
In addition to the lectures, individual consultations take place within the framework of the PhD Vitamin on June 16. They offer the opportunity to talk about artistic work and ideas for a doctoral thesis with an expert of your choice. To register for a consultation, please provide your portfolio with the registration form (see below).
On June 17, the workshop about ideation and preparation for one's PhD proposal with Thomas Markussen and Eva Knutz will take place. To take part in the workshop, please provide a 1-pager of your idea. Instructions can be found on the registration form.
To participate in the consultation or the workshop, register HERE. [Registration for consultations and the workshop is closed. Please join the open lectures instead: no registration is required for that.]
We encourage artists and designers, alumni, and graduates of the Estonian Academy of Arts and other universities working with creative research methods to register. Registration is open until 11.06.2021. The exact consultation times will be sent directly to the provided e-mail addresses. Be quick – the number of free spots for the consultations is limited!
The lectures and consultations will take place in digital environments.
If you have any questions, please contact madis.luik@artun.ee
PhD Vitamin was first initiated in 2020 by the Faculty of Fine Arts. In 2021, it is being organized as a collaboration between the faculties of fine art, design and the EKA doctoral school.
PhD Vitamin is supported by the European Regional Development Fund.