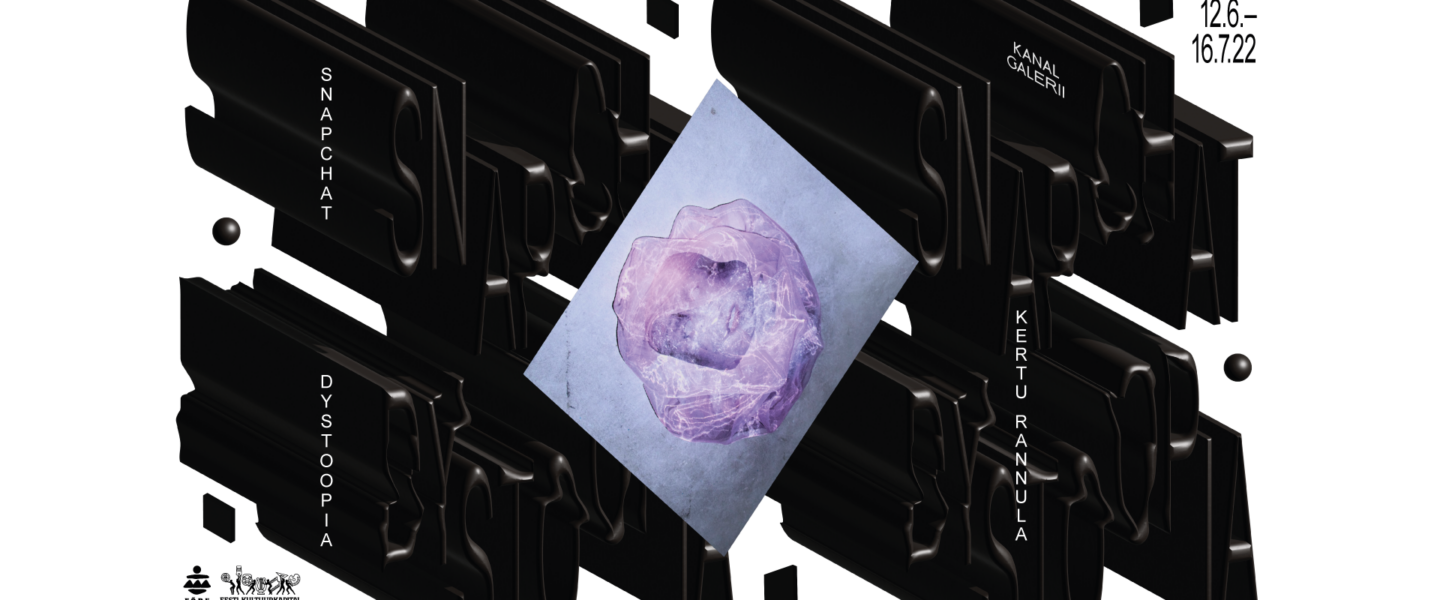 Kertu Rannula "Snapchat dystoopia"
Location:
Liiva 11a, Võru linn
Start Date:
12.06.2022
End Date:
16.06.2022
KERTU RANNULA
"SNAPCHAT DYSTOOPIA"
12/06/2022 – 16/07/2022
Kanal gallery
While analyzing the essence of social media's beauty filters, the relation between the filter and the user is under observation – is a beauty filter a sticky parasite who is made to be a part of the system, which splits our self-image and profits from our insecurities, or is it a symbiosis, where a filter is soon becoming a part of our daily beauty routine?
When Photoshop or 3D-technologies are still mainly for the tech-savvy, beauty filters that circulate on all social media platforms, allow self-modification with only a single touch. From pure entertainment to a powerful tool, filters have made manipulating with our reality easier than ever before.
Filters, that distort faces and bodies, are widely spread in typical social media users but also within famous influencers. In China, even posting an unedited photo of a friend, is considered a violation of the social norm; and going to a plastic surgeon with an edited selfie has become so frequent that this state of mind has led to a new termin called "Snapchat dysmorphia".
In the background of the blurred lines of real and virtual world, the exhibition addresses the affect that social media filters have on our daily lives and behaviour.
The centre that connects the installative works together is the artist's own face. The face has become a moldable material which transforms through different mediums. Visitors are invited to step into an alternative reality, where the bodily roles of the human and the filter have been reversed in the exhibition room.
Kertu Rannula (b. 1997) lives and works in Tallinn. Through site specific photo- and video installations, she is researching the relationships, signs and symbols of the contemporary human and culture. Rannula holds a Bachelor's degree in photography from the Estonian Academy of Arts. She has also studied liberal arts in Iceland University of the Arts and sculpture and installation in Belgium PXL University of Applied Sciences and Arts. Rannula has participated in shows in Estonia and abroad. In 2020, she took part of ISSP Riga Residency.
Graphic designer: Henri Kutsar
Supporters: Estonian Cultural Endowment, Võru city
Thanks: Alari Toomsalu, Siim Asmer, Ago Paabusk, Kairit Onno
KANAL GALLERY
Thu–Sat 12–18
www.liivaate.ee
Facebook, Instagram @kanalgalerii
More information:
Stella Mõttus
Kanal Gallery's gallerist
stella.mottus@gmail.com
+372 55 999 609