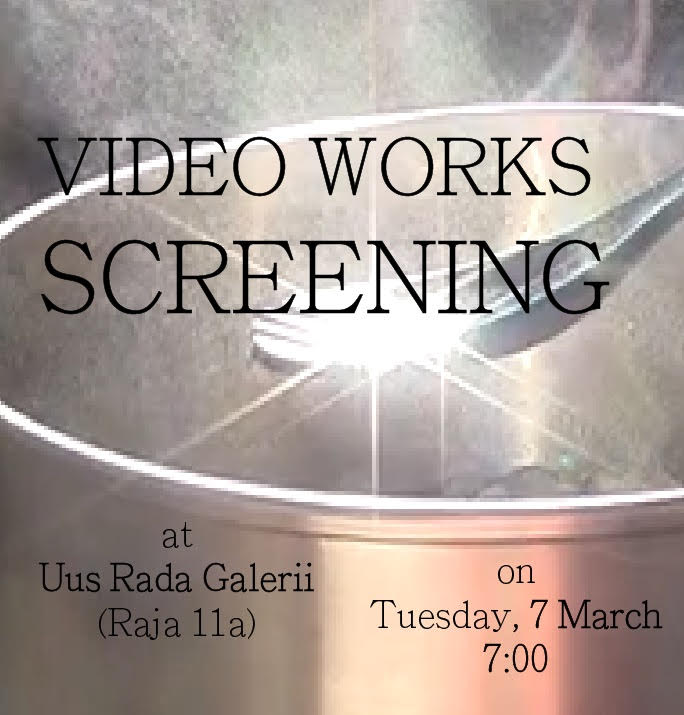 Location:
Uus Rada Galerii, Raja 11a
Start Date:
07.03.2023
Start Time:
19:00
End Date:
07.03.2023
Join us at Uus Rada Galerii on Tuesday March 7 at 7 p.m. for our Video Works Screening night. 
This public screening features video works made by 26 EKA students/artists including Lauri Lest, Rebeca Parbus, Laura De Jaeger, Mirjam Varik, Daria Kylm, Viktoria Martjanova, Łukasz Rygał, Andrea Gudiño, Paulina Belik, Noah Emanuel Morrison, Eva Eller, Sigrid Barranco Ballonga, Sarah Noonan, Jim Wolff, Inessa Saarits, Alina Birjuk, Raahel Rüütel, Kristel Zimmer, Kelli Tõnurist, Kirke Selirand, Lara Žagar, Inka Jerkku, Siew Ching Ang and Josefine Flora Green.
The videos were submitted in a non-juried open call for short experimental videos. There is an incredible variety of videos to come and see. We are excited to share them with everyone!
Free admission.
Soup will be available and you can bring your own drinks.
Uus Rada Galerii is located at Raja 11a.
For more details or questions email at uusrada@artun.ee or via
Instagram @uusrada