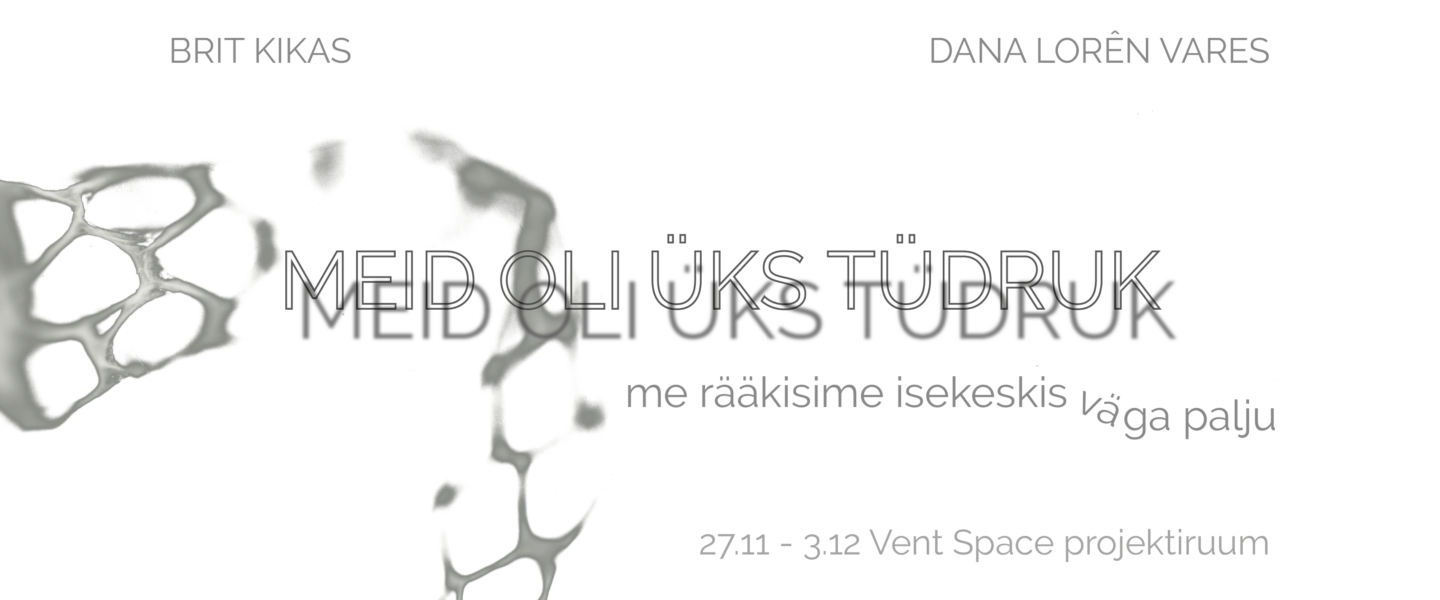 "There was one girl of us We talked a lot among ourselves" in Vent Space Gallery
Location:
Vent Space projektiruum, Vabaduse väljak 6/8
Start Date:
26.11.2022
Start Time:
17:00
End Date:
03.12.2022
Vent Space Gallery
Opening of the exhibition on November 26, 5-8 p.m.
The joint exhibition of Brit Kikas and Dana Lorên Vares looks at shedding the skin as a constant rebirth. Through repetition, jewelry art and graphics come together, bringing to the viewer tactile changes that form endless chains and patterns.
"There was one girl of us
We talked a lot among ourselves
We had no brothers or sisters, and neither did our father and mother
We didn't grieve very often
Sad evil calls for beating
Besides, we knew that the parents are alive, they are hidden in a secret bunker made in the forest
We lacked upbringing, so to speak
We didn't give anyone up
Two burning spots melted under our feet every spring
Only later did I realize that I live in the singular"
-Ene Mihkelson
Brit Kikas (1997) – He is a Master's student of Contemporary Art of the Estonian Academy of Arts and is currently on exchange studies at the Academy of Fine Arts in Finland. In 2022, Kikas was the co-curator of the youth exhibition "Slow maneuvers" of the 18th Print Triennale in Tallinn at EKKM, and in 2021 he organized his first solo exhibition "Corpora Prima" at Positiiv gallery. Previously, Kikas has participated in several group exhibitions, such as "Soft Narratives" (2020), "Spring Exhibition" (2021) in the Kunstihoone gallery. In addition, Kikas has also participated in several international group exhibitions "Book" (2021) at Kaapelitehda in Helsinki, "Blended Intensive Project" (2022) at Neuer Kunstverein Wien in Vienna.
Dana Lorên Vares (1998) Studied at the Estonian Academy of Arts in the magistracy of the department of jewelry and blacksmithing. In 2017, he staged his first dance performance "My name is how I call myself" as a collaborative project. During his undergraduate studies, he participated in several group exhibitions "Künnis" (2020), "TASE'21" (2021). During his master's studies, Vares' work has been represented in several joint exhibitions "Valus on" (2021), "B-106" (2022); several of them also international cooperation projects: "Notes on fashion and gender" (2022) and "Second chance" (2022). In addition, Vares has taken part in the dance production and performances "IHA" (2019), "Minevik, jag mina set samadan" (2020), "Greenfield: Fyüsis" (2018).
The exhibition is open from November 27 to December 3, from 2 to 6 p.m.