School of Commons (SoC) is an initiative dedicated to the study and development of self-directed Peer Learning, located at the Zurich University of the Arts (ZHdK). SoC represents an international community of practitioners, artists, designers and researchers who focus on matters surrounding the production and mediation of knowledge with a common interest in self-directed practices.
https://www.schoolofcommons.org/
IG @schoolofcommons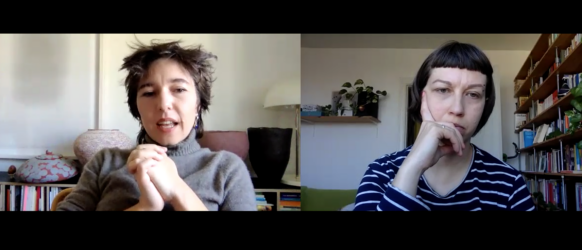 Marea Hildebrand, founder of SoC and Maarin Ektermann (Estonian Academy of Arts), met through joint Erasmus +/Movetia project Futures of Art School Trends 2045 (FAST45, 2021 – 2023) and discovered their common interest in self-organised art education. Following conversation dives deep into practices of SoC, driving forces behind starting an alternative arts education platform and building an international (digital) learning community, that is characterised by inclusiveness, trust and constantly finding ways to produce new knowledge.
Maarin Ektermann: Hi Marea! Could you please first introduce yourself – what is your background, what have you studied, your work/projects before School of Commons?
Marea Hildebrand: I studied Agronomy first, but didn't complete my bachelor's degree, although I was very interested in the Field of International Agronomy. After that, I did a Bachelor in Art Education and – retrospectively – I would say, that was already the moment where the seed for SoC was planted, because I saw so many things that I would have done differently. Then I completed a Master's in transdisciplinarity studies at the Zurich University of the Arts (ZHdK). Before SoC, I worked as a social worker, but also as a teacher in South Africa, as a farmer on a Biodynamic Farm and as an art educator in different settings. So the interest in alternative education, knowledge exchange, and in "how to build groups and methods that are able to facilitate an international, cross-institutional knowledge network", was always there.
Maarin: What circumstances resulted in starting the School of Commons? In the context of ZHdK, in the context of higher art education – why to do it?
Marea: I started SoC during my studies. When I was doing my bachelor's in art education, I was asked if I would want to work in university politics – that is a student representative organ every University in Switzerland has to have. So I started working there. We restructured this unit totally and it became a paid job for me to attend meetings, sit in Boards and Commissions etc. So I gained a lot of insight into the structures of big institutions for a very long time. And that was interesting, but also sometimes shocking for me. Through this position, I learned a lot about the needs of the students, in different universities, not only in my own school, and about the bigger Educational Politics that University had to accommodate. I sensed this big need of the students to really choose their own curriculum and topics, to choose their own pace; I also saw the need for accessibility for people that are not attached to an institution, that are kind of self-taught or activist etc. to be able to collaborate with the students and professors. I had the wish to connect with those people and to merge those different levels in the project.
During that time there was also this wave of projects that were re-visiting the experience of Black Mountain College that was founded by John A. Rice and Theodore Dreier in 1933 in North Carolina, US with the goal to have students from science and art working together in a democratic learning -process. Those re-visitations focused on how students were able to choose how and what they want to learn, how they were shaping the living and learning space together. But what I saw in those "re-visiting Black Mountain" projects, at least in the one that ZHdK did, is that students currently had a very limited framework, they had credit points to do, they had a timeframe, deadlines, and they had to create an outcome, etc. And that was kind of the last drop, where I thought, hey, that has to be done differently. That's when I wrote an application to the university, ZHdK, saying, we students, we actually think that we can do that on our own, with our own terms – and I got the funding!
Maarin: Is it a normal thing to initiate projects and step up like this for students in ZHdK? Like, it seems it went so easy for you!
Marea: No, it's actually not. I think it's because I was working in university politics, because I knew my rights very well. So I knew that I am allowed to make an application to the University board if I am a member of the student representative board. I think it's the first time that this has happened.
Maarin: But, moving towards SoC – what do you mean by "commons", what interpretations/authors have been important to you when conceptualising the name of your initiative?
Marea: Actually, when I started SoC, the name was "Keine Klasse". In German it means "No Class". But very fast we recognised that we need to go international to be more accessible for everyone around the globe, and it's way more interesting for the participants to have this wide range of peers, so we needed an English name.
I mean, there are many layers of meaning to the term "commons", but in the oldest sense it is a land or a resource or a landscape belonging to the whole of a community and being taken care of together. And that's really how we work – every participant, every member of the team, every alumni, every person that takes interest in being part of SoC is taking care of this big knowledge landscape or of this network of different knowledge. So we are really growing it together. There is a responsibility in this kind of concept, you're growing together, and all members are depending on each other in some way.
But you asked about authors. That is actually very interesting for me to think about. I know that we, in academia, are trained to prove our concepts, our ideas, our methods, with existing knowledge, using references to contextualise, and so on. But at the beginning of SoC the approach was very different from that, because it was really bottom up, I didn't consult any written text, any reference. I just saw these needs for alternative spaces of learning and started working. A a lot of guidance and inspiration came from the participants, from every person that collaborated, because what I did from the beginning on is that I had tons of conversations, qualitative research interviews about what kind of structure people like, what kind of paths people want to try, what kind of methodologies they want to develop, etc.
So the first three years were just that, I would say. And then there was this moment where I had the urge to conceptualise, and to find out, in what kind of world we are acting in with SoC. For me, Gayatri C. Spivak was interesting to read. I also really like classical educational science because I was interested in the mechanics, structures and politics of the whole thing, and of course Literature about Educational Leadership – for example a book by Helen M. Gunter "Educational Leadership and Hanna Arendt" (2015). Aleida Assmann, because she talks a lot about archiving structures, memory and collective memory building, etc. – I also sometimes think of SoC as a very huge collective memory building machine. And then, of course, I read Gerald Raunig "Factories of Knowledge, Industries of Creativity, (2013), Gert Biesta "World-Centred Education: a View for the Present" (2021); the book "The Undercommons", edited by Fred Moten and Stefano Harney (2013), Michel Foucault etc., the usual suspects. I would also point out "Self-organised", a book edited by Stine Hebert and Anne Szefer Karlsen (2013) and Lina Dukuzović and a book by her "Struggles for Living Learning" (2016) – I also appreciate those very much. And then of course, there is the other reference group of super interesting projects all around the world that are having a lot of similar aims and wishes and ideas. But for me, it's important to recognise that there was no kind of direct reference in the beginning.
Maarin: What are the resources of SoC and where they are coming from? What is the relationship between ZHdK and SoC, ideologically, but also practically?
Marea: So, in the beginning of the journey the resources were very low, it was quite chaotic and almost all the money went to people doing stuff, doing their projects. That was also the stage where SoC was received very well at the university, because students were doing something themselves, how nice! A lot of people came by, professors, etc. We were not "dangerous" at all! That lasted for 3 years, but after that I went to the University board with a big application for more money because I had to pay people and start building sustainable structures. And since then, we have become very international, with our own big network. We have a lot of institutions and para-institutions that we are working with and gradually, the perception of the project inside the university started to change.
I think that it's fair to say that for some people the project is kind of a threat now because it questions formal knowledge, structures, institutions, positions – like, do we really need those teacher-learner relationships, where a professor tells us what to do and to think? Do we really need the fixed, rigid curricula and clear boundaries of departments and institutions? Universities are built alongside departmental structures and public money goes to those established silos, that's how it's been for a long time. So structures that are on the edge of an institution or do not have a home in a department always have to prove themselves, always, all the time. And it's very, very difficult to actually facilitate innovation within systems that are built like this – I think innovation is always driven from the edge… But I think at some point we need to change that mechanism, or we need to build a kind of parallel structure that is designed to host projects that are transdisciplinary, cross-institutional and open to people from outside of the institution. I'm actually not a big fan of blank institutional critique and I think ZHdK also deserves a lot of credit, it took a lot of courage taking us so far for the last six years. And that's a big thing, not many universities would do that! But, the further we get, the more we see those problematic spots.
So, let's get to the question of resources. In the beginning, the resources came from ZHdK only. I applied for money every year, which was very stressful, because I never knew if the team had a job, whether I would make a new open call or not, etc. After three years, I decided that we needed something more stable and I applied for three years of funding. I also sensed that I need to get other resources in order to make the situation more stable. So at the moment, we still have ZHdK funding, we have funding from Erasmus+ (in our case Movetia) for project FAST45, we have a small project together with the Chile Biennial that is funded by Pro Helvetia and at the moment, I am talking to two big foundations to try to provide us with a more stable monetary situation.
When we talk about the distribution of resources in SoC, my rule is, that at least 50% of the money goes to participants and projects they do and a max. of 50% goes to overhead. We have two positions, besides me I have worked with Josephine Baan since 2020, but we would definitely need a third team member. What we often do, is that our participants who have a special skill-set that we need, work with us. For example, Amy Gowen, she's our Publication Manager and also a SoC alumni. And then we have Rulla Suter, they are supporting us with the qualitative research part that we established two years ago. We always try to give away small mandates to the community. At this point, I would really like to credit all the people with whom I have been working periodically for SoC, who left for other job reasons or whatever, but who played important roles in different moments – Dorothea Mildenberger, Philipp Spillmann, Melinda Bieri, Clifford E. Bruckmann and Marcel Grissmer!
Maarin: About the structure of SoC – how has it evolved over the years? Please tell a little bit more about the labs, why such labs?
Marea: In the beginning, SoC had absolutely no structure and that was great but a problem at the same time. If you are existing within a bigger structure that has very rigid restrictions, because it works with taxpayer's money, you always have to shield the participants from this kind of rigid system. I have to cover the handling of the rigid part myself. And in the beginning, where there was no structure, people just did stuff, they didn't document it, didn't keep receipts etc. –  in the end, I ended up being in a position where I had to prove where this money went. After the first year, I was like, "people, it was amazing, but I'm going to die if we do it like this again!". And actually participants gave the feedback that they want more structure, that they want to know what their "framework of freedom" is – that was really interesting to hear!
So the first lab I invented was the LEARNs Lab[i], which is kind of the same as it is now – you have to be more than two people, you will get a budget of 3500 Swiss francs and we need to see what you have done, so you share your process with others from time to time and you contribute something to the end of year publication. I was very strict in not telling people that they have to work outcome-oriented from the beginning on. So, just show us your process, show your failures, show your search "meander", but you don't have to put something out there as a product in the end.
After the first year with the LEARNs there was a need for more structure. Of course, it is the way people are socialised. I still get a lot of questions like, "what do you want me to do?" Or – "how do you want me to do it?" And I'm always like, "look, the only thing I ask from you is to do what you are most curious about, and not to determine the whole process, outcome methodologies, from the beginning!". Then, after three years, I knew I was going to apply for a bigger budget, so, together with a friend, Marcel Grissmer, who works in theatre, I went to a remote house for a week and the task was to come up with a solid structure for SoC.
Main thing about the Labs: we appreciate that people work in different ways. Some may come from theory, but they want to do something practical, they work alone, but now they want to do something in a collective. So that's the LEARN lab. And then there are people that are super interested in trying to develop new methods or new learning environments for knowledge exchange. And they may also have a practice in that field already, but they want to be in a bigger group where they can share and develop their practice further. So that's the MAPPS lab[ii]. And then there is the READ lab[iii], for people that either come from activist or practice based backgrounds and want to have a space of ten months to try to conceptualise and contextualise their practice, or people that are coming from a theory-based background and are interested in trying to dive deeper into that. I mean, researchers and theorists, they are often alone in front of their computer and books and they want to have a group where they can just reflect their ideas with peers and try to develop a different practice. A lot of them recognise that after 10 months of SoC, their perception of research, what they understand as research and what methods they use is so different than before, maybe more holistic, maybe more appreciative of the process and taking self-developed methods more seriously in a research context, etc. To witness that has been a very beautiful experience for me.
Maarin: I started thinking about the outcomes actually, you emphasised the process, but if you have to prove yourself worthy of financial support or wider recognition, for example, it's quite hard to present processes as evidence of the work that you are doing?
Marea: We do have different presentational layers. We have an art education pedagogy layer, where we have proven in the last six years that we really, really try to make a difference and that we are also open to shift structures and methods every year together with our community. On this layer we have the proof, because we have a lot of institutions that are interested in what we do, and also how we do it.
And then there is the artistic level, of course, and there, I have to be honest, it's really about trust in the process of the participants. So it was super difficult sometimes to sit with this feeling that I have no clue what's coming out of those next ten months, and not to try to capitalise what the participants are doing. So I have to be able, as a project leader, to prove that the project is worth the money and not the participants only, that's again, my job to shield them from this part. And if you are able to stick with this and trust in their processes, then beautiful things evolve. We are now represented in museums, we are represented in the Istanbul Biennial, in the research cluster, we are represented in a lot of magazines all over the world, in books, Art Spaces etc. But you cannot expect that, it just happens with time. Maybe it didn't happen in the first two years, you know, so I was very nervous about that sometimes, but it's happening now.
Maarin: But who are the participants and what is their background? How do you choose them?
Marea: We have participants with very different backgrounds. We have artists, musicians, scientists, also biologists, architects, mathematicians and many more. What I think is important is, that we also have people from non-academic backgrounds, because that was a very important part of SoC from the beginning.
We have around 110 to 120 applications for 16 project spaces per year. How we choose the participants is actually quite complicated, because the goal is to have the most inclusive application procedure possible. We can do that because we are not an institution, that was one of the conditions when I applied for money from ZHdK, that I could determine those procedures independently of ZHdKs.
So we do an open call every year that we try to formulate in a way that, for example, BiPoCpeople, people from the LGBTQ+ community, neuro-divergent people, people with non-academic educational backgrounds, etc, are invited to apply specifically. And then we have a yearly changing jury, so every year different 10 people read hundreds of pages of applications.
We do not ask the applicants for the common procedures of submitting a CV, portfolios, references. We don't want to know your name. We don't want to know your gender, we don't want to know where you are based at the moment, any of that. The only thing we want to know is what you want to do in the upcoming 10 months, so you have your project-proposal that you hand in. And that's the only kind of trace that we have.
In the first round we read everything, and then we cut it by half. And then the next round of discussion is done by teams of three jurors and after that we have a two days meeting where we really go through every application together. We have four points that we define (1. Feasibility – Scope, Effort, Flexibility 2. Relevance – SOC Relevance, Lab Relevance 3. Content – Contribution, Motivation 4. Clarity – Epistemic Aims, Practical Approach, Dissemination) and then we have a score from every person in the jury that helps us. What is a bit new since last year is that we try to be mindful of the group that is created, so we try to create connections between projects. What is super difficult for us to handle are Time Zones. As I said, we do not want to know where you are. So this year, we have time zone problems of GMT plus seven minus one! So yeah, that's kind of the tricky part. But I think if you do application procedures like this, you just have to commit to treating people very individually, to be open to the needs and situations people are in.
As soon as people are selected we provide them with a starter pack, two months before the project starts – and access riders. In this phase we also ask them for accessibility needs, communication preferences, can we show pictures of you or not, are you okay with being advertised on Instagram or not, pronoun preferences, any kind of attention/timespan limits? Etc.
Maarin: How do participants work? Is it a full-time obligation for them? What are you providing to them and what are you expecting in return?
Marea:  In the open call it is stated that there are three meetings that you have to be able to attend: the kick-off event, the intensive week and the end of the year. And the whole thing is accessible online – the first reason for that is an ecological one (we also do not pay for flights, we only pay train), the second reason is accessibility, so for people that either are not able to move, or that come from socio-economic backgrounds, where they cannot afford to miss work, travel etc. So, the whole thing can be done online. What we are trying to do every year is for the intensive week, that is actually four days, we build a satellite-in-person-program, meaning that we bring people together to different places in the world. So for example, this year, we have a lot of participants in Costa Rica. So we pay train or bus tickets for them to meet up in Costa Rica. And then we have a lot of participants in Central Europe. So they come to Zurich or another place in Europe by train. Then we have maybe a cluster in the Netherlands etc. But it's also very important that we always – if we have a physical program – always make the possibility for people to join online as well, so every event is hybrid. And that's organizationally very, very complicated, but it has worked.
What we provide to the participants – my idea from the beginning on was that the SoC team is only building a framework, we facilitate very fast and deep connection making in the beginning. We provide them with financial resources, an unfortunately not so big budget, they can apply for additional money if they want to invite speakers or maybe mentors etc. We also provide them with an opportunity to publish, that's either on our website, or we do a yearly publication that is also distributed through different channels; when we are offered to do an interview, a publication, an exhibition, as SoC, I always pass the offer on to participants who have expertise in this field of knowledge. So if someone approaches SoC with the question like, "hey, how do you think alternative pedagogy in  environmental activism is important?", then I refer those people to a lab that is working with this theme. So we also give them an opportunity to show their work. What we expect in return, and that's kind of a trust thing, again, is that they try to engage with the group so that they provide to the group their presence, their ears, their eyes, in the amount that is possible for them. We expect them to participate on those three dates, of course, and that they participate in the end of year publication.
Then there are different requirements for labs. So for example, we have this WAYS AND WORKINGS section on the website that is talking about learning environments, methodologies and topics that you can link to each other – we asked them to do at least three entries on this website. And I think that the most important thing that we asked for them is communication – talk to us! We always offer for people that are kind of struggling at the moment to talk if they need different circumstances etc. We are able to sort almost everything out together. But we need them to communicate with us. Of course, you always have participants that are more involved than others.
Maarin: I have two follow up questions to what you said. First, what do you do if you see somebody is kind of ghosting? You have this gut feeling that they are not on track anymore, but they are, you know, hard to reach because you are remote. How do you deal with situations like this? And another question was – the budget that you're giving them for their own project, is it difficult to administrate, do they have to collect checks, file in reports etc.?
Marea: About the first question – if we have a meeting, where participants present their processes, I always check in with people in the private chat. If I feel someone is slipping away, I send a personal text message, offer a call, a meeting, and just keep on checking in. The way you check in is very important – like, I write an email, "Hey, I haven't seen you in the last three events. I would love to have a sign, you don't have to explain anything". To softly encourage them to say that they are too tired or overwhelmed or whatever. So to leave the door as open as possible. And then my experience is that there is always an answer, always.
About the project budget. The rules, of course, are super strict. But the person that needs to justify everything in the end is me. So there can be no harm to participants. So what I tell them is that there are two different categories of money. There are personal costs, and there's material costs. So if I pay you the whole money in the beginning, I do not attach your participation in the program to money because I already paid you. And you're free to do whatever you want with the money. So what I tried to do basically is to provide them with a situation that is as uncomplicated as possible. And then sometimes, yeah, I get the problems in the end. So November, when I have to file reports, is my least favourite month!
Maarin: How is a year structured in SoC? (or a week, or a month?) What are the recurring points, finishes, events?
Marea: As mentioned before, the biggest part of the program is shaped by the participants themselves. But we have three kinds of parts in the whole year. The first, let's say, three months are about connecting people to each other, connecting interests, connecting approaches and inputs.
Then the second part of the year is a deep dive, they dive into their projects, and also maybe collaborate with other labs, etc. And the third part is share and discuss, where we have a lot of events that are organised by participants, we do a lot of work on the publication together, we have maybe also exhibitions, performances, concerts, whatever. And the three mandatory events for participants mentioned above are connected to those three parts of the year. We also always provide the people with individual meetings, before the programme actually starts. And individual meetings are always available.
Then we have the lab meetings that are very, very popular. I run the READ lab, Jo runs the MAPP lab and LEARN we run together. Every five to six weeks, we have a lab meeting. Those lab meetings are also there to talk about personal stuff, to have feedback on ideas or if you're stuck in your process, you can share it with your colleagues in the lab.
What is also going on at the moment is the kitchen sessions. This comes from the old days of SoC when I used to cook a meal every week in the container where we were hosting the school back then. And that was actually super productive because people just came to eat and then there was always a topic that we discussed that came out during the meal. And now we have kitchen sessions online every week at the moment until June. And we are always around 20 people that hang around in those kitchen sessions from everywhere in the world.
And then the whole other line of the programme is made by the participants. This year, for example, in the kick-off event, they found a sci-fi reading group, global capitalism discussion group, yoga and moving group, and so on. So there are a lot of things going on. In the last few years, I had to stop attending every event because otherwise I would be in SoC events all the time!
Maarin: Is it an SoC accredited program, do you give out a diploma?
Marea: Since the Bologna Agreement, giving ECTS points, as we all know, is super complicated. I always refused to go into the accreditation system, because it would require a lot of measuring, evaluation of the worth of what people do, etc. But now, in ZHdK they're implementing a new study model, kind of a major-minor model, and there you have kind of a "free study" program from 2 to 15 ECTS, so you can choose whatever you want. And that's in discussion now, if you can put your credits to SoC. But of course, that doesn't work for non-institutional members. So that would just be a small part. And no, we don't give diplomas because it's literally not possible. But what we do and we had much success with is that we write for you every letter of recommendation, also if you apply for money or whatever, we do that kind of further support with pleasure. And that has actually helped a lot of people.
Maarin: What kind of methods or tools are you using in SoC? Pedagogical, art-based, group dynamic methods?
Marea: I have come to make a distinction between methods and settings/environments. We do this meta-research to find out what methods are developed by the participants. For example, what do you do if you're stuck in the process or your motivation for the project goes down and down and down? It's super interesting to listen to people's answers. I see a lot of expertise in artistic methods created by participants, that's what they teach us.
I think that the main thing that you need to accomplish is to build trust, it is so important, especially in global digital learning settings. And to achieve this as fast as possible because you also have only 10 months together.
I would say one of the most important things that we do is that we really do proper check-ins. And not in a buzzword-design-thinking-superficial way, but what checking-in really means is that we show vulnerability from the beginning, from our side at first. So that means that we really talk about how we are today, what kind of object we relate to in our physical space, what kind of objects are around us. We also do speed date interviews, which can be a bit intimidating, but we give prompts. So for example, I send you together to a breakout room and the question is, "what happened in the last week that you really cared about?", or "what is your biggest wish for the next 10 months in SoC?", etc.
Language accessibility is a big thing, because for example, this year, we have people that do not speak English, only Spanish. That means that I learn 10 words in Spanish, and then I put myself out there by speaking Spanish to also make people feel welcome to speak in whatever language they do. Language is always a big topic, because people are embarrassed about their English. So we use a lot of translation boards, we put people together to translate for each other. In crisis situations, for example, if someone has a breakdown during the Zoom meeting, I go to a breakout room together with a person that speaks the language that the person speaks etc.
We have very strict break rules, we really emphasise that if someone needs a break, or someone needs something, a stretching exercise or whatever, we do that. And in the beginning, we ourselves do that, so I say at some point, "hey, I think I need a break" or "hey, let's stretch".
Then we work a lot with the accessibility riders that they fill in. So actually we know from the beginning on if people have accessibility needs, etc. and we check in on them via private chat. So we find out for example, that person X is in a depressive episode or has autism or ADHD etc., I check in with them via private chat if they need something or if everything's fine. So all those things we do to establish a trustful environment.
And then the other thing we do is tools or rituals or games to establish knowledge, comments, or kind of knowledge encounters. So we build groups or do special exercises for a certain topic, for people to feel that they have the expertise to speak out, etc. And, of course, we work with very different media so we never have like, full-on Zoom meetings the whole day. We work a lot with boards actually and in game environments like murals, Varia Pad, Gathertown, and some self-programmed Game-Rooms that participants created. We always take breaks, people go outside and bring something back from their walks to learn about the environment of the different members of the group. Jo does drawing exercises. So we are trying to involve the whole physical space as well.
There was an interesting quote from someone from last year, that it's super difficult for them, if meetings end on screen and then you are suddenly alone. There is always this very intense connection, and then it's just gone. So what we do now is kind of an informal fade-out. If I host the kitchen session, I always say, "Hey, I will have a glass of wine, I'll stay here, stay too, if you want", and then I may move to another room, have a smoke, have this informal ending.
And I'm interested in pedagogical methods, or even didactics but of course, we don't have that, because we don't assume that we teach someone anything. It's really more about building the right setting, by applying the right methods.
Maarin: I really like this fading out idea! But I wanted to ask how much is SoC related to certain places and certain personas? Do you see yourself maybe leaving the SoC at some point, passing it on to someone?
Marea: This is a super important and also difficult question for me. Until SoC is financially stable for the long term it is very much attached to myself, this is kind of the founder-mother problem, you know. I mean, I'm super glad that Jo has their own areas in SoC where I do not have anything to do and they call the shots.
I can imagine to leave SoC at some point and giving it to someone else, but I'm very much attached to this project, also because it's for me – this work and learning environment that is shaped by a lot of persons is so important because I have learned so, so much more than if I had kind of a classical job where I have to accomplish something in certain timeframe. So to lose a place where learning and curiosity is that much in the centre, would be super difficult for me personally. But what I would wish for myself in the future is that I have time to dive deeper into what actually happens in this framework, because right now I'm always in this managerial position. I would really love to do a PhD about those topics. And therefore, I would have to step back, maybe not totally out, but back in order to be able to really dive deep into.
About the physical space of SoC – there is a lot of interest from other art institutions to have something like that. And we have a small SoC branch in India already! My favourite future model would be that people take the concept of SoC, if needed, with our supervision or help or support and do it themselves. So SoC is not at all attached to Zurich only. I think it's a very privileged position that we have this space and resources from ZHdK. But that doesn't mean that we couldn't diversify and de-centralise the project even more.
Maarin: What has been the hardest part for you? And have you had mentors supporting you? How have you known what to do?
Marea: At the moment, I'm personally in a phase where I'm reviewing a lot of things that happened the last six to ten years. And for me, the hardest part were those phases where I didn't know if we were able to continue, if there will be money and if I'll be able to provide people with what I promised. Now we are in the same phase again. So I don't know how we will be able to proceed after next year. That makes me super sad if I see what beautiful projects people do and what nice people we have, and I'm not sure if I can continue with this, that really scares me sometimes.
Other issues are, as always with this kind of projects, the balancing between having no structures and having informal structures and not being institutionalised and having to be institutionalised, having to create assets also to be valuable for money givers, etc. Negotiation of positions in the team is a big topic too.
And sometimes I wish SoC would have been started with a collective that is still there, because again, that's this kind of founder-mother problem.
Maarin: You already mentioned that you are cooperating quite a lot, that there is a lot of interest toward the SoC, but how do you see SoC influencing art education in a wider sense and how do you see its influence on the contemporary art world?
Marea: It's a very interesting topic for me, because we put so much energy and care into the SoC community, that we didn't have money and resources to really do advertising or to participate in talks worldwide, or write papers or contribute to publications, etc. I also didn't want to do that for a long time, because I thought it's more important to put energy into building this community. And at the moment, I think we are in a shift, I feel that we are ready to start doing that and to start really being involved in the discourse. And we are in a position where I can say that I'm able to talk about what we're doing in a profound way. So I think three years ago, I wouldn't have done that interview, because I thought it's more important to dedicate my energy to building the community to be something stable and working.
The arts education context: in Switzerland, actually, I do not see as much innovation and openness towards new structures in arts education, as I see in other countries. So we are approached by a lot of institutions and initiatives from other countries than Switzerland. What would be super interesting for me would be to have a network of alternative educational initiatives, where we are able to discuss structural problems, recurring topics etc. If we stay in our bubble, that's kind of nice and reassuring, but it doesn't change anything. And what I would love is to have more of a discourse also with bigger institutions and policymakers and responsible people about how to change some structures in arts education. And how would those initiatives that tried to make a difference be able to co-exist and also influence existing structures?
With the art world thing it is kind of the same – I really stick to this idea that we do not need the trendy art world to think that we are great. It's not about that in the first place, it's about trying to do it differently.
The focus is in supporting our participants – and if they are coming from the art world or want to have kind of an existence there, then we support them to be able to do that in the best possible way. We have worked with very interesting initiatives from contemporary art scene, for example, the Chile Biennale, or the Istanbul Biennial, or certain exhibition spaces, like La Capsula, Material, Kulturfolger, unanimous consent in Zurich, for example, that also want to do it differently.
And a lot of that credit goes to participants, we are able to build a huge amount of connections because of them, and together with them!
Maarin: How do you imagine the future for SoC? For example, SoC in 2045?
Marea: For the future, I really wish that SoC has become a bigger network with more autonomous satellites or branches that are very decentralised, that people use the structure that we are building. With everything going on in the world, solidarity and trust as a basis for knowledge exchange and learning together will become even more important. And I wish that the model of SoC can provide communities with input for that. I would also love to have digital learning environments that have the human touch, that are given the amount of care that's needed. And of course, I hope that there are less of the older institutional art education structures, and more informal, accessible knowledge production communities. I know that some people hate the term lifelong learning, but this kind of attitude of curiosity and openness towards new things, new people, new topics, new methods of learning – that is how I understand lifelong learning. I'm here to learn as much as possible and not learn towards a certain goal or learn towards a certain paper or title or whatever, but learning for learning's sake. To have a community to maintain this kind of attitude towards people and the world, that's also something I wish for the future of SoC.
Maarin: In order to finalise this conversation for now, maybe you can name some of the examples of alternative art educational initiatives that have been important to you?
Marea: One of the things I follow since a long time is a platform called "Fucking Good Art", because they actually visit a ton of those initiatives all around the world and look at them very critically. Onassis AIR in Athens is an initiative very similar to SoC, but with much more experience and a more local, physical focus. And then, of course, initiatives like SOMA in Mexico, The Home School, Archipelago Education or School of Intrusions in Palestine and many more. There are also a lot of artists-run-spaces that are maybe not focusing so much on the educational part, but on the community part, which has been inspiring. In the climate action sector, there are also a lot of examples like Klasse Klima in Berlin. I think the role of arts education, or art and design in climate activism will become very pressing.
Thank you for this conversation, Marea!
Tallinn-Zurich Zoom, April 2022.
[i] LEARNs (Learning Environment And Research Nucleus) are collaborative, self-directed research projects supported by SOC for the initial duration of one year. LEARNs cooperatively organise and decide how they mediate their work publicly.
[ii] MAPP (Methods, Affects, & Practical Pedagogies) centres around hands-on practices of learning, and offers space to the research, development and implementation of alternative education within a small, supportive community. MAPPs are intended for individuals and collectives who have a practising interest in the field of experimental pedagogy and iterations of commoning. Through self- conducted research, the creation of practical exercises and work sessions, and close collaboration with other SOC labs, MAPP aims to produce practicable tools, methods, and prompts in support of different forms of living, learning, and working together.
[iii] READ (Research Ecologies & Archival Development) develops, presents and collects theory within the broader field of knowledge production. READ assembles two kinds of participants; 'editors' and 'mediators'. While editors produce a number of texts, mediators pursue a research project to be published in a series of online mediations. Additionally along with other members of SOC, participants jointly develop a series of roundtables. The roundtables connect READ-research with that of other SOC labs and host discussions on issues within the field of knowledge production. These culminate in a public discussion at the end of the year.