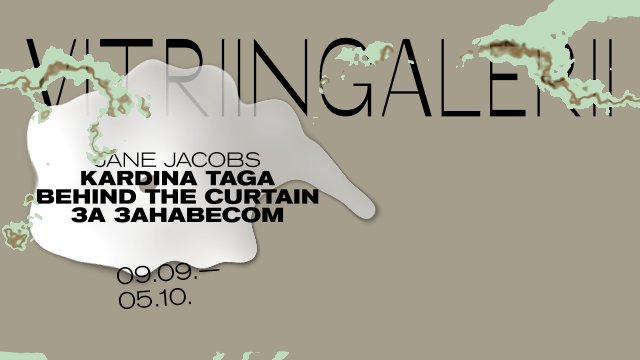 Graphic design: Ran-Re Reimann
Start Date:
09.09.2020
End Date:
05.10.2020
Jane Jacobs
"Behind the Curtain"
Vitriingalerii, Tallinn, Põhja pst 35
Open September 9 through October 5, 2020
There is a pensioner quietly living "Behind the Curtain". The data of Statistics Estonia shows that 25.1% of the population are pensioners. Sometimes we visit them behind the curtain; however, we do not live there, where you have to make both ends meet it with very limited resources. Estonian pensioners have the highest poverty risk in the EU. Pensioners are not marching the streets after Eurostat published surveys in February 2020 according to which Estonian pensioners are the poorest compared to other pensioners in developed countries. We do not shift the curtain in order to see how the older generation survives. Will we step quietly behind the curtain? What will happen with the pension funds? "Behind the Curtain" is an installation in Vitriingalerii by Jane Jacobs to emphasize this paradoxical normality.
REF: Eurostat, ERR news
Jane Jacobs is an independent collective with the aim of highlighting environmental and community issues. The collective was founded in New York in 2016 by Sandra Nuut. Jane Jacobs uses and chooses mediums that possibly best express and convey problems and questions that need to be addressed.
janejacobs.co
The installation is on view around the clock until October 5, 2020.
Location of Vitriingalerii: On the facade wall of the Estonian Museum of Contemporary Art (EKKM), Põhja pst 35.