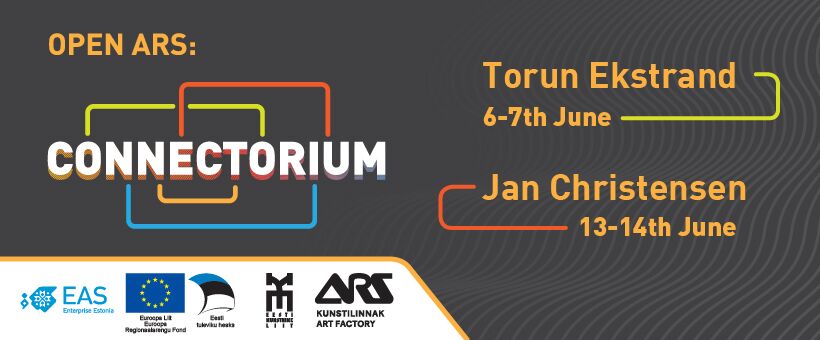 Location:
ARSi maja (Pärnu mnt 154)
Start Date:
06.06.2018
Start Time:
17:00
End Date:
19.08.2022
Have you ever  wondered how to make the most out of your art practice or projects?
How to functions public art field in Scandinavia?
Where and how to exhibit your work abroad?
Then OPEN ARS: CONNECTORIUM series of events are meant for you.
All professionals in the field of contemporary art interested in expanding their networks and learning more about art-related processes – this is for you!
OPEN ARS: CONNECTORIUM project warmly welcomes you to the 4-day event held in ARS Art Factory focusing on public art in Scandinavia. Lectures, studio visits, meetings and a workshop will be led by curator and art consultant TORUN EKSTRAND and artist JAN CHRISTENSEN.
PROGRAM:
6th June at 5pm: lecture by Torun Ekstrand that shares her understanding and experience in public and contemporary art from the perspective of curator and commissioner. In her words: "this will be a talk about art in public space-processes, Baltic art projects, exhibitions and artists' conditions – a variety of perspectives on contemporary art practises."
Participation fee: 12 EUR
7th June: artist studio visits and meetings by request with Torun Ekstrand (the priority will be given to the ones, who participated in the lecture).
13th June at 5pm: artist talk by Jan Christensen. Jan will introduce his art practice, share his personal experience with public art projects and strategies how to survive from art practice.
Participation fee: 12 EUR (for the workshop participants the lecture is for FREE)
14th June 11am-7pm: workshop for artists by Jan Christensen. To the workshop are welcome all practicing artists, who wish to learn how to present their art project proposals in the best way. The participants will explore how to go from an idea to realization. Also, the workshop offers to learn from a successful artist how to survive and make a living from art practice.
Workshop program:
STRATEGY. Strategies for survival and notes on the general art world: Living and working as a contemporary artist today.
SAMPLE PROJECT. Comprehensive description of certain public art projects, from conception to construction.
PRESENTATION. Presenting tools and techniques with regards to the initial stages of compiling a presentation, discussing teamwork, software and advantages and disadvantages of technology.
Participation fee: 36 EUR (includes FREE entrance to the lecture of Jan Christensen)
The number of participants is limited. Please register here: https://docs.google.com/forms/d/e/1FAIpQLSedZ3Ccqnb2cqYeCBq-WGelaenFtcja33s7vLak46_ChzMQBA/viewform?usp=sf_link
The events take place at ARS Art Factory, Pärnu mnt 154 Tallinn, room 111.
In case of questions: Varvara Guljajeva, varvarag@gmail.com, telefon: 58178424
Our first guest is an independent curator and art consultant Torun Ekstrand from Sweden. She is an expert on public art in Sweden and has a vast experience in establishing and managing the international network and collaborative projects. Torun has been working with international artists in different museums and art halls since 2002, the latest were Songlines for a New Atlas, Make a Change and Mare Balticum.
Art consultant in public art commissions, working with permanent and semi-permanent public art works and city development projects. Network curator. Project leader for the EU project Art Line, a platform for projects challenging the notion of public space in physical and digital space, together with 14 art institutions and academies in the Baltic Sea area. Leader for Think Tank Transbaltic, an interdisciplinary collaboration about around the Baltic Sea that use methods of participative art. Both of them got the Flagship award by the European Commission.
Regional art developer supporting art institutions, artists and art organization, and organizing A.I.R. Blekinge – Baltic One.
More about Torun and her projects: www.artland.se, www.artlinecatalogue.eu, www.artline-southbaltic.eu, www.thinktanktransbalticpilot.blogspot.com, www.konstiblekinge.se
The second guest is internationally recognized Norwegian artist Jan Christensen (Copenhagen, 1977), who lives and works in Oslo and Berlin. He has exhibited internationally since 2001. Institutional solo-exhibitions and projects include Kunsthaus Baselland, Basel; Artsonje Art Center, Seoul; Stenersenmuseet, Oslo; Galleri F15, Jeløya; Sørlandets Kunstmuseum, Kristiansand; Stedelijk Museum voor Actuele Kunst (S.M.A.K.), Ghent; Viborg Kunsthalle, Viborg; Kubus Lenbachhaus, Städtische Galerie im Lenbachhaus und Kunstbau München, Munich.
He has been an artist in resident at institutions such as IASPIS, Stockholm (2003); Villa Arson, Nice (2004); The International Studio Program of Changdong/The National Art Studio, Seoul (2004), The Irish Museum of Modern Art (IMMA), Dublin (2005); FRAC  des Pays de la Loire, Carquefou/Nantes (2005); The Yeonhee-Dong 195 Residency Project, The Art Council of Korea, Seoul (2007); Montana State University, Bozeman, MT, USA (2010); SIM, Reykjavik, Iceland; Seoul Art Space Geumcheon (SASG), Seoul (2012) and Viborg Kunsthal, Viborg, Denmark (2014).
In addition to the rich trajectory of exhibitions, Jan has completed over 30 public art commissions in Norway, and other countries. His work is found in private collections internationally, from Seoul to New York and San Diego, and in the collections of the National Museum of Art and the Astrup Fearnley Museum of Modern Art, Oslo.
Jan Christensen is a Board Member and advisory board member of several art institutions, like Ingerid Fegerstens Stiftelse, Oslo; Fellesverkstedet, Oslo; Tromsø Kunstforening, Tromsø; Prosjektrom Normanns, Stavanger; Billedkunst, Oslo; Sparebankstiftelsen DNB Art Award;
http://www.janchristensen.org/