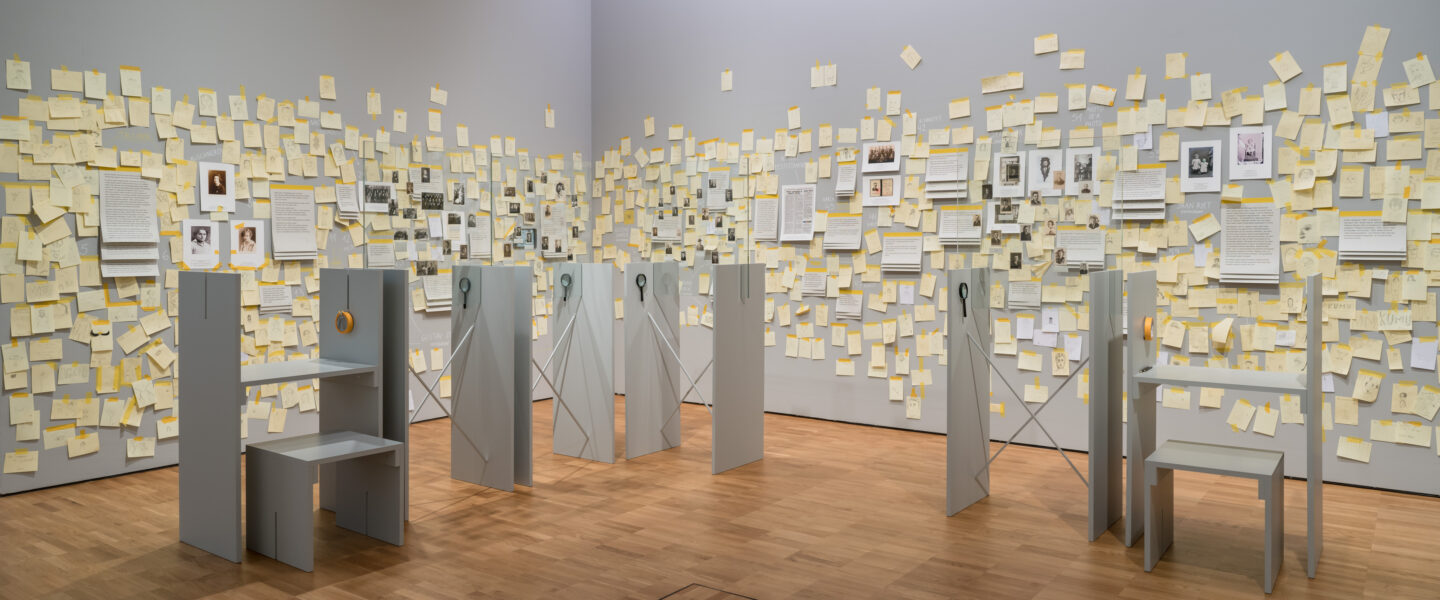 Photo credit: Stanislav Stepaško / Kumu
Location:
EKA, A202
Start Date:
29.11.2022
Start Time:
16:00
End Date:
29.11.2022
The peer-review of Maria Kapajeva's exhibition "Loose Photos, Odds and Ends" will take place on 29 November 16.00 at EKA (room A202). This exhibition is the first event of Kapajeva's practice-based doctoral studies.
The thesis is supervised by Dr. Redi Koobak (University of Strathclyde, Glasgow) and Prof. Annika Elisabeth von Hausswolff  (University of Gothenburg). The peer-reviewers of the exhibition are Dr. Ingrid Ruudi (EKA) and Prof. Mika Elo (Uniarts Helsinki).
The exhibition is open 14.06.- 30.12.2022 at Kumu, the Project Space II.
The exhibition "Loose Photos, Odds and Ends" is Maria Kapajeva's artistic experiment: presenting a research process as an installation. What can you do and what would you do with a random collection of photographs?
Kapajeva experiments with different ways of opening up the potential of the often undervalued, under-researched, marginalised heritage of vernacular photography. In the age of automated face recognition software – partly developed by historical archives, but even more so by state and military institutions and international corporations – her project demonstrates the benefits of "slow recognition". As she slowed down for an artistic exploration of this collection, Kapajeva also made this a part of her own homecoming, as she has lived abroad for years, just like the photos she is exploring.
Gradual identification of the photographers and the people portrayed by them reveals new perspectives on Estonian (micro-)history, which gain new meaning in the context of the permanent exhibition focusing on "landscapes of identity". By focussing on the faces of the photographed people, their stories and some other forgotten facts which she learned from these images, Kapajeva shows her appreciation for each person and every individual story in our history.
Exhibition design: LLRRLLRR – Laura Linsi, Karolin Kull
Graphic designer: Maria Muuk
Exhibition coordinator: Magdaleena Maasik
Exhibition technician: Andres Amos
Artist's research assistant: Ketlin Käpp
With contribution in kind by Linda Kaljundi, Annika Toots and Karmen-Eliise Kiidron
Special thanks to Liisa Kaljula, Merilis Roosalu (Tallinn City Museum – Museum of Photography), Aado Luik, Janeli Suits, Piret Karro, Lembi Anepaio, Aljona Kapajeva and the Sokk family.