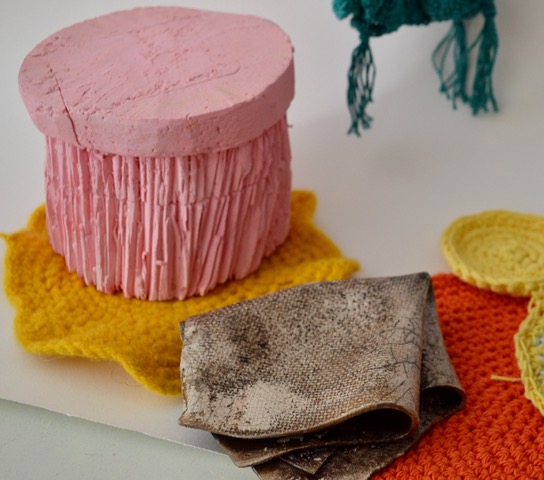 Location:
Hobusepea galerii
Start Date:
15.09.2020
Start Time:
14:20
End Date:
15.09.2020
On Tuesday, 15 September at 14.20, pre-reviewing of Art and Design programme PhD student Ulvi Haagensen's exhibition " Thea Koristaja Museum" will take place at Hobusepea Gallery. Exhibition is part of the artistic (practice-based) doctoral thesis of Ulvi Haagensen.
Please registrate your participation at the pre-reviewing irene.hutsi@artun.ee.
The exhibition is open until 21 September, 2020.
Supervisors: Dr Liina Unt, Jan Guy (The University of Sidney).
Pre-reviewers of the exhibition: artist Urmas Lüüs and dr Ester Bardone, dr Anu Kannike.
Ulvi Haagensen's solo exhibition "Thea Koristaja Museum" at Hobusepea Gallery
"Welcome to our place", says Thea Koristaja, as she opens the door and indicates for us to enter an exhibition that explores the connections between art and everyday life. Thea Koristaja is an imaginary person, an artist, and a cleaner and this is her museum. Together with two other imaginary artists, known as Olive Puuvill and Loome Uurija, she works with Ulvi Haagensen, who is quite real, to explore how art and life can meet, converge, overlap and sometimes clash.
The exhibition uses the upstairs and downstairs of the gallery to present two different contexts – the exhibition space and the studio. Upstairs is clean and tidy, not dissimilar to a living room or hallway in a home – after all, we want to make a good impression, don't we? But the real action of everyday life may in fact take place somewhere else, in the kitchen, the laundry, in front of the telly, in the everyday, when the visitors aren't visiting. Downstairs is the cluttered, untidy workspace. This is where Haagensen and her imaginary team discover the unexpected as they push the familiar into new territory. A discarded greeny-blue Värska mineral water bottle, new and recycled timber, a length of rusted steel, wool and cotton yarns in a myriad of colours – all start to find a persona or a potential they never knew they had. Is it possible, here in the studio, to see the most exciting part, the magic of making, the moment when the thing emerges as a thing? Or is that something that takes place in the artist's mind and can't be shared?
Ulvi Haagensen was born in Sydney, Australia, but has been living, working and teaching in Tallinn for many years. She studied at City Art Institute in Sydney (BA) and College of Fine Art, University of New South Wales (MFA) and is currently doing her PhD at the Estonian Academy of Arts researching the connections and overlap between art and everyday life, as seen through the eyes of an artist, for whom art, work and everyday life are closely interwoven. 2018–2019 she spent a year as Artist-in-Residence and Visiting Research Fellow at the University of Sydney. She has had solo exhibitions in Estonia, Australia, Sweden and Lithuania.