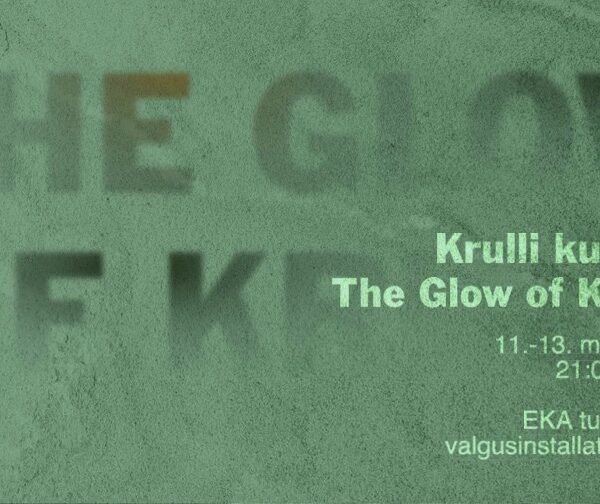 Location:
Krulli kvartal
Start Date:
11.05.2023
Start Time:
21:00
End Date:
14.05.2023
Krulli District, light installations of the students of the Estonian Academy of Art
11.–14.05.2023
The students of the Estonian Academy of Arts (EKA) open an exhibition of light installations in the new Krulli District in Kalamaja. The area is named after Franz Krull's metal and machine manufacturing company, whose product range included cast iron, steel castings and steam boilers as well as steam locomotives and even liquor production equipment.
The installations give a new lease of life to the former industrial colossus. Visitors will be taken on a trip through the whole block and its memory lanes, trapped in the glow which takes shape, absorbs, vaporizes, flows, ripples, shimmers and shines. An unforgettable experience will await, the darkened windows will once again come to life. The timeless tale glows, holding and protecting both internal and external reflections, showing the way to an exciting future.
Participating students: Saskia Krautman, Frank Kuresaar, Karl Perens, Triin Indlo, Madli Rööp, Eva Maria Põldmäe, Triinu Väikmeri, Kadri Vahar, Anna Minchenkov, Aasa Ruukel, Elle Lepik, Vivian Ilves, Katriin Maitsalu, Laura Susanna Lätte ja Annika Emilie Viigand. 
Mentor: Elo Liiv.
Architectural lighting of the light path by NGO Valgusklubi
The grand opening is on the 11th of May at 9 p.m.
Installations are visible at night, after the dawn
Supporters: Cultural Endowment of Estonia, TMW, NGO Valgusklubi, MicroWatt OÜ, Meeskond OÜ, Krulli Kvartal AS