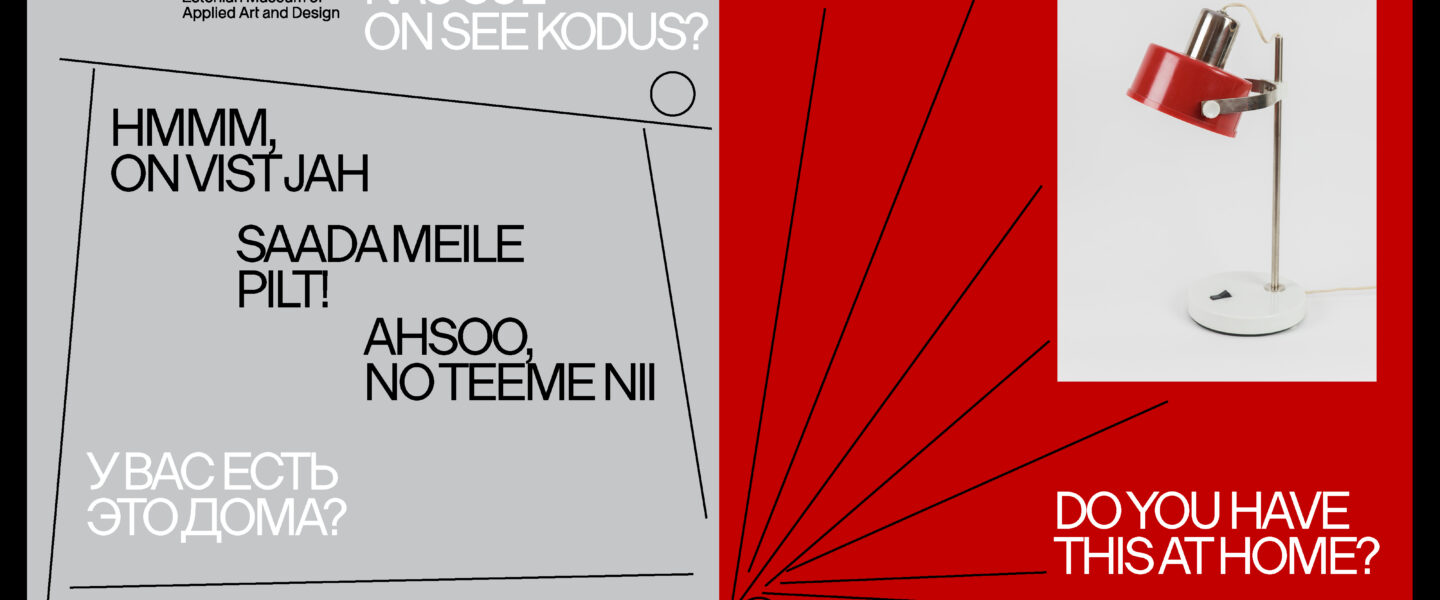 Do You Have This at Home? Desk lamp, model no 236, designer Laine Linnas, Estoplast, 1978
Location:
Eesti Tarbekunsti- ja Disainimuuseum
Start Date:
13.03.2023
End Date:
27.03.2023
Come and visit the exhibition Introduction to Estonian Design! Perhaps you can recognize some familiar objects? Tell us more about it!
The Estonian Museum of Applied Art and Design (ETDM) invites you to contribute to the upcoming installation featuring visitors' photographs and stories of design objects that can be found at homes and in the museum! Other objects that relate to the exhibition are also welcome.
Public programme and installation Do you have this at home? explores the wider context of design objects. We aim to raise awareness on local histories and form a more personal connection with the surrounding material culture. By showcasing how household items can become museum objects over time, the installation supports the further understanding of the museum's collection and seeks to facilitate a conversation where varying voices can be heard.
Show us what you have:
Look around your home! Find out if there is/are some design object(s)
Take a picture of it
Think of any personal memories related to this object – traditions, rituals, how it became yours, anything nostalgic or very pragmatic. You can also consult and gather stories from your friends and family. Write down the story
Send us the photo and story via email to publik@etdm.ee or bring it to the museum reception at Lai 17, Tallinn
Selected contributions will be included in an installation in the permanent exhibition.
The public programme and installation is created in collaboration between the Estonian Museum of Applied Art and Design (ETDM) and the Estonian Academy of Arts (EKA), The Institute of Art History and Visual Culture.
Do you have this at home? is envisioned by students Ksenia Kovalenko, Maivi Kärginen-Kivi, Lilla Lukács, Paula Oberndorfer, and Johanna-Elisabeth Tärno.
Special thanks to Agnes Aljas, Rebecca Duclos, Hanna-Liis Kont, and Sandra Nuut.
Graphic design by Ott Kagovere
Exhibition design by Ulla Alla
The Estonian Museum of Applied Art and Design (ETDM) has been collecting and contextualizing design for the past twenty years. There are about 18 000 pieces in the museum's collection, which are the base to organize exhibitions, public and educational programmes.