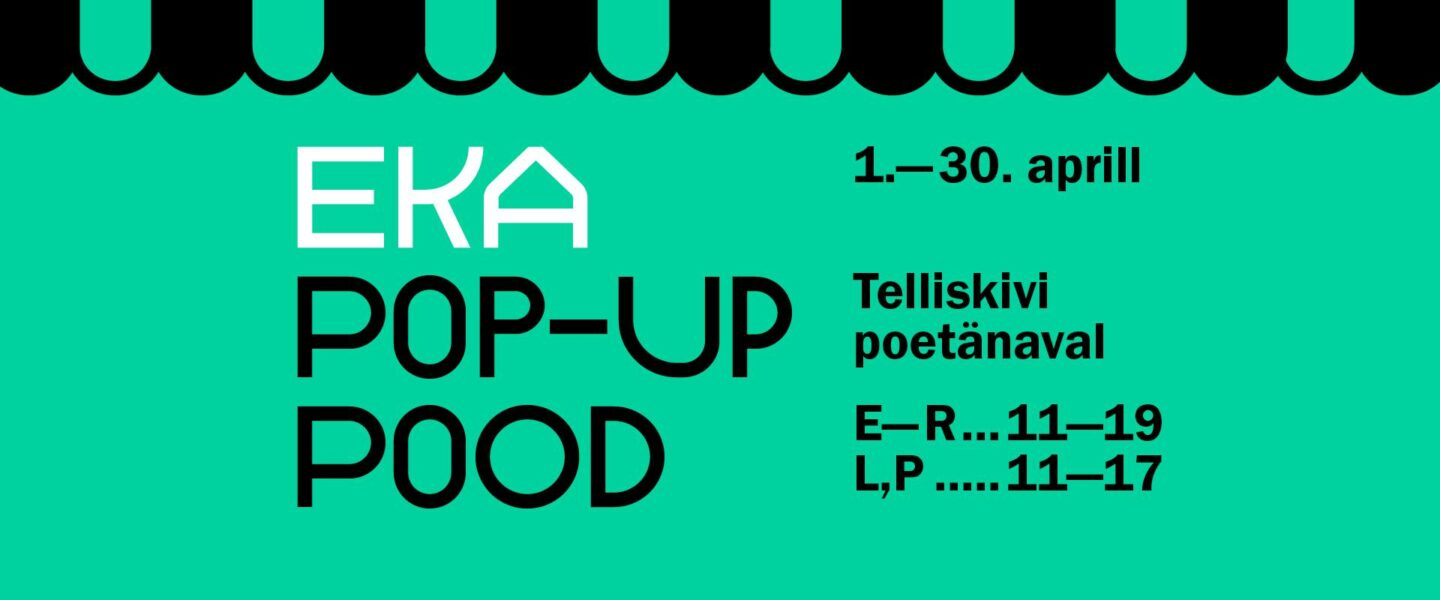 Location:
Telliskivi Creative City
Start Date:
01.04.2023
Start Time:
11:00
End Date:
30.04.2023
On April 1, the EKA Pop-Up Shop selling modern design and new art will open on the shopping street of Telliskivi Creative City, 
The original designs and works of art of the students of the Estonian Academy of Arts on sale in the EKA Pop-Up Shop.
More than forty students bring out their best, latest, most sustainable design and art. Among the many EKA artists, the pop-up shop also features the works of already recognized authors. Among others, fashion student Cärol Ott, laureate of the 2021 Wiiralt scholarship, ceramicist and jewelry artist Elize Hiiop, accessory designer Sandra Luks, performance artist and Master's student in EKA ceramics, and Keithy Kuuspu will present their creations in the store.
During April workshops and master classes for city residents, tourists, people from abroad will be held. One can find creations varying from graphics, drawings, paintings and photographs to clothing design, accessories, jewellery, ceramics and blacksmithing.
Designs and art works by the following authors will be present:
Markus Vernik
Kaisa Uik
Oliver Udeküll
Keithy Kuuspu
Helen Griffiths
Visa Eino
Triin Türnpuu
Sergei Saprykin
Evridiki Papaiakovou
Daria Dementeva
Kaileen Palmsaar
Natalia Mirzoian
Alp Eren Özalp
Helena Pass
Helen Tiits
Mirjam Aun
Riina Lii Parve
Elisa Margot Winters
Sirje Järv
Mia Felic
Anna Ovtšinnikova
Piibe Tomp
Erle Nemvalts
Cristopher Siniväli
Maria Elise Remme
Valeria Poljakova
Cärol Ott
Anu Kadri Uustalu
Samuel Eff Markkus Savimägi
Elize Hiiop
Villu Mustkivi
Liis Tisler
Zoe Koerbunner
Rita Volkov
Sandra Luks
Heli Haav
Rita Lenore
Valdek Laur
Gontsugova
Morris Motel
Elis Liivo
Kärt Heinvere
The EKA Pop-Up Shop opens on April 1 at 11:00 a.m. and will remain open until the end of the month. 
Opening hours: Mon–Fri 11–19 and Sat, Sun 11–17
Follow the information on the EKA Pop-Up Shop Facebook page
www.artun.ee; EKA üld FB; EKA Pop-Up Poe FB
Info: 
Piibe Tomp
Tel 5241780