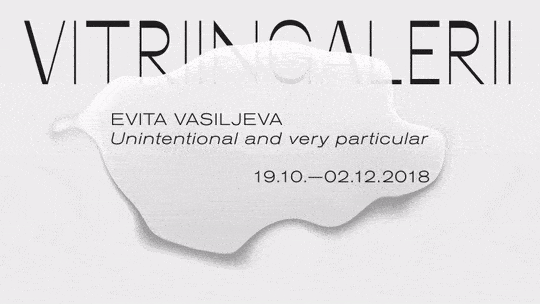 Location:
Vitriingalerii EKKMi (P fassadil
Start Date:
30.01.2020
End Date:
30.01.2020
Evita Vasiljeva will open her exhibition "Unintentional and very particular" in the Showcase Gallery of the department of photography at the Estonian Academy of Arts (Põhja pst 35, Tallinn) at 6pm on Friday, October 19, 2018.
Evita Vasiljeva's new exhibition is part of the 20th anniversary celebrations of the department of photography at the Estonian Academy of Arts. Different events including lectures are hosted by the Estonian Museum of Contemporary Art (Põhja pst 35). This fall the programme of the Gallery is curated by Kaisa Maasik. The Showcase Gallery has previously presented the works of Vít Havránek and Anna Mari Liivrand. Students of the Estonian Academy of Arts are welcome to apply at the Showcase Gallery until October 20th, results will be announced on November 1st.
Evita's distorted abstract sculptural forms were created during her stay at the EKWC ceramics residency in the Netherlands. These unfamiliar forms were the result of 3D printing clay – a long process where the fragile surface of the formations cracked repeatedly. The final outcome is an intriguing contradiction of the new and the old – a futuristic shape using ancient materials, a technical method using natural resources.
Current exhibition can be viewed at any time and it will remain open until December 2nd.
Evita will also open her solo show "Still Stands and Resilient Nows" at Tallinn City Gallery on Thursday, October 18th. The exhibition will remain open until November 25th.
Graphic design: Mai Bauvald and Ran-Re Reimann
Evita Vasiļjeva (1985) is a Latvian artist based in Riga and Amsterdam. In 2012 she has graduated from the Fine Arts program at the Amsterdam Gerrit Rietveld Academie and in 2016 Evita finished the two-year residency program at De Ateliers in Amsterdam. She is mainly a sculptor, who is not limited to a physical material. Her latest exhibitions include "HYBRIDS" Lustwarande, Tillburg (2018) and "Manhours in Headquarters" P/////AKT, Amsterdam (2017).
Kaisa Maasik (1994) is an artist and curator based in Tallinn. She is currently in the middle of her MA studies in the department of photography of the Estonian Academy of Arts where she also finished her BA studies. Her first curatorial projects took place in 2017 and were Umbrella Group's "Not Really" and Keiu Maasik's solo exhibition "Lost Friends". Her first solo exhibition "Green Room" took place at her home in 2015 and dealt with the topic of urban space and the anonymous relationships within it, her last solo show "Your Love Hurts" dealt with domestic violence.
More information:
Kaisa Maasik kaisa.maasik@artun.ee
FB event https://www.facebook.com/events/1090463464458203
Evita Vasiljeva's Webpage evitavasiljeva.com