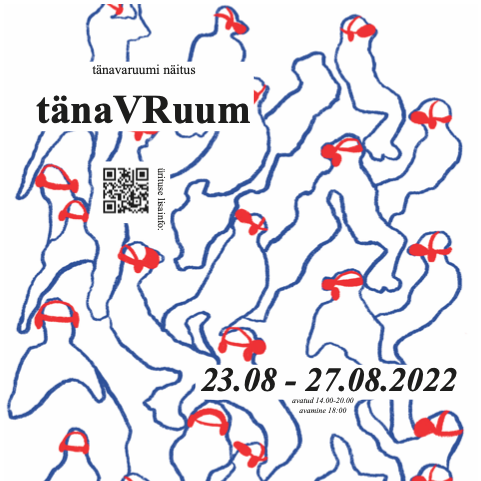 Exhibition tänaVRuum
Location:
Tööstuse 52c, Põhja-Tallinn, Tallinn
Start Date:
23.08.2022
Start Time:
18:00
End Date:
28.08.2022
Garage49 gallery hosts an exhibition, which examines the shortcomings of Tallinn's streets. Last week the projects could be explored at the urban street festival "Tulevik on täna/v" that took place on Rävala puiestee.

The exhibition showcases projects from the street studio of EKA architecture and urban planning students. Through virtual reality, city users can familiarize themselves with conceptual solutions of central Tallinn´s intersections, which follow the planning principles of progressive European cities. The completed projects were created under the guidance of Estonian architects and urban planners (Raul Kalvo, Tõnis Savi, Marek Rannala – Tallinn bicycle strategy 2018-2028). EKA VR Lab provided technical support for the projects to be presented in a virtual reality setting.

All city dwellers use urban space in one way or another. However, we still see top-down planning trends that make the city car-centric. Politicians, architects and citizens are increasingly speaking out on the urban planning issues. Even though the topic is becoming more popular the changes in the infrastructure are not there. What would the streets of Tallinn be like if car traffic was no longer a priority? Come take a look!

The exhibition opens with the OPENING PARTY on 23.08 at 18.00. The mood is kept up by the resident of Garage49 DJ SILIKAAT! The exhibition and café are open from August 24th to 28th from 2PM to 8PM.
Exhibition curators:
Eneli Kleemann
Liisa Østrem
Marie Anette Veesaar
Mia Martina Peil
Collaborators: Garage49, Estonian Academy of Arts, EKA VR Lab, Mektory XR Centre

The exhibition is supported by the Cultural Endowment of Estonia and Tallinn City Council.