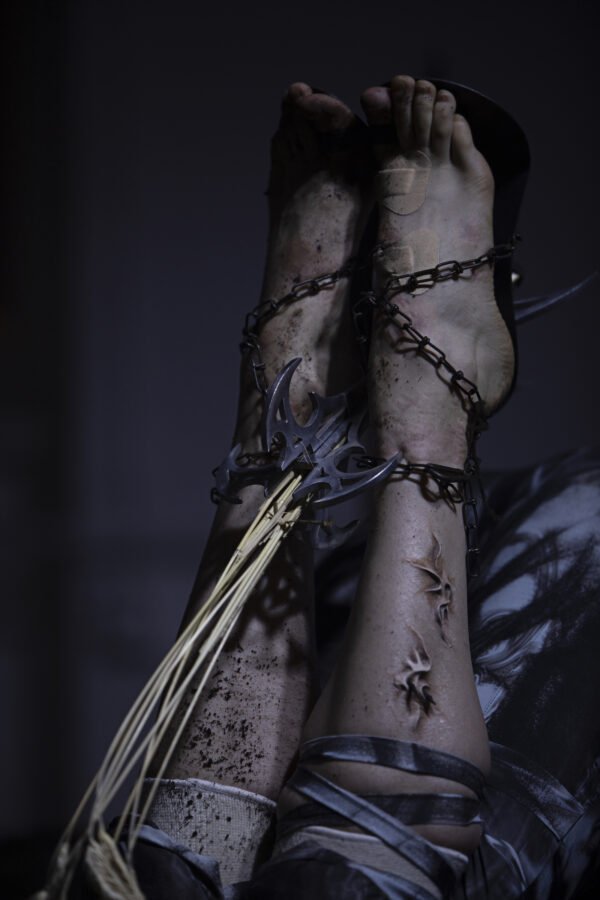 Photo: Iryna Drahun
Start Date:
25.04.2022
Start Time:
20:00
End Date:
27.04.2022
Jette Loona Hermanis "Elegy of Ergot"
25, 27.04.2022
20:00
EKA Galerii, Põhja pst 7
Free entrance through the EKA main door
Elegy of Ergot is a solo performance, where the central motif lays in a fungal body, that affects the system both on a physical and mind-distorting measure. A love poem to a parasite, that enables the protagonist to access a delirious state, while simultaneously decomposing the flesh.
Staging ritualistic tasks, that intertwine the protagonist's sense of submerging with nature, and the contrasting, being affiliated to the digital domain. She re-enacts symbolic gestures that deepen her connection with belonging to nature's force. Rather than performing paganistic actions, she seeks to unfurl the enchantment in a far more subjective matter. It ties with her connection to earth and nature, through which she can realize hidden truths, and embody empowerment of her femininity, sensitivity, intuitiveness and inner world of feelings. The elixir, which her actions end up transforming into, is the ultimate goal to reach her zenith of self. For her to reach this state, she is casted to unlock these riddles, through manipulating movement in time and space.
The performance was created in 2021 during an artist residency in Petrohradská kolektiv, Prague.
Collaborators:
Henry Kasch and Johannes Luik – technicians
Jette Loona Hermanis, pulsing Baltic blood, is a performance artist and a choreographer, born in 1997, in Tallinn, Estonia. After finishing her studies in SNDO Choreography, Amsterdam, she has since been based in Tallinn and Riga. She received the Estonian Theatre Prize Dance Award 2022 with Johhan Rosenberg for their performance "Eden Detail".
The "re-enchantment" of a progressively "disenchanted world" has been one of the overriding aspirations of her artistic inquiry. By reviving notions of individuation through archetypal complementariness she has been consistently appealed to a revaluation of the role of the marvellous and the transcendental. Her work is theatrical and romantically classical, yet stuck in a body of an avatar, expressing the aches of a mechanical machine, the pain of a digital golem, an emo Fairytale drenched in mythological symbolism, the frame – post-internet dark romanticism.
Supported by the Cultural Endowment of Estonia