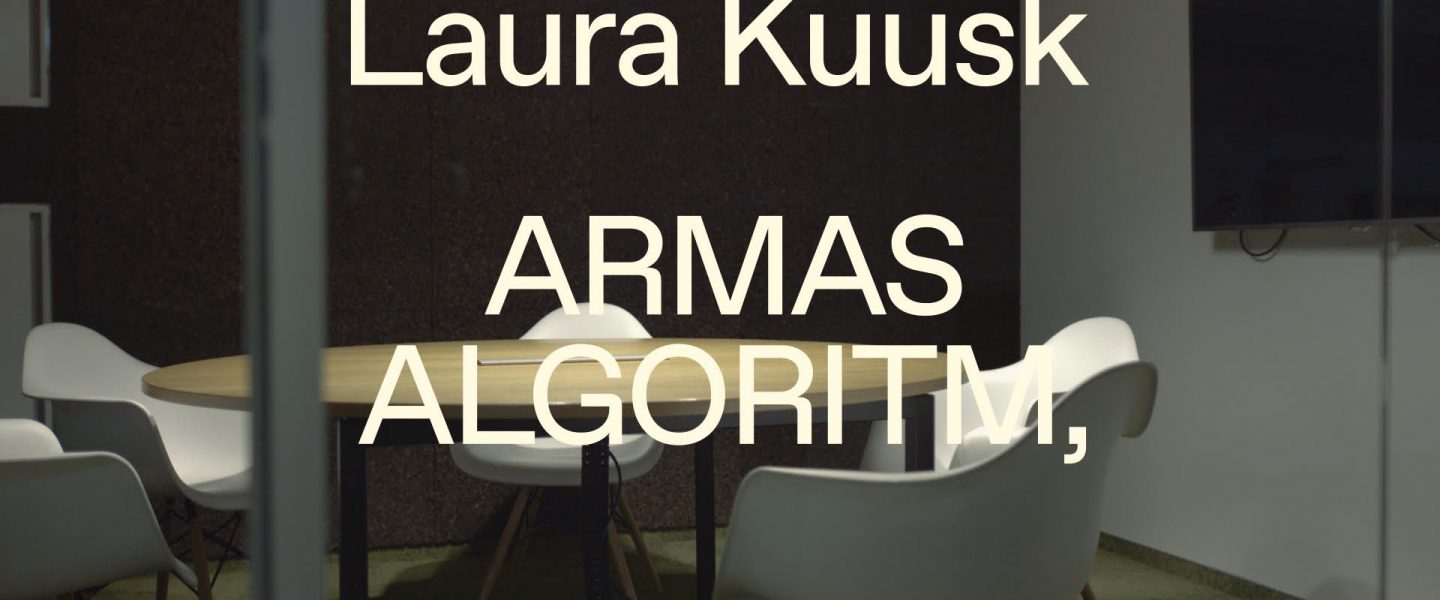 Location:
Kunstihoone galerii
Start Date:
19.02.2020
Start Time:
18:00
End Date:
29.03.2020
As our lives are more and more digitally controlled, our bodies' relationship to the environment has also changed in profound ways. Laura Kuusk's solo exhibition "Dear Algorithm," curated by Niekolaas Johannes Lekkerkerk, explores the productive tension between our desire to adapt and survive on the one hand, and our resistance to the logic of codes, on the other. 
The exhibition will be open from February 20 at the Tallinn Art Hall Gallery. 
The exhibition Dear Algorithm, will be staged as a choreography of everyday movements: the window display becomes a shop front for hybrid-organic clothing sculptures, the gallery attendant simultaneously serves as perception manager, a library section will give further instructions on subverting social expectations, conditioning principles and behavioral patterns, a video installation presents three nonhuman actors that aim to grapple with and relate to human working environments, and lastly one may encounter some other-than-human entities that are in no one's pockets.
The exhibition opening will take place on Wednesday, February 19th, at 18:00 and the show will remain open until March 29th.
On 27. February we invite you to experience the performance Catch Error Throw Exception by Laura Cemin that reflects upon the role of computational thinking and algorithms in our daily life. As a supplement to the exhibition, the artist invites viewers to visit reading sessions and kombucha tastings that will take place in the library section.
Laura Kuusk lives and works in Tallinn. Kuusk mainly uses photography, video and installation in her artistic practice. Most of her works have to do with recycling anthropological visual (found) materials. Kuusk is interested in the decision-making mechanisms within the collective consciousness. Over the last years, she has worked with the experience of the human body in the surrounding environment — in homes, in clothes, in relation to technology. In her work, Kuusk experiments with the visual traces of bodily experiences and their connection to larger socio-political processes. She studied at the Annecy Higher Art School (DSRA, 2014), the Estonian Academy of Arts (MA in Photography, 2008), and Tartu University (BA in Semiotics and Cultural Theory, 2005). Kuusk is a member of the ARS art factory in Tallinn (since 2015) and was a member of the art center OUI in Grenoble (2009-2015).
Niekolaas Johannes Lekkerkerk works as a curator and writer for The Office for Curating and is director of A Tale of a Tub, a not-for-profit art space in Rotterdam. Central to Lekkerkerk's work are social and political discourses revolving around daily living and working practices, cultural norms, and ideologies. He particularly focuses on debates concerning the Anthropocene, ecology and climate, post-humanism, and the increasing entanglement between nature and culture. Lekkerkerk recently published The Standard Book of Noun-Verb Exhibition Grammar (Onomatopee, 2018) that analyses exhibition as an ecological assemblage. In 2012, he received the inaugural Demergon Curatorial Award, and in 2014 he was the beneficiary winner of the Akbank Sanat International Curator Competition.
Art Hall Gallery (Vabaduse väljak 6) is open Wednesday till Sunday 12–7pm. Entrance is free.
The Art Hall Foundation fund is a contemporary art establishment that presents exhibitions in three galleries on the central square of Tallinn – at Tallinn Art Hall and nearby at Tallinn City Gallery and the Art Hall Gallery.