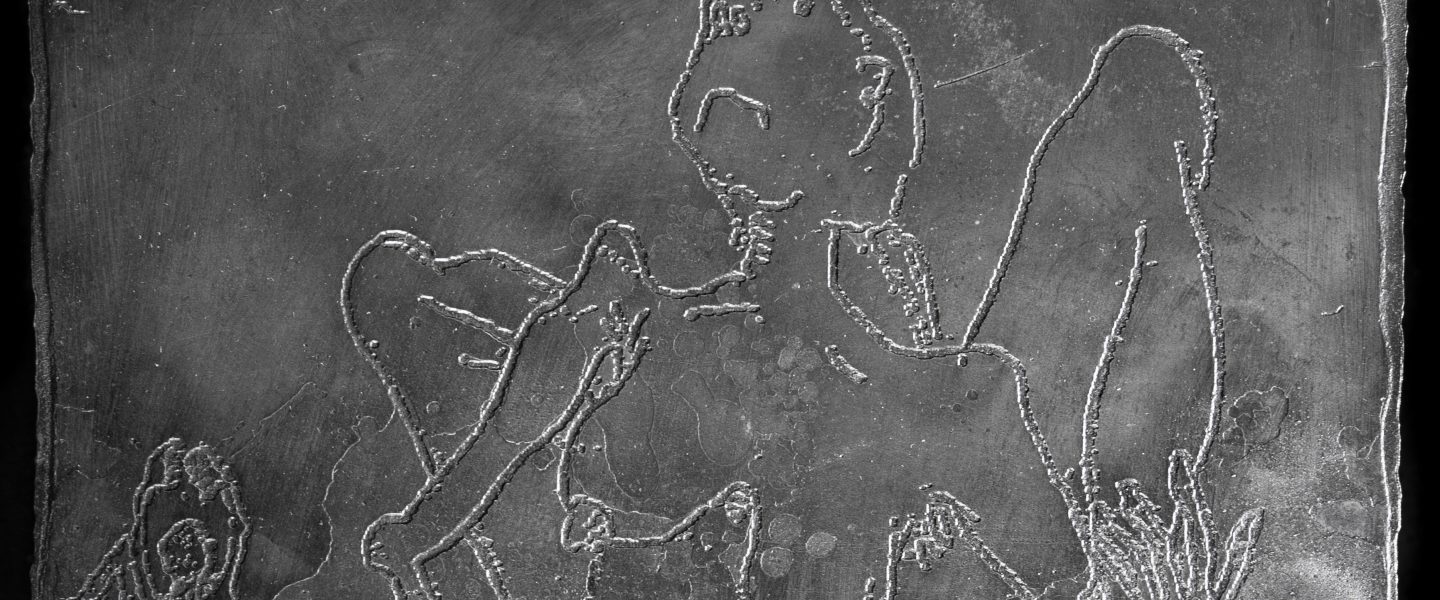 Location:
EKA Väligalerii
Start Date:
19.12.2021
Start Time:
17:30
End Date:
25.05.2022
THE WELL
Maria Metsalu (EST), Jaakko Pallasvuo (FI) & Tarvo Porroson (EST)
19.12.2021—25.05.2022
Opening: 19.12 at 5.30—7 pm
EKA Gallery Billboard, Kotzebue 1, open 24/h
Join us for the "The Well" exhibition opening at EKA Gallery Billboard on December 19 at 5.30 pm. The billboard is located on the EKA building at Kotzebue street 1. Opening is at EKA cafeteria, and the entrance is via a glass door next to the billboard.
Part of the performance "The Well" at Kanuti Gildi SAAL, three artists are exhibiting a pseudo-archaic photo series of the same name at EKA Gallery Billboard. Eighteen metal sheets etched with text and illustrations make up two books that are part of the performance. 
In "The Well" the preconceived notions regarding the structure and meaning of the protagonist's reality have disappeared into the abyss and the anxiety in which she has become aware of her finitude, an ontological insecurity has taken effect. She has no family, no friends, no connections. The world has become overwhelming in its complexity so she is being lowered into the well by her four psychoanalysts – AJ, Brian, Kevin and Nick. Her job while lying on her leather couch in the bottom of the well is to write and give the world a structure. She is a composer. She is a magician and an alchemist.
Metsalu and Pallasvuo have been having writing sessions from the beginning of 2021 and have created the text in the project. With the help of the blacksmith Tarvo Porroson, a selection of these texts has found their place on different objects of which two books form this exhibition.
"The psychoanalysts send down a notebook and tell me it would be good for me to keep a journal. I draw flowers in the notebook. I draw horses. I draw medieval weapons. I draw pictures of what I think the psychoanalysts look like. I draw their humors: blood, yellow bile, phlegm and black bile. All of my psychoanalysts fall in love with me. I send my notebook back to them, the one with all the drawings, and they fight over the book, they tear pages out and hang them on the walls of the cottages where they've settled. They have to live here, in isolation with me, until the treatment is complete. They love me so much, and they don't want to let me go. I sleep in the well. I wake up in the middle of the night and the psychoanalysts are gone, they are inside the house, maybe sleeping, maybe fucking each other."
Thanks to: Kanuti Gildi SAAL, Taavi Teevet, Paul Klooren, Robin Siimann, Pire Sova
Supported by Kanuti Gildi SAAL