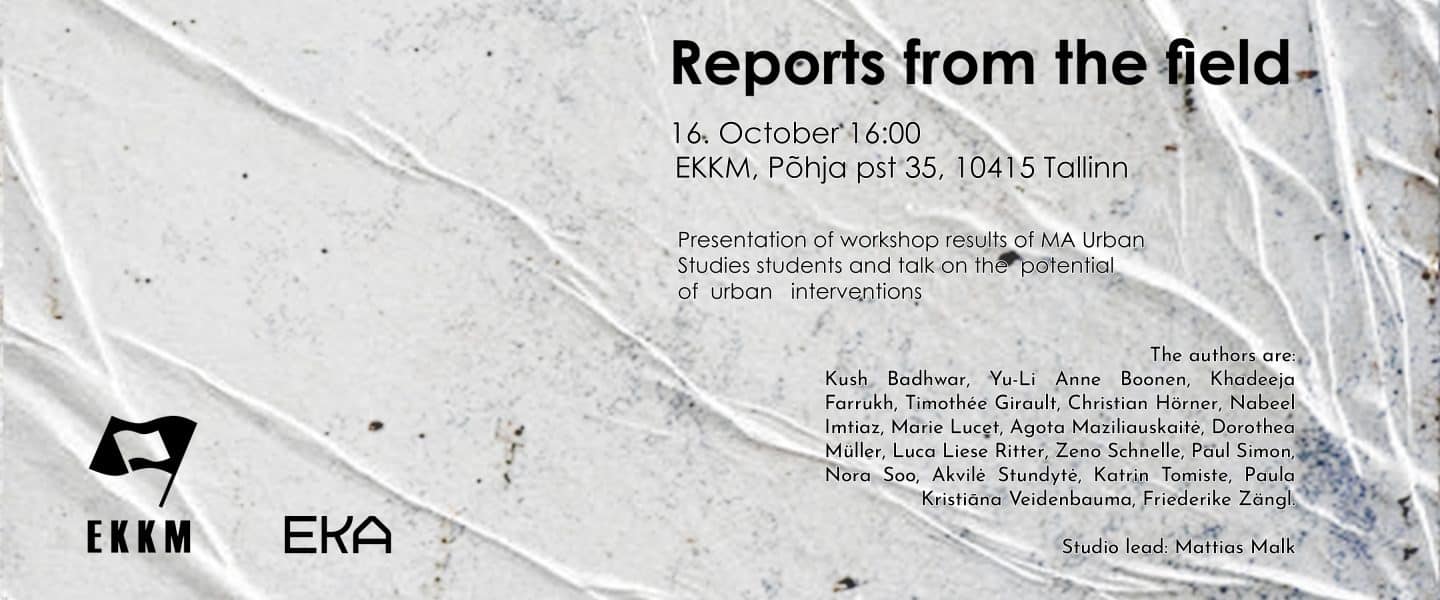 "Reports from the field" Workshop Presentation
Location:
EKKM, Põhja pst 35, 10415 Tallinn
Start Date:
16.10.2021
Start Time:
16:00
End Date:
16.10.2021
Presentation of workshop results and talk on the potential of urban interventions.
"Reports from the field" is a presentation of the workshop results of the MA Urban Studies students from the Estonian Academy of Arts and a talk on creating urban interventions as a research method, but also as a civic exercise and public right.
The presented projects will review and reflect the process of constructing vernacular interventions and their reception in Tallinn. Topics included in the presentation concentrate on infrastructure, public space, care, maintenance and social responsibility on the examples of the T1 mall, unpaid female labor in Majaka, private security in public space and new cycling lanes among others. There will also be a presentation about EKKM's role in public space and a display of the interventions. 
You are very welcome to take part in this talk and contribute to the discussion on the role and responsibility of urban intervention. The event is in English.
The authors are: Kush Badhwar, Yu-Li Anne Boonen, Khadeeja Farrukh, Timothée Girault, Christian Hörner, Nabeel Imtiaz, Marie Lucet,  Agota Maziliauskaitė, Dorothea Müller, Luca Liese Ritter, Zeno Schnelle, Paul Simon, Nora Soo, Akvilė Stundytė, Katrin Tomiste, Paula Kristiāna Veidenbauma, Friederike Zängl.
Studio lead: Mattias Malk