Location:
Tartu Elektriteater, Tartu Ülikooli kirik, Jakobi 1
Start Date:
26.07.2020
Start Time:
15:00
End Date:
26.07.2020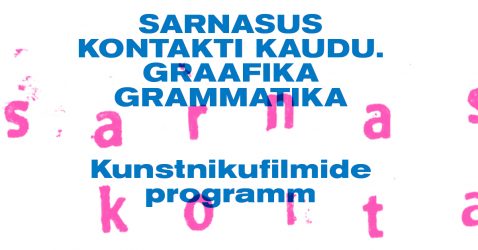 Resemblance Through Contact. Grammar of Imprint
Film Program
Sunday, 26th of July at 3 pm

At Tartu Elektriteater
University of Tartu Church, Jakobi St 1, Tartu
Free entrance
Films:
– Ari Pelkonen. Remain. 2014. 6'09"
– Maria Valkeavuolle. S E O M / I W N M. 2019. 11'
– Claire Hannicq. L'Étoile dans la caverne. 2017. 16'27"
– Augustas Serapinas. Jõusaal (Gym). 2012. 6'29"
– Ann Pajuväli. Play Sets. 2019. 4'30"
– Riin Maide. There Are Always Some Things That No One Recalls. 2020. 5'45"
– Tatu Tuominen. Standing in the Ruins. 2015. 3'19"
– Inma Herrera. Flaying. 2018. 7'39"
The film program accompanies the exhibition Resemblance Through Contact. Grammar of Imprint at the Tartu Art House that focuses on printmaking as a process that is cultivated through contacts between forms and counterforms (negative space), and by the tension produced by these interactions. Its interest does not lay so much in specific images, proofs, shapes or manners as in printed matter's ability to introduce the new space that emerges between matrix and multiplicity. By focusing on forms, and their dissemination through various statements and manifestations of printmaking in the post-disciplinary era, the artists define material as a subject, while the predicate denotes what the material does. The exhibition along with the film program wish to return to the beginning of the functions of imprint and investigate its points of contacts with other disciplines. 
The exhibition and the film program are curated by Liina Siib and Maria Erikson from the Department of Graphic Art at the Estonian Academy of Arts, featuring artists from Europe and the Americas. 
Info: Liina Siib, liina.siib@artun.ee