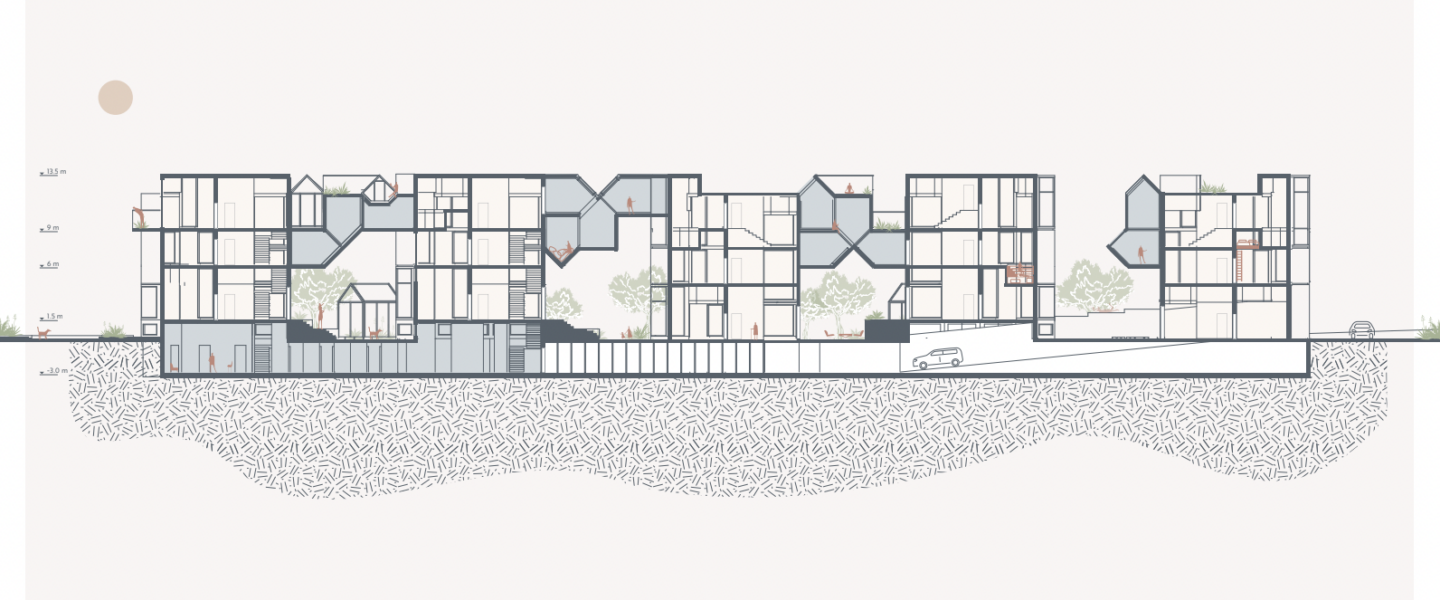 Visual: Krull Super Studio (tutors Sille Pihlak, Siim Tuksam, Karin Bachmann, Adam Orlinski), students' work.
Location:
Botik baar, Põhjala tehas, Marati 5, Tallinn
Start Date:
05.09.2022
Start Time:
18:00
End Date:
05.09.2022
Open Dual Lecture on Monday: two speakers, one global issue – housing crisis 
On September 5, the Estonian Academy of Arts will organize an open conversation/ lecture with two speakers, where academic knowledge and business experience will join forces to discuss an important topic in both Estonia and Europe – the looming housing crisis. The conversation/lecture will take place in the Botik bar of Põhjala Factory in Tallinn. Doors open at 5.30 p.m., the event with live broadcast starts at 6 p.m.
On behalf of the Estonian Academy of Arts, Dr. Sille Pihlak, Associate Professor of the Faculty of Architecture, Sara Paganin, head of social housing, Finanziaria Internazionale Investments SGR SpA, Conegliano/Milano, will arrive in Tallinn from Italy. The conversation will be moderated by Madle Lippus, deputy mayor responsible for urban planning issues in Tallinn.
The real estate price rally has created a situation in major Estonian cities where there is not enough affordable housing available for either renting or buying. People in households with lower incomes find themselves in a particularly difficult situation – and once they are forced to move further away from their workplaces, to places where housing is cheaper, there will in turn be greater pressure on the city's transport network, and the ecological footprint of the citizens and thus the city will increase.
At the beginning of the 20th century, the standard project of the so-called Lender's house was developed in Tallinn, which offered the opportunity to build affordable and need-based housing for people who had just moved to the city. Today, we do not have such a solution for affordable housing. But what would it take to develop it? How to create a standard project of an affordable community-needs-driven apartment building, and what would it require from the developers, the communities themselves, the local government and the state? How to make sure a firefighter and a teacher could also afford to live in Kadriorg, Kalamaja, or in the city center? What should be changed in the structure of our apartment buildings – architecturally – to make housing more affordable, how to divide and share the space? We will talk of all this on September 5th, analysing Italian experience, considering the possibilities provided by contemporary architecture and construction technology, and searching for solutions in dialogue that would be suitable in Tallinn.
The relevance of the topic is evidenced by the fact that two of the seven finalists for the 2022 Mies van der Rohe architecture award, the largest architectural award in the European Union, were community apartment building projects built from wood: the La Borda co-operative building in Barcelona and the 85 social apartments project in Cornellà. There are already communities and developers in Estonia as well, who have set as their main goal the creation of denser, more cohesive, and therefore more resilient communities.
The lecture is open to all interested parties, but community leaders, real estate developers, urban planners, architects and interior architects, and officials dealing with planning in local governments are especially welcome.
This public dual lecture takes place within the framework of the Transform4Europe project: T4EU, consisting of seven universities, operates under the European Universities Initiative with the aim of making European higher education more competitive, based on European values ​​and identity. The focus of the Transform4Europe project is primarily the issues of the digital transformation and digital smart regions, environmental issues and sustainability, social development, community development and inclusion. The housing crisis issue, which will be discussed in Tallinn on September 5, is connected to all these topics.
More information: http://www.transform4europe.eu 
EKA website in Estonian: https://www.artun.ee/akadeemia/rahvusvaheline/t4eu 
What is the essence of the housing crisis? What is the Transform4Europe project? Find out more here and join us at Botik!