Accessory Studio B.510
Bookbinding Studio B.511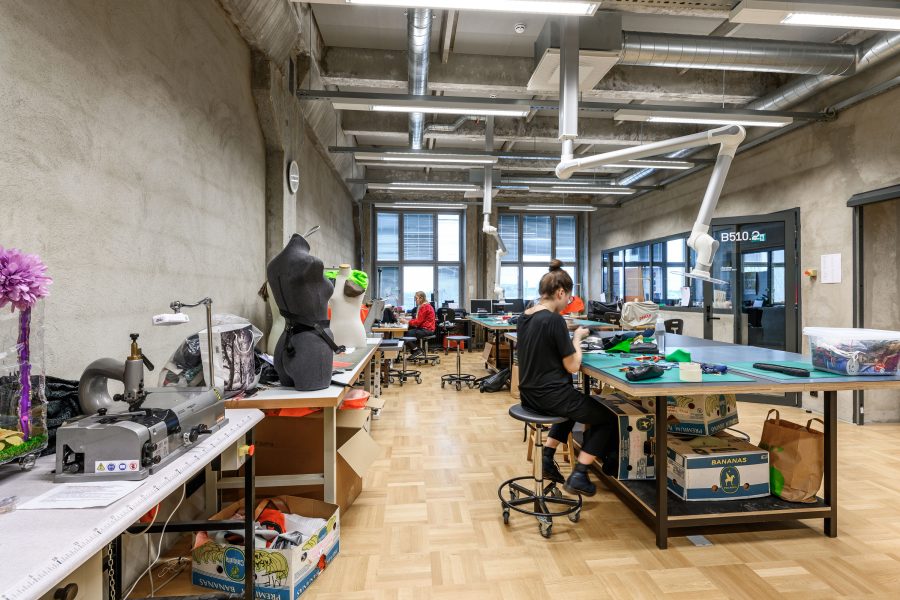 Accessory Studio B.510
Computers (PC and iPad) Adobe Photoshop, Adobe Illustrator
Copier and Scanner (A4) Printers (A4 and A3)
LED Light Pad (A3)
Camera Canon EOS, studio lighting, projector, TV
Thick material cutter
Post Bed Sewing Machine (Pfaff 1295) – INSTRUCTION
Post Bed Sewing Machine with driven feed wheel (Typical 571) – INSTRUCTION
Cylinder-Bed Machines
Metro Spezial 9345
Typical GC2263 – INSTRUCTION
Pfaff 335 – INSTRUCTION
Cylinder Arm Walking Foot Sewing Machine (Typical GC2263) – INSTRUCTION
Shoe repair machine (Hardo Ideal Combi 115 b) – INSTRUCTION
Shoe press (Lavardo NGL1) – INSTRUCTION
Skiving machine (Fav AV2) – INSTRUCTION
Rivet and eyelet equipment
Rivet press – INSTRUCTION
Grommet press – INSTRUCTION
Snap press – INSTRUCTION
Air compressor (Herkules)
Leather cutter
Lasting posts

Hot air gun
In the Accessory Studio, accessory-related subjects are taught, where students can gain basic knowledge of shoe technology, bag technology, materials, leatherworking techniques, and machines. In addition, specialized projects are carried out in the accessory studio, which deal with headwear and gloves.
The studio has a specialized library where you can familiarize yourself with the latest issues of Collezioni Accessori magazine, the latest (Brunner) leather samples, and trade show materials. Students can use six mannequin torsos and a selection of different shoe lasts. Students have the opportunity to purchase leather from the accessory and binding design material store for their specialized projects at cost.
During non-lecture hours, the studio is open to students for independent work. Machines are used for teaching purposes. Those outside the department who wish to use the facilities must contact the workshop master and agree on the conditions of use.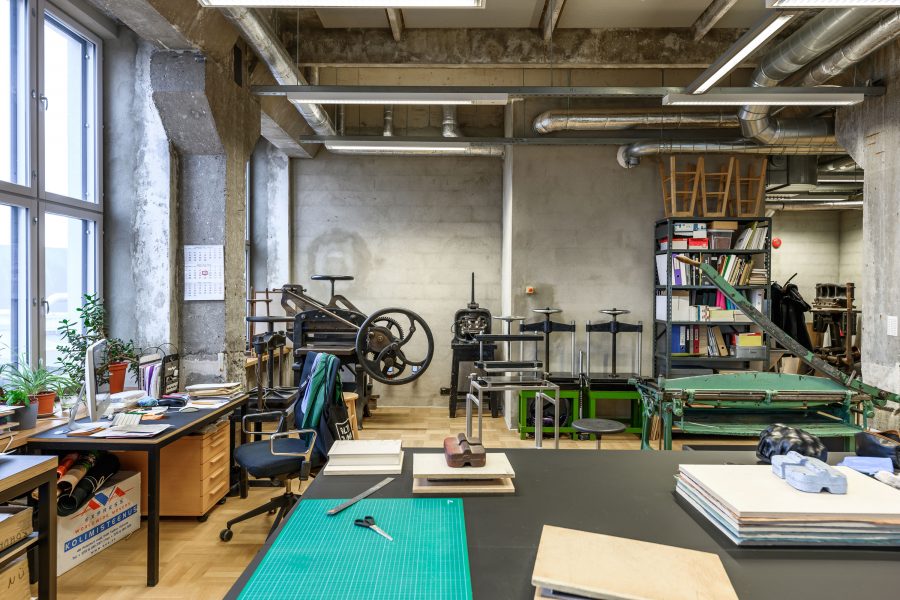 Bookbinding Studio B.511:
Creasing and Perforating machine
Binding puncher
Hot printing press
Cardboard scissors
Guillotine
Paper Drill and Hole Puncher
Laminator
Stapler
Ring Binders & Binding Rings
Letterpress Letters & Numbers
The Bookbinding Studio contains the necessary equipment for processing papers, cardboards, and leather, as well as for binding prints (paper cutter, book block guillotine, presses, wire comb binder, saddle stitcher, paper drill, folding machine and perforator), tools, glues, and paints.
For printing, the Opus Coldcover hot press (with typeface and stamp/cliché) can be used. There is also the possibility of embossing and stamping.