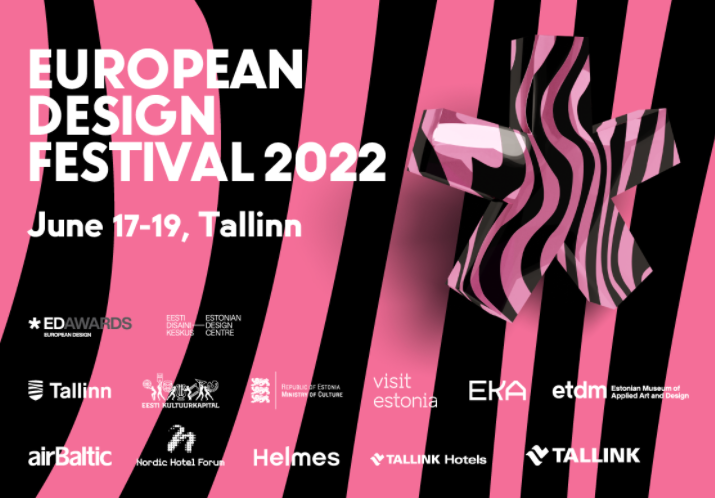 European Design Festival 2022 in Tallinn
Location:
Tallinn
Start Date:
17.06.2022
End Date:
19.06.2022
European Design Festival 2022 Tallinn programme and tickets now available!
This year the European Design Festival (ED-Festival) will be held in Tallinn, 17-19 June 2022.
Creative people from all over Europe are expected to take part in the Festival Programme that will also be open to the general public. The Programme includes the Design Conference "Beyond Design", Workshops, Exhibitions, Design Walks, Design Talks, Studio Crawls and of course, the European Design Awards Ceremony!
The Festival Programme 2022 is being curated by the Estonian Design Centre. The Programme and ticketing are available on the European Design Awards website.
"There were this time over 1 400 submissions to the ED-Awards 2022 Competition. The participants were from 34 different countries – from Lichtenstein to Germany and from Iceland to Turkey, so from big to small, east to west and north to south" says Mr Demetrios Fakinos, the European Design Festival director and added: "The winners will start receiving notifications in the second half of April, but the official announcement of winners will take place during the European Design Festival 2022 Award Show, on 18 June at 7 pm at the Creative Hub/Kultuurikatel – one of the most unique creative and event spaces in Northern Europe."
The European Design Conference 2022 "Beyond Design", also takes place on 18 June at the Creative Hub/Kultuurikatel. The Conference addresses the core questions of the future of design and the future through design, as well as themes related to the position and responsibilities of the designer. The work will take place through practical workshops, discussions and multidisciplinary future visions. The speakers at the Design Conference include designer, sociologist and sustainability provocateur Leyla Acaroglu; futurist Angela Oguntala (founding partner at Greyspace, a foresight and design studio); professor, design and technology ethicist Ariel Guersenzvaig; creative strategist and problem solver Marksteen Adamson and many more. The Conference will also cover several interesting cases from leading European design agencies.
More info about European Design Festival 2022 in Tallinn