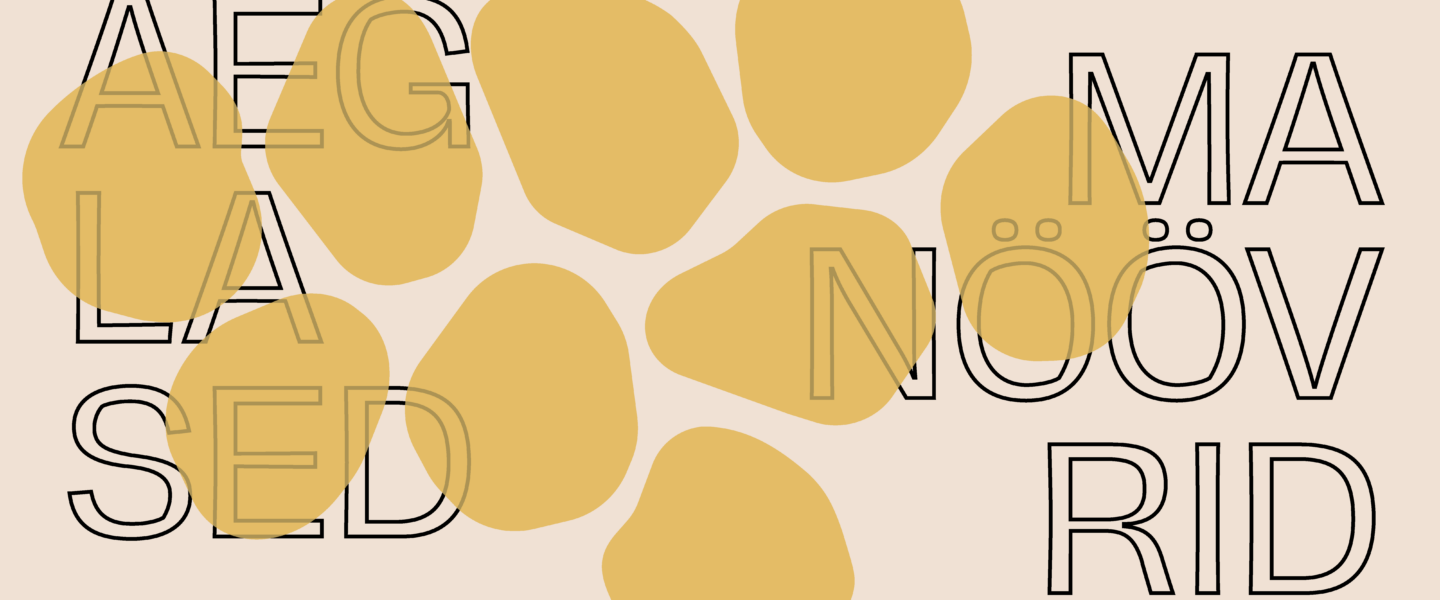 Exhibition "Slow Manoeuvres"
Location:
EKKM, Kursi 5, Tallinn
Start Date:
25.02.2022
Start Time:
18:00
End Date:
11.03.2022
"Slow Manoeuvres"
The Youth Exhibition of 18th Tallinn Print Triennial
On Friday 25th of February at 18.00 The Youth Exhibition of 18th Tallinn Print Triennial "Slow Manoeuvres" will be opened on the first floor of the Contemporary Art Museum of Estonia (EKKM). The exhibition will remain open until 11th of March.
The Youth Exhibition is the satellite event of Tallinn Print Triennial traditionally curated and organised by young artists. In this edition the main focus of the exhibition is on artists that use printmaking but alongside them also artists whose practice varies from textile to text.
The current exhibition concentrates on those young artists who, in their work, deal with slow and sustainable practices or with sustaining identity and humanic values in a world with rising levels of anxiety. Thoughts about coping with the present and questioning the possibility of the future are apparent in their work through the contacts they have with themselves and their surroundings.
"Slow Manoeuvres" are slow and thoughtful movements – takeoff with a notion of the importance of the journey. Artists are keeping their focus close to them. They create from and recreate what already exists and, through fragility, small narratives and insignificant techniques seek ways to move on.
Curators: Riin Maide (EKA Contemporary Art, MA) and Brit Kikas (EKA Contemporary Art, MA)
Artists: EKA Master's students in Contemporary Art Sophie Durand, Lily Marleen Bloodshed, Maria Izabella Lehtsaar, Rodion Furs; Master of Contemporary Art Jose Aldemar Muños; Master of Textiles Ingrid Helena Pajo; EKA Graphics' students Ella-Mai Matsina, Merilyn Lempu; and Saara Liis Jõerand
The author of the graphic design is Cristopher Siniväli and the text editor is Kristiine Kikas.
The exhibition is supported by the Cultural Endowment of Estonia, the Fine Arts department and the Graphic arts department of Estonian Academy of Arts, Contemporary Art Museum of Estonia.
We would really like to thank Artsmart, Cristo Madissoo, Dana Loren Vares, Eve Kask,  Jaanus Odras, Jamie Avis, Kelly Kütt, Kirke Kangro, Liina Siib, Ligia Fernandes, Maria Erikson, Maris Paal, Paul Rannik, Sveta bar, Tallinn Print Triennial, VAAT brewery.
The exhibition is accompanied by a public programme. 
Curatorial tours:
02.03.2022 at 6 pm in Estonian
09.03.2022 at 6 pm in English
On Friday, 4th of March 2022 at 4pm a screen printing workshop will be held where participants have a possibility to try out silkscreen printing with natural or homemade inks. 
The exhibition and public programme is free for everyone. Due to the limited number of places for the workshop, we ask you to register in advance on the FOLLOWING LINK
We can only welcome visitors who present a proof of being vaccinated against or recovered from Covid-19.
Wearing a mask is mandatory!
EKKM, Kursi 5, Tallinn.
The exhibition is open:
26.02.–11.03.2022
Tue–Fri  2 pm–7 pm
Sat–Sun 12 am–7 pm
______
riin.maide@artun.ee
brit.kikas@artun.ee +372 5343 7533